A blueprint for a better future
Achieving the UN Sustainable Development Goals
The global environmental challenges faced in today's society are well documented. Whether it's climate change, overconsumption and inefficient production models, or tackling the impact of litter on nature and our oceans, it is clear that steps must be taken to safeguard the future of our planet.
When the series of 17 Sustainable Development Goals (SDGs) were adopted by all United Nations Member States in 2015, it was a universal call to action designed to instigate global change.The goals form the core of the UN's 2030 Agenda for Sustainable Development, a 'blueprint to achieve a better and more sustainable future for all' by 2030. The mission: to end poverty, protect the planet and ensure that all people enjoy peace and prosperity.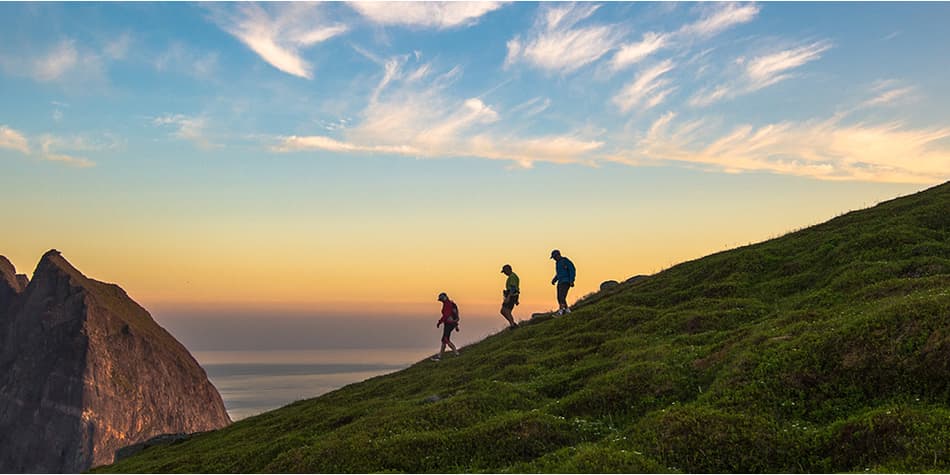 The value of SDGs

Sustainable development has been defined as 'meeting the needs of the present without compromising the ability of future generations to meet their own needs' and some of the headline statistics related to the 17 SDGs show that clearly we still have a long way to go. A third of the world's food is wasted, yet 821 million people are undernourished; water scarcity affects more than 40 percent of the world's population; global emissions of carbon dioxide (CO2) levels and other greenhouse gases in the atmosphere rose to new records in 2019. The list goes on.
The UN Sustainable Development Goals are all interconnected to set a framework for positive change. In doing so, they are designed to support governments and corporations to collaborate in delivering on a common agenda.
From building sustainable communities and promoting better use of resources, to eliminating hunger and inequalities, each SDG enables social and environmental sustainability whilst ensuring the health of our planet and communities is protected.
Crucially, each goal has also been assigned a set of sub-targets, comprising a list of 169 targets in total, and with a number of indicators for each target, a more effective tracking of progress for sustainable development across all touchpoints of society is enabled.
The role of the private sector
If we are to achieve the 2030 Agenda, it is vital that the private sector plays its part. Actively engaging with communities, governments and other stakeholders to foster sustainable development is key. Back in 2017, Lise Kingo, executive director of the UN Global Compact, said: "The private sector has the power of innovation and ability to create many of the solutions needed to address the challenges the world is facing today."
TOMRA is determined that we must be one of these private sector organizations to take on our responsibility as a key player and demonstrate our commitment to deliver on the UN Sustainable Development Goals. As a leader of the resource revolution, sustainability is at the very core of our business, and with our solutions for optimal resource productivity, we can support the transformation to a circular, low-carbon, and more sustainable economy.
Increasing demand for sustainable products and solutions
All of this comes at a time when global demand for sustainable products and solutions is on the rise. Sustainability continues to be a big trend in FMCG, fashion and other consumer markets, with 47 percent of online consumers saying they have turned their back on brands that violated their personal values. Protecting the environment topped that list of values.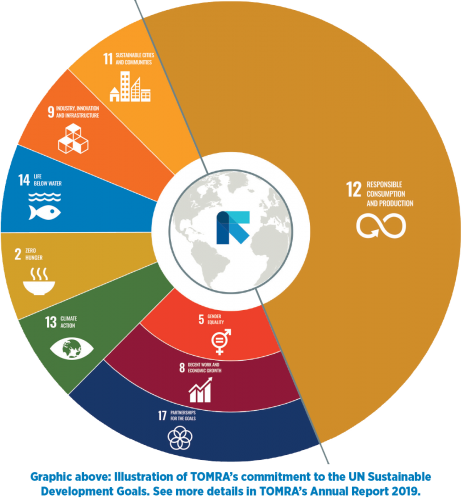 This shift in consumer attitudes, coupled with regulatory push for environmental protection and increased awareness around topics like plastic pollution, has increased the opportunity for TOMRA to have a positive impact across a number of the SDGs.
Take SDG 12, for example, responsible consumption and production, where we believe our products and services can deliver the most significant impact.
UN SDG 12 notes the severe imbalance between our growing levels of consumption and resource use and what our planet can sustain. It is aimed at 'doing more and better with less', whilst also 'decoupling economic growth from environmental degradation, increasing resource efficiency and promoting sustainable lifestyles.
By the very nature of TOMRA's business model and solutions, we deliver positive impacts on several of the SDG 12 targets, such as sustainably managing natural resources, reducing food waste and loss, preventing and reducing waste through recycling, and forming partnerships to educate others. In every sector where we operate TOMRA wants to transform how the world obtains, uses and reuses its resources.
These are the other SDG's TOMRA supports and contributes to as we transform how society obtain, use and reuse the planet's resources:
SDG 2: Zero Hunger, as demonstrated by our food sorting solutions which increase agricultural yield and reduce food loss along production and supply chains.
SDG 9: Industry, Innovation and Infrastructure, where we deliver technological innovations for resource productivity and solutions that form part of sustainable infrastructure.
SDG 11: Sustainable Cities and Communities, which is supported by TOMRA's sorting solutions and reverse vending technology for sustainable waste management.
SDG 13: Climate Action. This is a key deliverable to which we enable positive impact from TOMRA's products and services in use, such as collection and sorting solutions for recycling which in turn reduce carbon emissions from both material production and waste management.
SDG 14: Life Below Water, which focuses on marine preservation. We are actively involved in reducing plastic pollution on a global scale through collection systems and closed-loop recycling.
A more sustainable future
The UN SDGs set the framework. Now, the onus is on corporations and governments to collaborate in order to - as the definition of sustainable development states- meet the needs of the present without compromising the ability of future generations to meet their own need.
By embedding sustainability into our strategy and core business activities, TOMRA is doing our bit, creating long-term value and supporting environmental goals. We're looking forward to joining others on the journey.