Customer story
Kral İncir, Türkiye
Kral İncir, one of the leading exporters of dried figs, achieves high product quality and food safety by using industry-leading TOMRA sorting machines. 
Kral İncir's origins date back to the 1950s. This family-owned business, now under fourth-generation management, began trading in dried figs in 1977. In the years since, it has become one of Türkiye's most important dried fig exporters. The company is able to meet the high standards demanded by export markets by using two TOMRA Helius and two TOMRA Ixus sorting machines.
At its facility in Nazilli Aydın, in the Aegean region of western Türkiye, Kral processes an average of 6,000 tons of figs per year. It has been offering its products to foreign markets, under the King brand, for almost half a century. Today, the company exports 80 percent of its production. This goes to European countries - particularly France, Germany and Belgium - as well as the United States and East Asia.
More than half of the world's dried fig production, approximately 120,000 tons per year on average, is supplied by Türkiye. Kral İncir's General Coordinator, Alper Aksüt, observes: "Türkiye produces the highest quality figs and ranks first in the world's dried fig production as well as first in exports. The value of these exports to our country is about $300 million per year."
One reason for this global success, Aksüt acknowledges, is nature: "We have ideal conditions for fig production, with a Mediterranean climate on our coasts and wind blowing from various directions throughout the day, perfect for drying the figs. Some 80 percent of all the figs produced in Türkiye are grown in Aydın region, which supplies 70 percent of the dried figs processed in our nation. We obtain our products only from farmers in this region.
"We capitalize on these natural advantages, when processing the product, by investing in automation and sensor-based sorting machines. These technologies enhance our exporting ability. TOMRA sorting machines have enabled us to eliminate problems such as product defects, foreign materials and aflatoxin, so that we can offer our customers the best products."
Kral Incir Facility
Dried figs difficult to process
Kral İncir offers dried fig products domestically and internationally for various uses - sale by supermarket chains, as packaged dried fruit, and as industrial raw materials for the pharmaceutical industry.
Aksüt said: "Dried fig is the most difficult dried fruit to process and package. The size and softness of the fruit's grain volume cause the fig's shape to change constantly. But optical sorting machines enable us to overcome such difficulties. TOMRA's sorters also help us a lot by detecting and removing foreign materials and mycotoxin fractions."
To prevent aflatoxin-contaminated figs from getting into the final product, immense care has to be taken in cultivation, harvesting, and sorting processes. Aksüt explains: "The fungi that cause aflatoxin in dried figs produce kojic acid. Fortunately, kojic acid radiates in green-blue color in a dark environment under ultraviolet light, which means it can be seen in dark-room conditions by the
TOMRA Helius. And we sort foreign materials such as glass, metal and stone with the TOMRA Ixus. Because crop volumes and product quality can vary from year to year, it is good to know that we can rely on optical sorting machines when the quality of the yield is troublesome. TOMRA's sorters also speed up our production times to a great extent."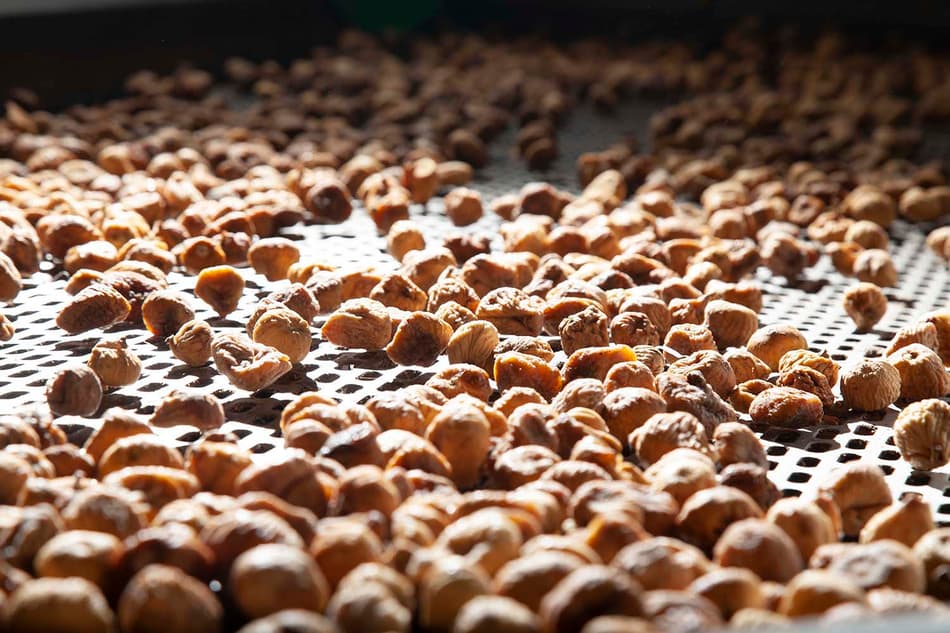 Dried figs
Dried figs contribute to Turkish economy
Aksüt said: "At the end of the 1980s, medium caliber dried figs were exported at around $1.50 to $2.00 per kilogram. Today, they fetch $5-6 per kilogram. During the year 2021-22, approximately 77,000 tons were exported from Türkiye. In fact, Türkiye has been the world's number one fig producer for the past five years, with a market share, on average, of 54%. Iran follows in second place with 19%.
"While dried figs were in high demand in export markets, demand was much lower in the domestic market, where they were considered a luxury product. Annual consumption is 40 grams per person in Türkiye, but in Germany, it is 190 grams per person. However, due to changing eating habits in recent years and the trend towards healthy food products, dried fig consumption is now increasing here.
We hope that in the coming years demand will increase both in the domestic market and for exports."
Delighted with after-sales service
Kral İncir decided to invest in TOMRA sorting machines because of their effectiveness. Aksüt commented: "TOMRA has provided highly innovative sorting solutions for the fresh and dried fruit industry. What's more, during the seven years that we have used TOMRA machines, we have been very pleased with the after-sales service support."
TOMRA Food Türkiye Sales Manager Ahmet Koçyiğit stated: "Dried figs are strategically important in Türkiye. This means it is especially important to invest in product processing, to keep on meeting the high expectations of export markets. It is essential to sort key problems such as foreign materials, aflatoxin and quality defects. TOMRA's industry-leading sensors ensure a clear view of every single product and any defects."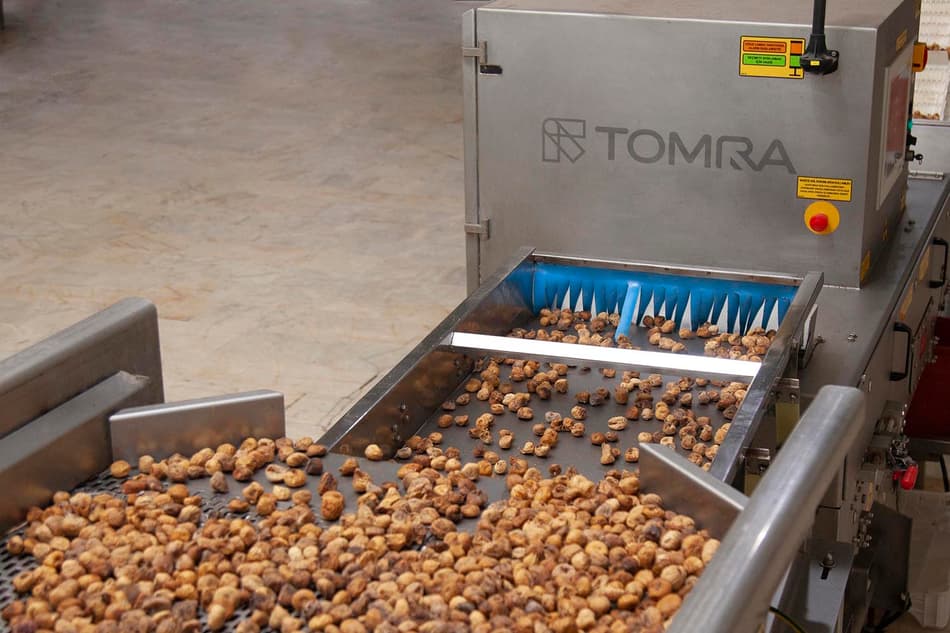 TOMRA dried figs sorting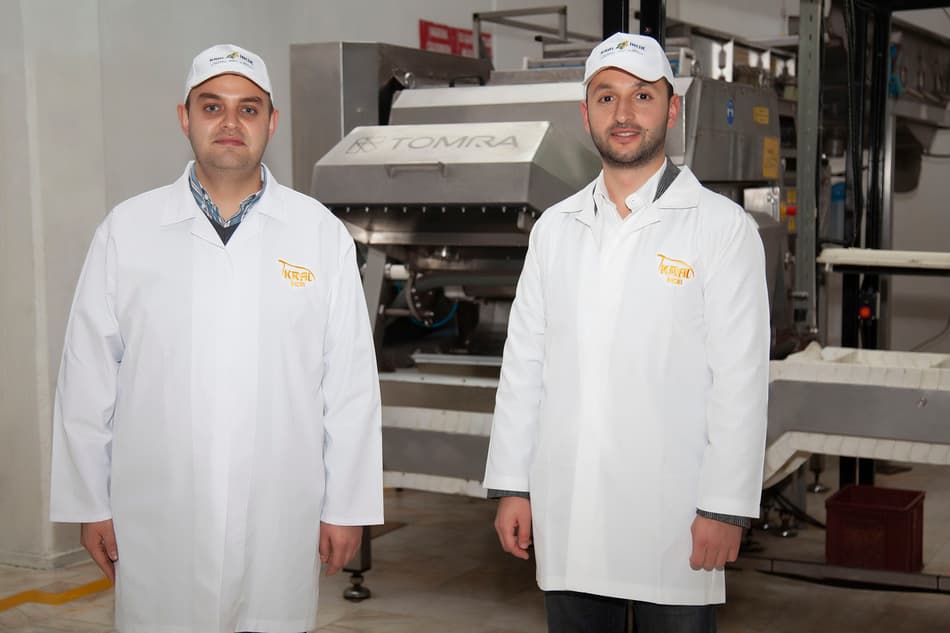 Alper Aksut, Kral İncir General Coordinator, and Ahmet Koçyiğit, TOMRA Food Türkiye Sales Manager