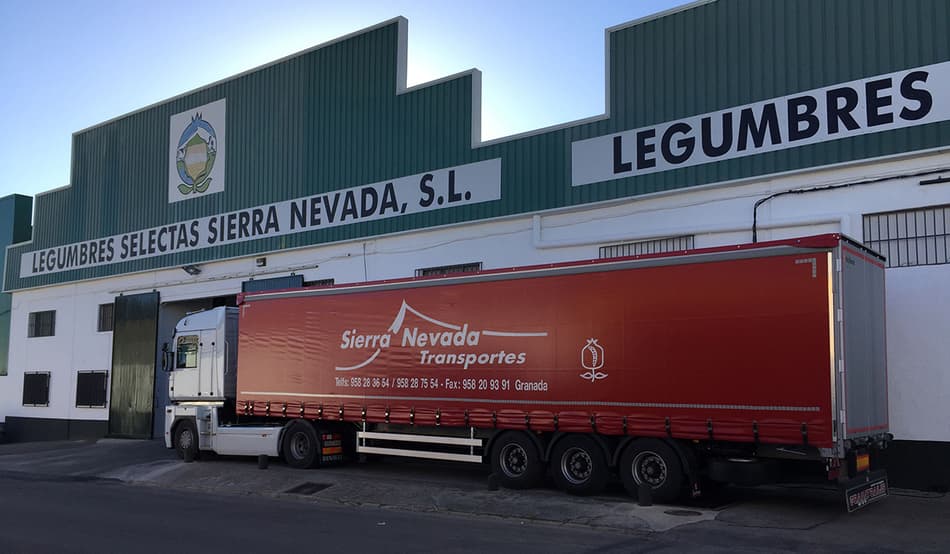 customer story
Legumbres Selectas Sierra Nevada, Spain
LEGUMBRES SELECTAS SIERRA NEVADA, a Spanish company, based in Granada, specializes in producing, processing, and marketing superior quality pulses. It is the Spanish market leader and is one of the top 5 companies on the European market in processing lentils, beans, and its own-production chickpeas. The company has found the Nimbus BSI+ by TOMRA to be the solution to the issues specific to grading pulses. This technology has achieved improved quality and food safety, a ten-fold increase in its production capacity, and a much more automated, controlled, and efficient process for its staff.
QUALITY AND FOOD SAFETY ENSURED BY THE TOMRA FOOD NIMBUS BSI+
The most select pulses in Spain originate in this family business with 57 years of history. It was founded by Antonio Jiménez Martín, father of the company's current CEO, Vicente Jiménez Blanes. 70% of its production is focused on the chickpea, and it also processes lentils and beans. The company farms around 5,000 hectares in Andalusia with chickpeas, achieving an annual production ranging from 5,000 and 7,000 tons.

LEGUMBRES SELECTAS SIERRA NEVADA grows two chickpea varieties, with Sierra Nevada White Chickpeas accounting for 30% of its chickpea production. The rest is Sierra Nevada Pedrosillano, a variety developed to deliver higher yields that are more resistant to this crop's diseases. The company supplies the most demanding and important packers, canneries, and producers of pulses in Spain, France, Italy, Belgium, Holland, as well as flour, hummus, and falafel producers in Spain, Northern Europe, Turkey, Pakistan, Algeria, and Tunisia.

"LEGUMBRES SELECTAS SIERRA NEVADA began its journey more than five decades ago and has become what it is today through one family's efforts. Our goal is to offer a product of the highest quality; this is how we differentiate ourselves from other processors. This investment has been a true turning point in our business's history. When I first saw the Nimbus BSI+ in operation, I knew it was exceptional, but I never imagined what it was capable of. The results are amazing: 99.9% purity of our product, and we have gone from processing 500 kg/h to a total installed capacity of 5,000 kg/h. The leap has been spectacular."
- Vicente Jiménez, CEO LEGRUMBRES SELECTAS SIERRA NEVADA

As a supplier to major brands like Litoral (by Nestlé), the company needed to address issues that mechanical sorting – even when reinforced with manual sorting and visual inspection – was not able to overcome: the presence of dangerous foreign bodies such as stones, glass, wood, ceramic; the elimination of cross-contamination by other varieties of chickpea and vegetable seeds; the ability to discard wrinkled, stained, discolored, and malformed chickpea kernels that are not acceptable in a premium product.

When LEGUMBRES SELECTAS SIERRA NEVADA got in touch with TOMRA, it intended to acquire X-ray scanning technology. But TOMRA's technical team, with their extensive experience, quickly realized that this technology alone would not resolve the issue. The technical department in Belgium suggested the Nimbus BSI+ instead. This is a high-performance sorter that stands out for its high degree of accuracy in removing unwanted elements. Three trips to Belgium later, having tested the sorter with the company's own product, Vicente Jiménez had no doubts. "Installing the two Nimbus BSI+ machines is the best thing we've done in our 57 years of history. My dad's excitement when he saw the machines working for the first time was the definitive proof," he adds, convinced.
And the words of Antonio Jiménez Martín sum it up nicely: "It has been worth going through so many seasons of my life to get to this last one and discover TOMRA and its fantastic engineering team. I never imagined that we would be able to process our wonderful chickpea with such high purity and quality and at such high processing speeds and capacities. It's amazing: all the financial, human, and personal effort put into it makes sense."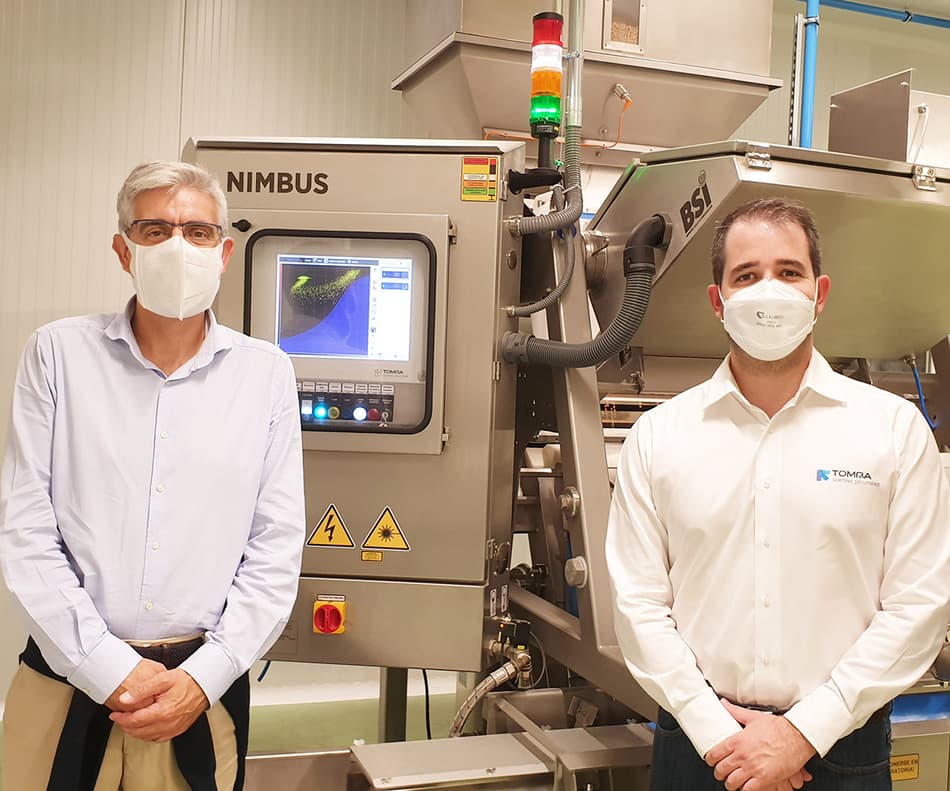 As Alejandro Palacios, Area Sales Manager at TOMRA Food for Spain and Portugal, explains: "X-ray technology, which can only detect stones, glass, metals, and ceramics, fell short of what they needed. Vicente Jiménez wanted the best for his customers, and when he saw all the possibilities that the Nimbus BSI+ offered, he realized that the potential benefits for his company were enormous. The two machines have been equipped with front cameras (BSI+ technology) and rear lasers with different colors: one with infrared and blue, the other with infrared and green. The result has been fantastic. LEGUMBRES SELECTAS SIERRA NEVADA has increased its client portfolio and currently has the most advanced technology in the sector across Europe."
MEETING A 30% GROWTH IN DEMAND WITH TOMRA'S TECHNOLOGY
Having installed the new sorters to maintain its high quality and food safety standards, LEGUMBRES SELECTAS SIERRA NEVADA was faced with exceptional circumstances: an exponential increase in demand stemming from the lockdowns due to the COVID-19 pandemic.

"We have had a 30% increase in demand, and we estimate that it will stabilize at around 20% in the coming months. There has been a clear trend towards stocking pulses in homes because they are a staple food, nutritious, healthy, and very affordable. Their long shelf life (2-3 years) has made them one of the most sought-after products during these months of lockdown. Also, we see a shift from animal to plant-based protein. All of this has led to such a growth in demand that we have had to act, increasing production and strengthening our sales activity. We finished installing the two Nimbus BSI+ machines last January, and we had just enough time to get them up and running before the lockdown. Without them, we would not have been able to meet the exceptional demand we had," Vicente Jiménez says without hesitation.
NIMBUS BSI+: KEY TECHNOLOGY FOR FURTHER INTERNATIONAL EXPANSION
The BSI+ technology enabled LEGUMBRES SELECTAS SIERRA NEVADA to increase production and offer the best quality on the market and food safety, a cornerstone of its customer promise. The company is currently engaged in pursuing another critical objective: implementing a quality assurance and food safety system (SGCA/ GFSI) following the IFS Version 7 Quality Standards, ensuring transparency throughout the supply chain.

"With the Nimbus BSI+, we can achieve this certification today – and this is key for our international expansion."
- Vicente Jiménez, CEO LEGRUMBRES SELECTAS SIERRA NEVADA


NIMBUS BSI+: ONE PIECE OF EQUIPMENT WITH MULTIPLE ADVANTAGES FOR THE PROCESS
The Nimbus BSI+ detects the biometric characteristics of objects and can remove many foreign bodies and unwanted plant matter.

The traditional process begins with the chickpeas just arrived from the field. A preliminary cleaning process is followed by mechanical sorting with multiple machines, then a manual and visual inspection (which the company used to be conducted by a team of 12 people at LEGUMBRES SELECTAS SIERRA NEVADA). The main drawback is that this pulse's density and color can be the same as those of a stone or other dangerous foreign bodies, making it very difficult to remove them from the product. This can lead to non-compliance with food safety regulations that require a maximum of 5 stones per ton. During the process, other unwanted bodies can also creep in – such as beans and other seeds of plant origin from previous harvests.

With TOMRA, the difference from the conventional process is remarkable. After preliminary cleaning and mechanical sorters, the chickpeas go through the Nimbus BSI+ sorters, ensuring 99.9% purity, and powerful metal detectors. Only a final visual inspection is needed, so the inspection team is reduced to 4 people). The company has been able to reassign the manual inspection team to valuable quality control tasks. The result is extremely precise, finetuned sorting that cannot be achieved with the human eye and an increase in the entire process's efficiency.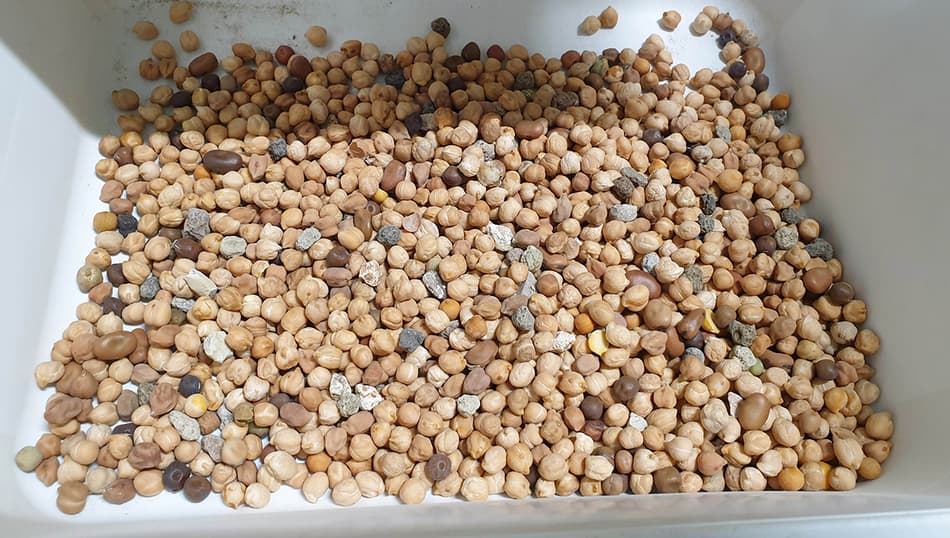 As if this were not enough, the company has gained in quality of life. "On a personal level, in our daily life, the new equipment really has represented a turning point. The automation of the selection process leaves us more time to plan our workload and production load, and to carry out essential maintenance and cleaning tasks on Fridays, during the factory's normal working hours," says Vicente Jiménez.

The configuration of the programs is straightforward. "My team and I calibrate the machines. The Nimbus BSI+ is a very intuitive machine with great software, and changing programs is very easy. Today we only offer four varieties of pulses, but there are 37 more. Given how easy it is to adapt the programs, we will be able to consider expanding our product range in the not-so-distant future," he points out. "Also, its minimal maintenance is a plus. We clean the machines with compressed air, and we have not needed to replace any parts since their start-up, with them working at 100% of their capacity."

Finally, it is worth highlighting the equipment's scrupulous selection ability, which reduces false rejection to less than 1%. "The most surprising thing is how concentrated the rejected product is. As the Nimbus BSI+ can remove many items at once, you'd think that you might risk losing good products but, with TOMRA, everything discarded is truly bad product," says Alejandro Palacios.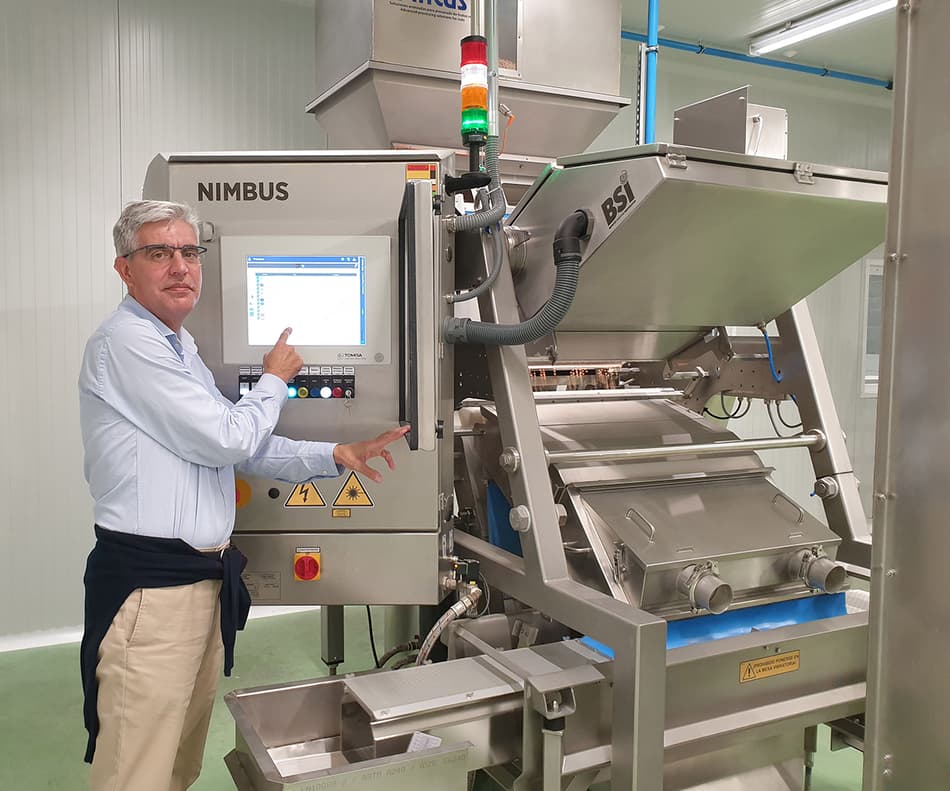 AN EXAMPLE OF TEAMWORK
TOMRA has been true to its philosophy of being by its customers' side, listening to their needs, and adapting its technology to maximize their plants' results. Even in the challenging time of the pandemic, nothing has stopped this ambitious and innovative project. The two companies have worked together to achieve the objective. "The TOMRA team is simply exceptional. They are always available and ready to take another step towards excellence. Without a doubt, I would recommend TOMRA and the Nimbus BSI+. Its addition to our selection process has meant a complete 180º turn, and it has opened up a very bright horizon for us."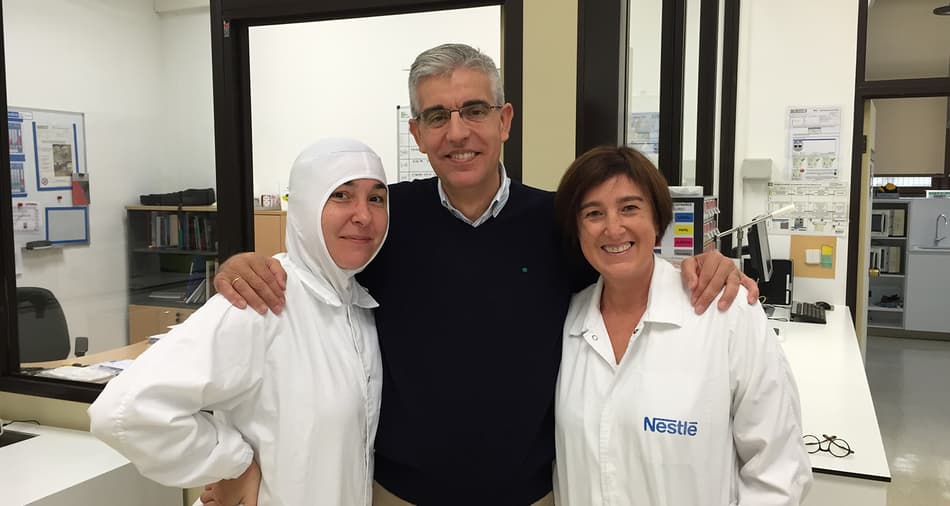 "This family business has established itself as a supplier to the most demanding and important clients on the market at domestic and European level. Furthermore, the involvement of Vicente Jiménez has allowed us to adapt our technology to a new application that we had not contemplated before. The entire installation turned out wonderfully – it's worth showing off. In short, we are delighted to see how much we have been able to contribute not only on a business level but also on a human level."
- Alejandro Palacios, Area Sales Manager at TOMRA Food for Spain and Portugal