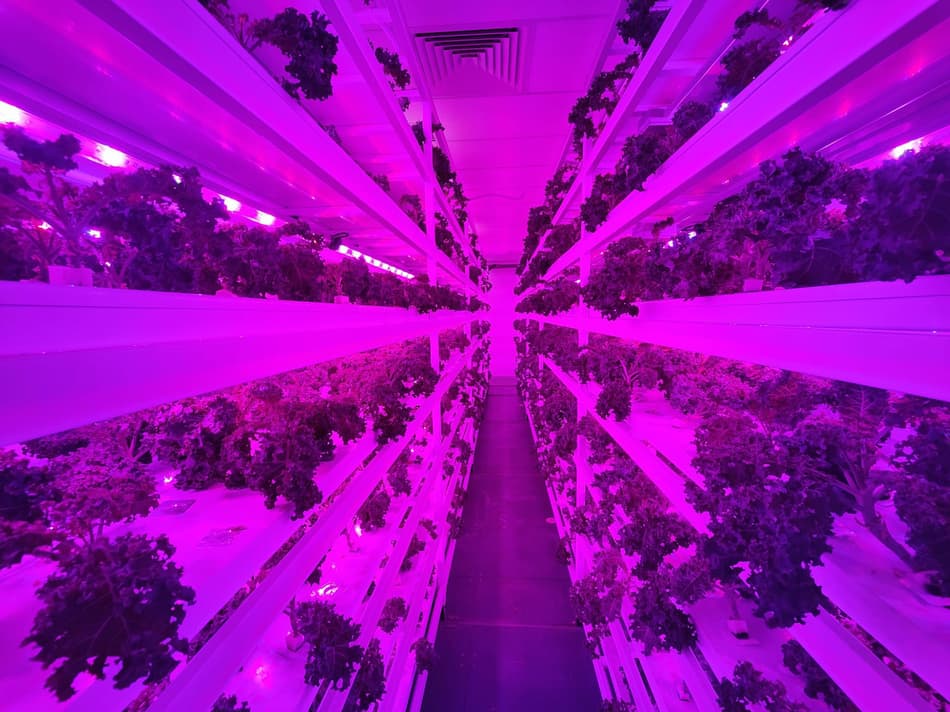 Sustenir Agricultur, Singapore
Harvesting daily in a high-rise building in Singapore, Sustenir Agriculture has enhanced product quality and reduced food waste by using a TOMRA optical sorting machine   
Although it is home to 5.6 million people, the city-state of Singapore is located on a small island that covers merely 715 square kilometers (276 square miles). As a consequence of crowding, it has been necessary to expand upwards, accommodating residents and businesses in high-rise buildings. Land is in such great demand in Singapore that only 1% is used for conventional farming, with local food production meeting less than 10% of residents' nutritional needs. But now agriculture, too, is reaching for the skies: investment is increasing in indoor vertical farming.
This trend is being encouraged by the Singapore Food Agency (SFA), the authority with the mission of ensuring that the nation has a resilient supply of food safety and food security from farm-to-fork. The SFA calculates that multi-story LED vegetable farms can produce 10 to 15 times more Vegetables, per square meter, than conventional farms.
One leader in the shift to vertical farming is Sustenir Agriculture, which runs indoor farms in Malaysia and Hong Kong and will open another in Jakarta by early 2023. Sustenir describes itself as specializing in growing "superfoods for supercities, farming at the heart of demand in urban populations to minimize carbon footprint whilst maximizing positive impact in local communities."
Sustenir's Singapore farm, in the Sembawang district at the northern tip of the state, employs 90 people and occupies 4,000 square meters (43,000 square feet) over four floors of a light industrial building that has multiple commercial tenants. Here, baby leaf crops are grown in five to six layers on rigs 2.5 meters (8.2 feet) high.
Sustenir harvests crops daily all-year-round, selling them as 100% clean, with no need for washing before eating. The company's indoor farm uses no pesticides, generates 92% less carbon emissions than imported produce, and consumes 95% less water than conventional farming on arable land. The company recently decided to take care of food safety and product quality by investing in its first optical sorting machine from TOMRA Food.
Indoor farming challenges
Sustenir's Singapore farm grows kale, curly kale, spinach, arugula (rocket), and lettuce. Even when grown in a precisely controlled indoor environment, these crops are vulnerable to a wide range of natural defects: chlorosis, black spot, crystallization, black rot, tip burn, light burn, discoloration, and purple leaf.
Another risk at indoor farms is foreign materials. Though it is true that indoor crops are grown in clean and dry conditions, even so, they face the threats of insect damage (from the tiny fungus gnat), foam, and fragments of plastic.
Sustenir initially removed defects and foreign materials manually, relying on the vision and concentration of 20 people. But human sorters are subjective, imperfect, and significantly less accurate when tired or bored. And because manual sorting is a relatively slow process (Sustenir found that each person could typically sort 24kg per hour), it restricts throughput. An optical sorting machine, however, is accurate, consistent, and fast. What's more, optical sorters also reduce food waste by enhancing yields and recuperating some rejected product for sale at lower grades.
It was only logical, then, that Sustenir should transition from manual to mechanical sorting. Logical, too, that the business should consider acquiring a machine from TOMRA Food, the industry leader which combines world-class expertise with local-level customer support. And when Sustenir's senior managers witnessed a live online demonstration of a TOMRA machine sorting baby leaf vegetables, with results precisely quantified, their minds were made up: this was a must-have.
Sustenir Agricultur
Strict sorting criteria and impressive payback
To deliver the sorting machine to the third floor of the building in Sembawang, via a lift with limited space and access, TOMRA's engineers had to separate its upper and lower halves. Then the machine was reassembled at its working location, before TOMRA's team commissioned and calibrated it. According to Sustenir's Project Manager/Automation, Lawrence de Leon, these tasks were performed "smoothly and expertly, with patience and dedication. Although delivering the machine was a challenge, it was met very successfully."
As well as removing foreign materials and product defects, Sustenir's sorter was set up by TOMRA's to minimize food waste and maximize revenue by making products saleable at two different food grades. This is made possible by sorting the crops twice.
At the first stage, Sustenir sorts the crops for top-grade products for retail. The sorter is set to detect and eject all product that is misshapen or holed, or has any yellowish or brown leaves. Though this is a sorting task that demands high accuracy, TOMRA's machine achieves it with an impressively low false reject rate of less than 2%.
At the second stage, this time to arrive at product for sale to restaurants, Sustenir re-sorts the product rejected during the first sort. On this second run through the machine there is again zero acceptance of brown product, but now the sorting program is set to accept leaves which are up to 20% yellowish, as well as accepting misshapen or holed product. All product rejected during this second sorting is discarded as compost.
Environmentally, TOMRA's sorter has enabled Sustenir to take a big stride forward in reducing food waste - a key objective for the company and the Singapore Food Agency. Economically, the sorter is delivering significant savings - an impressive €30,000 every month.
Sustenir's Lawrence de Leon commented: "We're delighted with the effectiveness of TOMRA's sorter and with the financial payback. Investment in machinery typically takes more than three years to deliver a full return on investment, but with TOMRA's machine, ROI will be achieved in less than a year. We will be investing in more TOMRA sorters as part of our expansion."
Sustenir is considering acquiring three more TOMRA sorters, for indoor farms in Hong Kong, Jakarta, and Malaysia. With Sustenir's forward-looking vision and TOMRA's technologies, prospects for vertical farming are looking up.