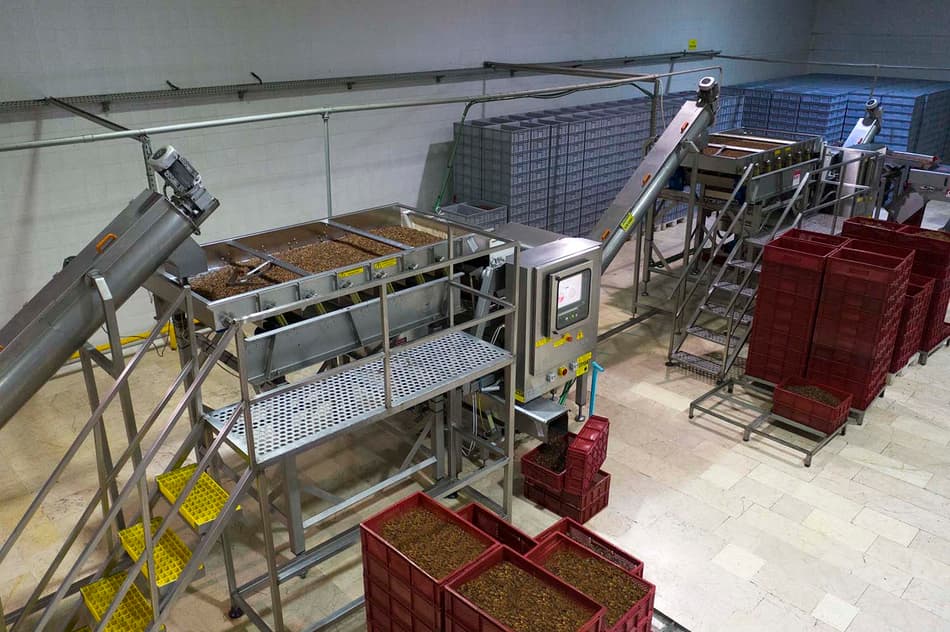 Customer story
Tuğrul Tarım, Türkiye  
One of the world's leading dried grape processing facilities has benefited greatly since investing in TOMRA's Food's innovative new sorting solution 
Tuğrul Tarım, the second largest raisin exporter in Türkiye, continues its operations in Manisa region which almost meets the entire dried grape production in Türkiye and is one of the most important grape production centers in the world. The company was founded in the 1960s to trade in dried grape and cotton production before producing raisins in 1994. It has relied on TOMRA sorting machines since 1996. As part of its continuous commitment to improving product quality and production capacity, the business recently purchased the new TOMRA 5C optical sorting machine.
Today, Tuğrul Tarım's 42,000 square-meter premises in Manisa Salihli, in the country's Aegean Region, handle 35,000 to 40,000 tons of raisins every year. All of this production is exported. Some 80 percent is sold as bulk products to leading European pastry, muesli, and food producers. The other 20 percent is sold as packaged products for private-label retail chains. In addition to shipping mainly to the United Kingdom, Germany, and Italy, the company also sells to Australia and New Zealand.
Emre Tuğrul, General Manager of Tuğrul Tarım, explained: "Grape products have great importance in our country's global trade. Türkiye is the world's second largest producer of seedless raisins, behind only the USA, and Türkiye is the world's largest exporter of seedless raisins, shipping to approximately 120 countries. Almost 90 percent of raisins for export, the Sultana type, are grown in Manisa. Although volumes can vary because of climatic conditions, Türkiye typically produces 300,000 tons per year, which is 20 percent of all global production. On average, 260,000 tons are exported annually, and 10 to 15 percent of this volume comes from Tuğrul Tarım. Having such an important responsibility, we do not compromise on innovation. That's why, since 1996, we have been investing in TOMRA machines."
TOMRA's technologies have raised production capacity
For years Tuğrul Tarım has stayed ahead of the game by using five TOMRA Helius free-fall optical sorting machines and two TOMRA Ixus Bulk x-ray sorting machines. Recent technological advances, however, mean that newer and more sophisticated options are now available which perform with even greater sorting accuracy, improve yields, and increase throughput - which means they also enhance cost-effectiveness. Hence Tuğrul Tarım's decision to invest in a TOMRA 5C.
In fact, the TOMRA 5C addresses the biggest challenges faced by the Dried Fruit and Nuts industry: labor, food safety, production capacity, and product quality. By detecting and ejecting foreign materials and quality defects with unprecedented accuracy, this machine enables the processing of the highest pack-to-grade product quality in high quantities while minimizing labor.
Emre Tuğrul said: "Because Türkiye handles such large volumes of raisins, automation is essential. With the traditional methods of the past, we were processing about three tons per hour. Now, with our TOMRA machines, we process 13 tons per hour and 100 tons per day. Thanks to TOMRA technologies, our annual capacity is 45,000 tons, and our product quality has reached the optimal level.
"We obtain high-quality products that will satisfy our meticulous customers. In the tests we performed with TOMRA 5C, we observed that the machine delivered high performance sorting foreign materials, such as plastic and stone, that are traditionally a problem with grapes. What's more, by using this machine, no product gets wasted. Thanks to the sorting accuracy, we don't have to discard low-quality outputs, but can sell them for alternative uses such as molasses, vinegar and alcohol."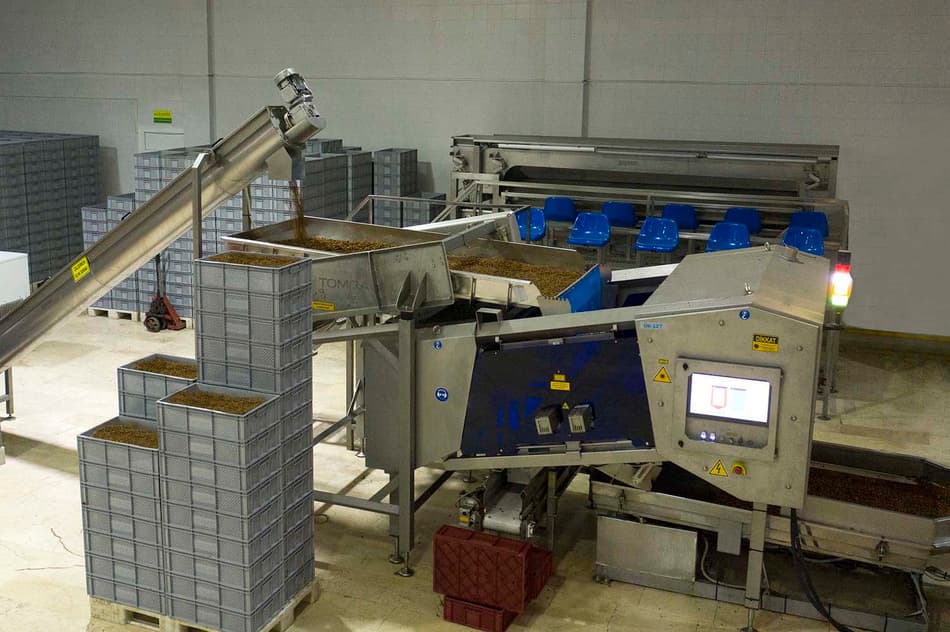 TOMRA 5C
Long-term cooperation pays off
Emre Tuğrul readily acknowledges the importance of Tuğrul Tarım's relationship with TOMRA: "In the same way that we have succeeded in establishing long-term cooperations with European customers who are leaders in their field, we are also meticulous about our third-party business partners. TOMRA has been our solution partner for 25 years. We are very satisfied with the machines and technologies and the after-sales service and support. Our purchasing decisions reflect this satisfaction: we only use TOMRA machines in our facility. And the fact that we use the world's leading optical sorting machines is something that our customers appreciate."
TOMRA 5C delivers the quality necessary for exports
Ahmet Koçyiğit, Sales Manager for TOMRA Food Türkiye, commented: "Because 85 to 90 percent of Türkiye's seedless raisins are exported, standards of foreign material removal have to be high. That's why we recommend the TOMRA 5C to Dried Fruit and grape producers. By combining industry-leading sensor technologies with big data analytics and being easy to use, clearly displaying the status of product and foreign materials on the line, this machine meets the highest expectations.
"The TOMRA 5C's latest generation, high-resolution lasers can detect the most challenging defects - such as broken peel, unripe grapes, rot, and grapevine - and grade products to reduce waste to a minimum. This machine helps producers increase capacity. It's easy to clean, reducing line downtime. And because it helps operators make real-time decisions on the line, it raises product quality and profitability, speeding-up return on investment."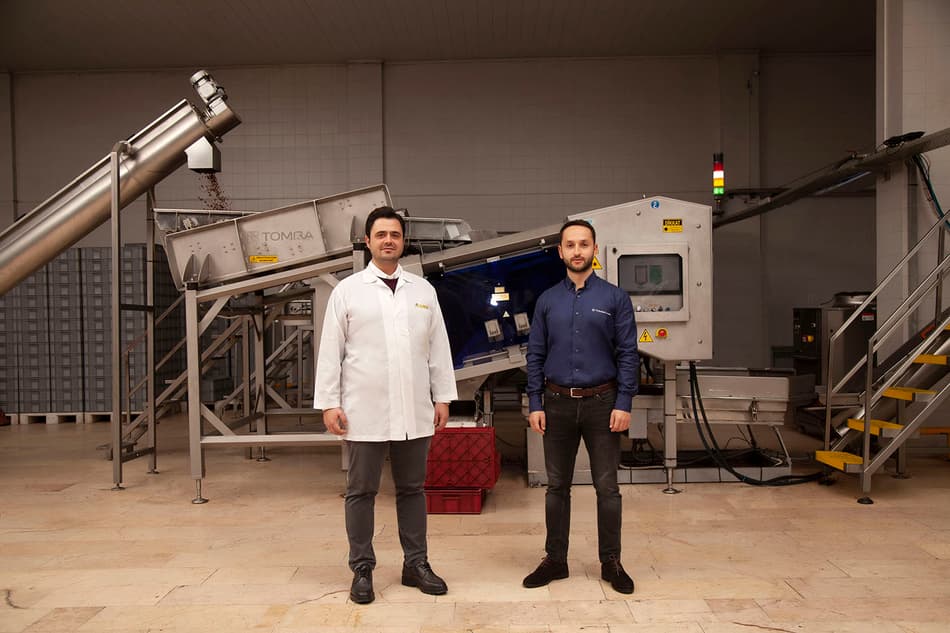 Emre Tuğrul and Ahmet Koçyiğit