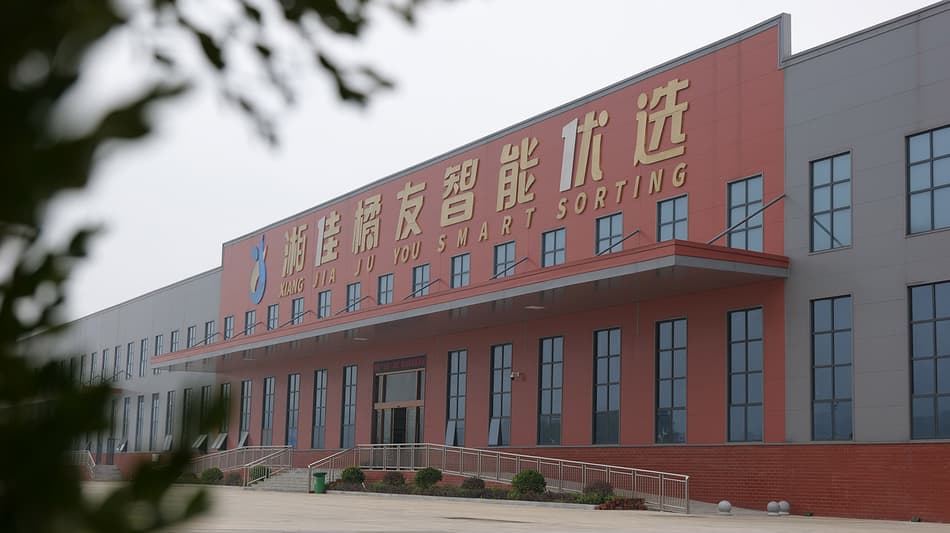 Xiangjia Juyou Hunan, China
Product quality, quantities, and consumer satisfaction have all increased since this ambitious business in Hunan Province purchased TOMRA's state-of-the-art sorting and grading solutions
Specializing in citrus fruits, Hunan Xiangjia Juyou Agriculture Co., Ltd. is active at every stage in the industry's chain. Since 2021, Xiangjia Juyou has introduced two TOMRA six-lane sorting and packing lines in pursuit of sorting 100,000 tons of citrus annually. Combining these two machines has had the effect of one plus one adding up to more than two. With this high productivity, Xiangjia Juyou - a subsidiary of Hunan Xiangjia Animal Husbandry Co., Ltd. - stands out in citrus the industry.
Xiangjia Juyou is located in Hunan Province's Shimen County, recognized by the Chinese Society of Citriculture as the top county in China for early ripening mandarins. The county boasts 30,000 hectares of mandarin orchards. However, this fruit faces the challenges of a short harvest season and storage period. Shimen mandarins enjoy a great reputation but as a brand are still in their infancy.
Rigorous standards and precise quality management

Xiangjia Juyou has strived to forge the brand's reputation from the outset by setting the highest standards at every link in the industry chain.
Growing the fruit, Xiangjia Juyou has built on local, well-established experience and the support of the Group's large-scale organic fertilizer factory. Xiangjia Juyou is committed to green organic practices in growing, fertilizer application, and pest control. In addition, the company has cooperated with agricultural colleges and universities to improve citrus quality through technology. As a result, the product has soft flesh and a perfect mixture of sweet and sour flavors.
For food safety, all Xiangjia Juyou's mandarins are subjected to pesticide residue detection before leaving the factory. By doing this, Xiangjia Juyou meets and exceeds international standards.
For processing and packaging, Xiangjia Juyou has chosen the path of standardization and automation over simple, time-consuming manual sorting. This is how Xiangjia Juyou raises the fruit's quality and value. To realize this business ambition, Xiangjia Juyou partners with TOMRA, famous for its cutting-edge technologies and equipment.
"The TOMRA line sorts oranges by appearance and internal quality. Externally, the fruit is assessed according to color, defects, and peel blemish caused by diseases and insect pests. Internally, the fruit is sorted by brix and acidity. These precise sorting facilitates enable targeted sales strategies," said Jia Kaijun, Director of Fruit Department of Xiangjia Juyou.
Xiangjia Juyou stands out in the domestic fruit market for the superior quality of its products, achieved through excellent quality management. As well as pleasing consumers, this is also helping to build the brand's reputation.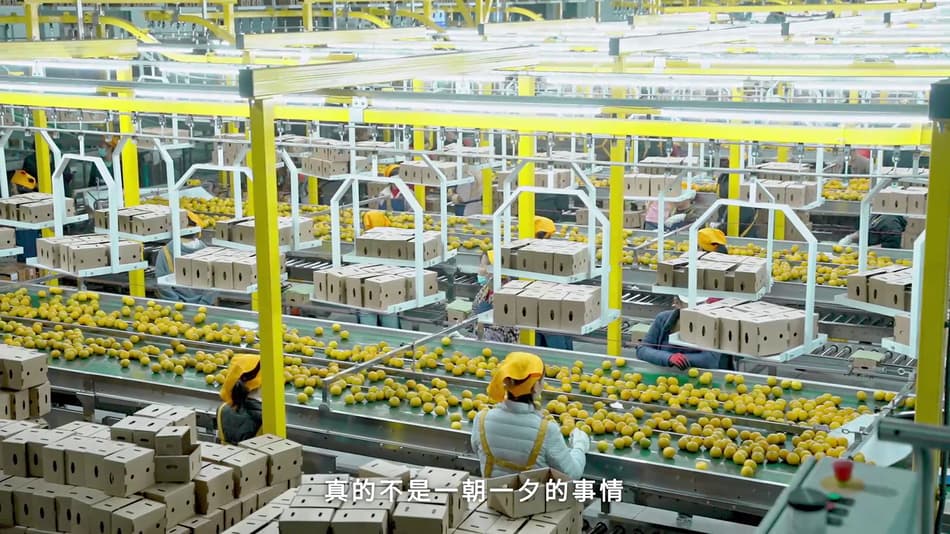 "In addition to the growth of the middle class, there is emerging demand for high-quality fruit. How to build a strong brand has become the main challenge for industry players. Xiangjia is one of the pionners who look into future prospects and understand the value of technologies. After we gained the full trust of Xiangjia with the successful launch of the first six lanes, they soon purchased another six lanes. We have absolute coinfidence that TOMRA can help Xiangjia make every resource count," affirms Chloe Zeng, Regional Sales manager Citrus, TOMRA Food.
Establishing China's homegrown mandarin brand
Establishing a fruit brand cannot be accomplished overnight. To meet the distinctive requirements of different markets, Xiangjia Juyou has rolled-out a series of brand products, encompassing Axiangjia Fruit and Xiangjia Juyou.
As one example, the platinum version of Axiangjia Fruit boasts a single fruit weight over 85g, a brix content of more than 13 degrees, a round rump, flame-red flesh, and of course no defects. Such fine citrus has quickly gained popularity in the first year since its launch. Before the fruit had ripened in the second year, many customers had already placed orders for it.
TOMRA's AI-based smart sorting lines facilitate the synchronous and precise grading of mandarins and general oranges. This is how Xiangjia Juyou manages to strike the balance between pursuing a high-end market and maintaining a low-end market, diversifying brands. Precise sorting allows distinctive brands and prices for different markets, making every orange count. The lines have also enabled greater throughputs and productivity.
"We work to refined management processes, from growing the fruit to rigorous sorting control. In this way, we can offer homegrown high-end brand mandarins for domestic consumers. Our high-grade orange boasts superior quality, as well as healthy and delicious features", affirmed Chen Lingjiao, General Manager of Xiangjia Juyou.
Xiangjia Juyou is facilitating the growth of the local mandarin industry through the adoption of smart technical solutions which result in excellent and precisely-defined product standards. This is good news for Xiangjia Juyou's home town and hundreds of thousands of fruit farmers.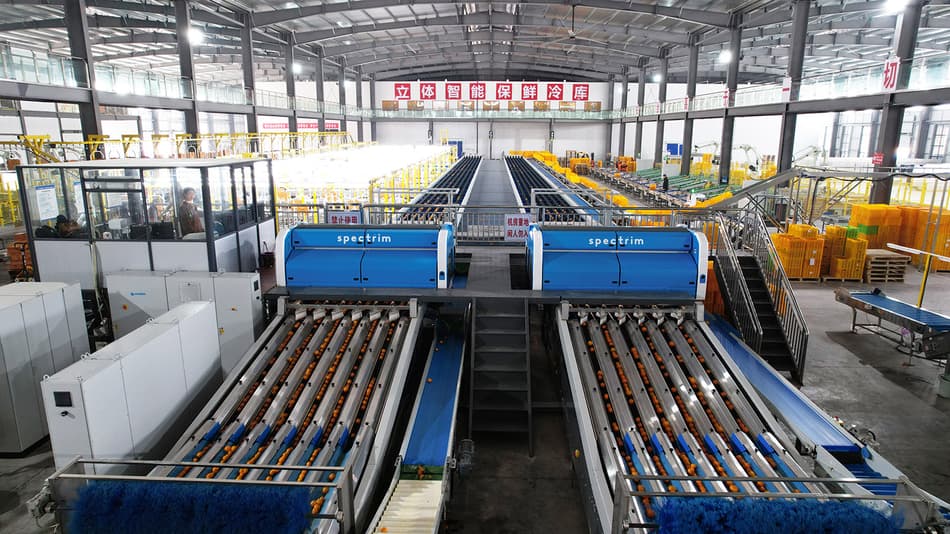 Watch the customer story video:
Customer story Xiangjia Juyou Hunan, China

Automatic feeding systems
The systems fully automate orange feeding, conveying, and basket flipping, cleaning and recycling, with smooth and stable operation. The two sets of systems can operate together or separately, depending on output requirements. And one system can continue working while the other is upgraded or maintained.
Two AI smart sorting systems
The latest TOMRA AI intelligent algorithm enables separate or combined operations. The Spectrim external defect detection system and Inspectra2 internal quality inspection system accurately identify fruit color, defects, diseases, brix, acidity, and sugar-acid ratio. These solutions can enhance corporate standards and sales performance.

The systems can customize pre-selection, cleaning, disinfection, preservation, air drying, waxing and drying based on the oranges' features. They can also control procedures flexibly to meet the diversified requirements of domestic and foreign customers.

Multi-functional packaging system
TOMRA customizes circular, echelon, and rapid semi-automatic fixed-weight packaging platforms. These can be leveraged according to their respective strengths and available storage space, to serve different product lines with simple operation and high efficiency.

Each area in contact with fruit is made of food-grade materials, most approved by the U.S. FDA. As well as meeting or exceeding international hygiene standards, the line is designed to be easy to clean and maintain.

Tracking data for the whole process
The smart sorting system can trace the fruit's place of origin, packing date, fruit grade, and other information. This means Xiangjia Juyou can trace fruit farmers, individual products, and sales terminals, to supervise upstream and downstream supply chains.