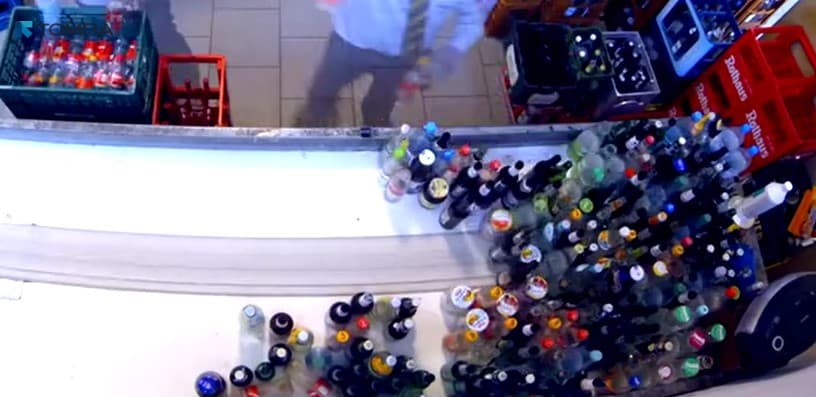 Edeka increases speed and convenience
Lahr, GERMANY: Kohler Lebensmittelhandel Gmbh is a family enterprise, operating seven Edeka supermarkets. Before the introduction of TOMRA reverse vending machines in the stores, shoppers returning their recycling had to ring a bell, and wait for an employee to receive the empty containers. The employee would then tally the total value of the empties using a calculator.
"We have chosen TOMRA reverse vending systems because we have good experiences with the company and are convinced that they are leading the reverse vending business," said Gerd Kohler, store owner and managing partner in Kohler Lebensmittelhandel Gmbh.

Maximum uptime


The stores use T-820 front-end machines, and recently upgraded to MultiPac backroom cabinets – an extensive offering designed for busy locations that receive medium to large volumes of bottles and cans. The multiple cabinets in MultiPac give capabilities for re-routing containers, to ensure that consumers can continue to insert their recyclable containers, even if one of the bins is full or in the process of being emptied.
"The machines are very fast and can be emptied from the side, which means we don't have to send customers away when emptying the bins," explained Gerd Kohler. "No one wants to wait, so the speed plays an important role, and the convenience."
Gerd Kohler is very satisfied with the solution. "We would choose a TOMRA system again, because the machines are very reliable. We seldom have any service interruptions, and if there is a problem, it can usually be solved online. We believe that because of the better service that the TOMRA system provides, we will win back customers who before maybe had to wait too long to return their empties. And this in turn will lead to increased revenues."
The TOMRA reverse vending solution has a positive impact here in our store. It has contributed to a quieter environment in the store. Our productivity has become much better. And also our customers are much more satisfied than before, because the return process is simply faster.
Gerd Kohler 
Managing Partner, Kohler Lebensmittelhandel Gmbh