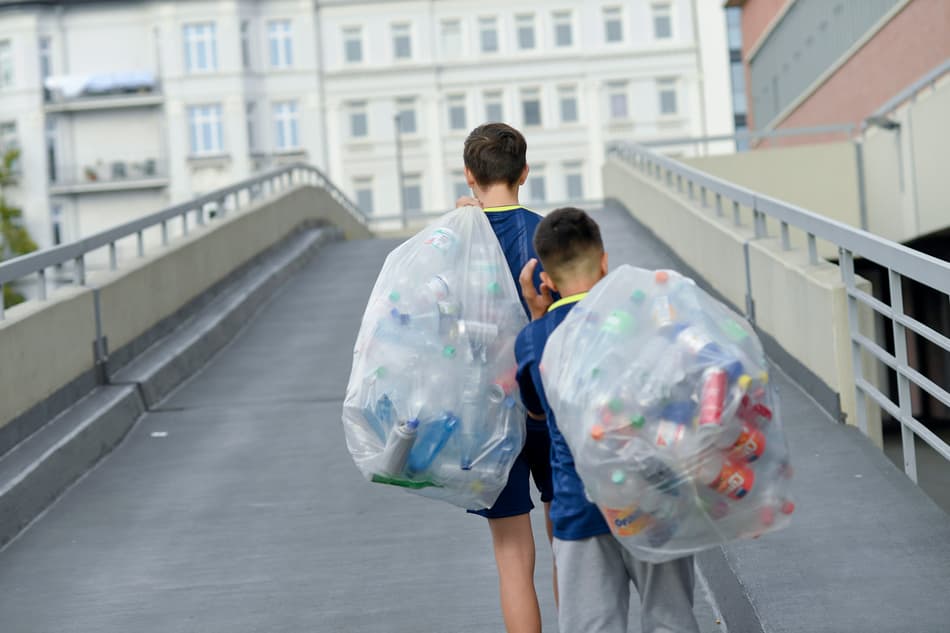 Reduce, reuse, recycle: what is a circular economy for plastic?
Plastic pollution is one of the world's most pressing environmental issues, with disposable plastic polluting the world's oceans. Transitioning towards a circular economy will help that valuable plastic find its way out of the ocean, and back into circulation.   
Single-use plastics, such as plastic beverage containers, bags, and cutlery, may only have a life cycle of hours or even minutes, yet their impact on the environment will likely be felt for hundreds of years.
According to the UN Environment Program, we produce 300 million tons of plastic a year. Plastic has been found everywhere on earth, from the Arctic to Antarctica. It has been found piling up on Mount Everest and in the world's most remote oceans, giving rise to a new marine ecosystem, the 'Plastisphere' (a term used to refer to ecosystems that have evolved to live in human-made plastic environments).
Creating a circular economy can help minimize plastics' impact on earth. A circular economy is restorative and regenerative by nature, creating a closed-loop system where material creation is used over multiple cycles for the same or similar application. In a circular economy, plastics would be repeatedly re-used and re-purposed to extend their life and prevent plastics from being disposed of in landfills and oceans. This, in turn, would help reduce virgin material creation.
The reduction of plastics and reusing it to the highest quality possible are critical elements of creating a circular economy. As such, both of these are impacted by the requirement to ensure material is collected and recycled.
Currently, more than two billion tons of municipal solid waste are generated worldwide every year, but only 16 per cent of this waste is recycled. Almost half is disposed of unsustainably, which means less material can be reused and more needs to be created. As a result, the impact on our planet is reaching critical levels.
The Ellen MacArthur Foundation, which actively promotes the idea of a circular plastics economy, highlights that more than 40 years after the launch of the first universal recycling symbol, just 14 per cent of the plastic packaging used globally is recycled and only two per cent remains in a circular economy for plastics.
That means 98 per cent of plastic is lost. Around 40 per cent ends up in landfills and 32 per cent in ecosystems, with the remaining 14 per cent used for incineration or energy recovery.
A circular economy of plastics would see people move away from a 'take, make, and dispose' mindset and instead move towards enhanced recycling, promoting reuse by creating a market for recycled products, and redesigning products with end of life in mind. Plastics aren't inherently bad; it's the single-use mindset that comes with them.
Research indicates that by 2040, a circular economy has the potential to reduce the annual volume of plastics entering our oceans by 80 per cent and reduce greenhouse gas (GHG) emissions by 25 per cent.
Plastics in practice
Plastic is one of the world's most used products, and brings with it a wide range of benefits to producers and manufacturers. Its durability, flexibility, lightweight, and low-cost production means it is the most used material for consumer packaging.
It's important to note plastic's benefit to us so that we can change the narrative that casts it as the villain. We simply do not collect and recycle enough of plastic to sustain a global closed-loop model, which invariably means we do not reuse enough of it for the creation of new products and packaging. We need to start viewing, and treating plastic as a valuable resource.
Producers of plastic packaging currently have little or no incentive to consider recycling or reuse when they design products, but end-of-life needs to be front of mind throughout product development processes if we are to protect earth for future generations to enjoy.
According to the Ellen MacArthur Foundation, if we are to create a circular economy for plastic we must:
- Eliminate all problematic and unnecessary plastic items
- Innovate to ensure the plastics we need are reusable, recyclable, or compostable
- Circulate all the plastic items we use to keep them in the economy and out of the environment
Steps to success
While plastics continue to choke our environment, progress is being made. More than 1000 organizations, including businesses and governments, have united behind the vision of creating a circular economy for plastics, setting key targets to be reached by 2025. This includes the goal of recycling or composting 50 per cent of plastic packaging and phasing out single-use plastic bags and straws.
Negotiations have also begun on the UN Treaty for plastic pollution. A treaty that will address the full lifecycle of plastic, from design and production to waste management and beyond.
The technology to create a circular plastics economy is already in place. For example, TOMRA has developed technologies to support a circular plastics economy. The TOMRA Holistic Resource System (HRS) uses a combination of waste management practices for collecting, sorting, and recycling. These include deposit return systems, separate collections, and mixed waste sorting. HRS aims to close the loop, cut global annual CO2 emissions, and reduce waste. Our sensor-based technology increases precision and streamlines recycling processes. At the same time, state-of-the-art reverse vending and waste sorting solutions recover materials while providing valuable insight into the composition of those materials.
TOMRA's aim is that by 2030, 40 per cent of all post-consumer plastic packaging will be collected for recycling, and 30 per cent of all post-consumer plastic packaging will be recycled in a closed-loop.
However, despite the continued development of sorting and recycling technologies, creating a circular plastics economy remains a global ambition. To truly achieve a circular plastics economy, the focus must remain on influencing policy, and shifting mindsets from a throw-away single-use culture to one that is dedicated to reusing and recycling.