Clean Loop Recycling Center partners with the Eric Wood Fund
Collaboration allows bottle and can deposit refunds to be directly donated to the foundation.
BUFFALO, NEW YORK: Today, the Clean Loop Recycling Center — an initiative by TOMRA of North America — has announced a partnership with The Eric Wood Fund. The new collaboration allows recyclers to donate their bottle and can deposit refunds directly to the foundation. A Summer Celebration event will be held August 7th to commemorate the partnership.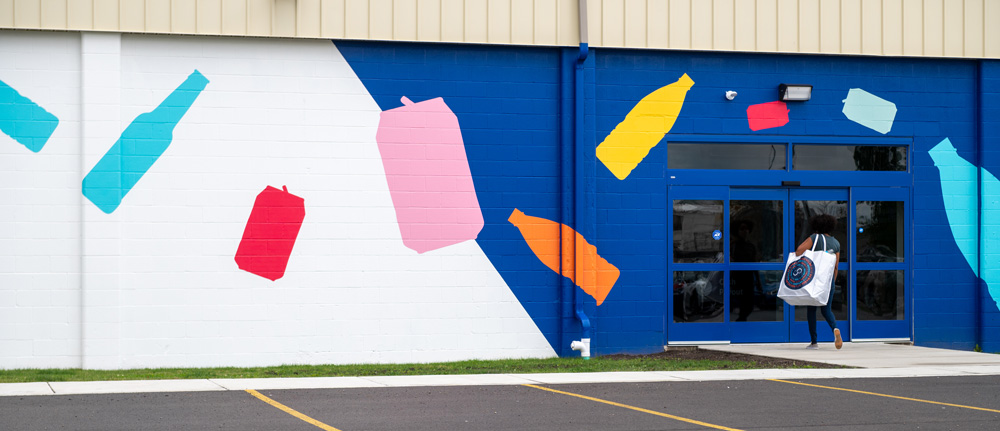 Clean Loop Recycling Center in Buffalo, New York
"We're honored to partner with Eric Wood and his foundation to help children and families lacking critical resources staying at the John R. Oishei Children's Hospital," said TOMRA North America Zone Manager, James Meola. "Our Center is committed to Buffalo. Turning bottles and cans into working dollars can help better the lives of those in-need — and the environment."

Visitors to the Center can begin donating their deposit refund directly to The Eric Wood Fund today. Donated payouts will support the Children's Hospital of Buffalo Foundation through the Family Resource Center. Funds will be used to help provide vital services to families staying at the hospital with children that are chronically ill or suffering from life-threatening illnesses.

"I'm excited to be able to come back to Buffalo for the first time since the 2019 football season and make an impact for a cause I'm so passionate about alongside Clean Loop," said Eric Wood, founder of the Eric Wood Fund and former Buffalo Bill. "I look forward to seeing a bunch of Bills fans in attendance!"

The Summer Celebration event will be held on August 7th from 11:00 a.m. to 3:00 p.m. directly at the Center (88 Botsford Place, Buffalo, NY 14216). Free to all, the event will include goods and wares sold by local vendors; free food from Lloyd Taco Truck; complimentary beer tasting from Thin Man; games with cash prizes including Kan Jam and corn hole; and tours of the Center. Eric Wood will be present at the event to commemorate the new collaboration.

Located at 88 Botsford Place, the Clean Loop Recycling Center offers a clean, fast and accurate redemption experience. Bottles and cans are automatically scanned, processed and counted with cutting-edge technology —bulk returns can even be done hands-free. Payouts are offered in cash or digitally via PayPal through the myTOMRA app. The Clean Loop Recycling Center is open Monday through Saturday from 9:00 a.m. to 6:00 p.m., and on Sunday from 9:00 a.m. to 5:00 p.m.

To learn more, visit cleanloopcenter.com or donate to the Eric Wood Fund online
About the Clean Loop Recycling Center


The Clean Loop Recycling Center is Buffalo's smartest can and bottle return point, offering a modern redemption center experience. It features cutting-edge reverse vending solutions, digital technology and a clean, fast and accurate recycling experience. The Center enables Clean Loop Recycling, the most efficient and effective process in the world today for recycling beverage containers. Beverage containers recycled through this process are collected and sorted without contamination from other types of waste. This ensures the material can be recycled into new bottles and cans again and again in a loop of clean resource reuse. To learn more, please visit cleanloopcenter.com.
About the Eric Wood Fund


The Eric Wood Fund is a critically important resource for the patients and families served at the Oishei Children's Hospital in Buffalo. Funds raised to support the Eric Wood Fund at The Children's Hospital of Buffalo Foundation have an immediate, positive impact on the comfort and care of chronically ill children and their families. We are proud to partner with Eric to enhance vital services provided through the Family Resource Center, Child Life and Stone's Buddies Program