Recycling deposit bottles gets more fun and convenient at Toverland Amusement Park
TOMRA installs reverse vending machine for on-the-go beverage container recycling in Netherlands fun park.
APELDOORN, THE NETHERLANDS: Visitors to the Toverland Amusement Park in the Netherlands can now return their empty beverage containers for recycling, following the installation of a new reverse vending machine by global reverse vending leader TOMRA. This way, park visitors can also enjoy contributing to a clean planet during a fun day out. The reverse vending machine issues a voucher for the deposit refund, which can be redeemed at food and dining areas throughout the park.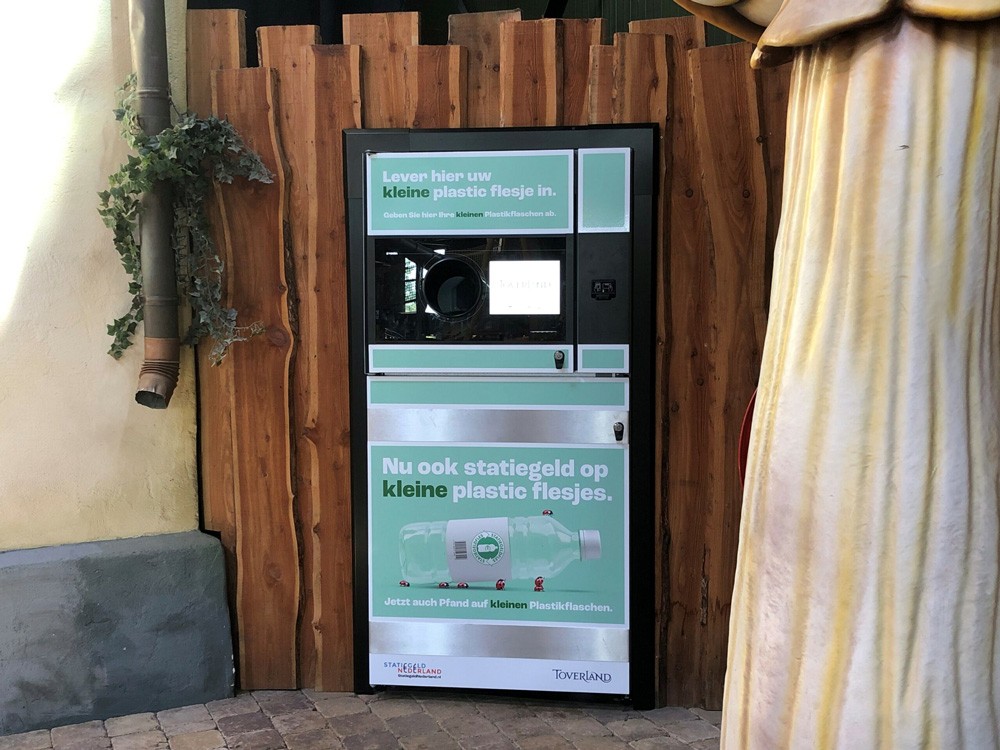 When visitors return their empty drink bottles via the
TOMRA T-70 reverse vending machine
, the machine instantly recognizes the container shape and barcode. If it is a bottle that is eligible in the Netherlands'
deposit return scheme
, the reverse vending machine pays out a refund of the deposit paid when the drink was purchased – just like the reverse vending machines already in place in supermarkets across the country. The T-70 then compresses the bottle using a compactor built into the machine, meaning that the machine needs to be emptied less often and that fewer transport movements are required.
Container bins for charity donation
Throughout Toverland Amusement Park there are also 14 container donation bins, provided by the country's deposit return system operator Statiegeld Nederland, where visitors can donate their empty bottles without payout of their deposit refund. The proceeds of these donated bottles go to a charity that is selected by the employees of Toverland. This year's proceeds will go to The Forgotten Child Foundation, which seeks to support to support vulnerable children across the country.
About Toverland
Toverland Amusement Park consists of six themed areas with no fewer than 35 attractions and shows, including Troy: the fastest, longest and highest wooden roller coaster in Benelux. Toverland is located in Sevenum in North Limburg, a 25-minute drive from Eindhoven. In 2021 this magical family business will celebrate its 20th anniversary. Find out more at toverland.com.