25 feb 2021
TOMRA "Rewarding Recycling" webinar shares best practices in deposit return systems
TOMRA shares the recording
and presentation slides from February webinar on learnings from the world's highest-performing deposit return systems
This February, the global leader in collecting beverage containers for recycling, TOMRA, hosted a webinar based on its newest white paper, "
Rewarding Recycling: Learnings from the World's Highest-Performing Deposit Return Systems
" (free download). The white paper reflects on the principles that make a high-performing system – so stakeholders can better understand why some deposit systems are succeeding, while others are failing.
This webinar took a deep dive into the white paper findings by examining the 12 key policy elements that put these principles into practice, and by sharing case studies of regions that are best at delivering on those elements in their deposit return systems. This will be followed by a series of quarterly TOMRA webinars on each of the four principles of high-performing deposit return systems.
Below you can view the recording of this webinar and also the slides shown during the presentation.
Get in touch
if you have any questions about TOMRA's "Rewarding Recycling" white paper.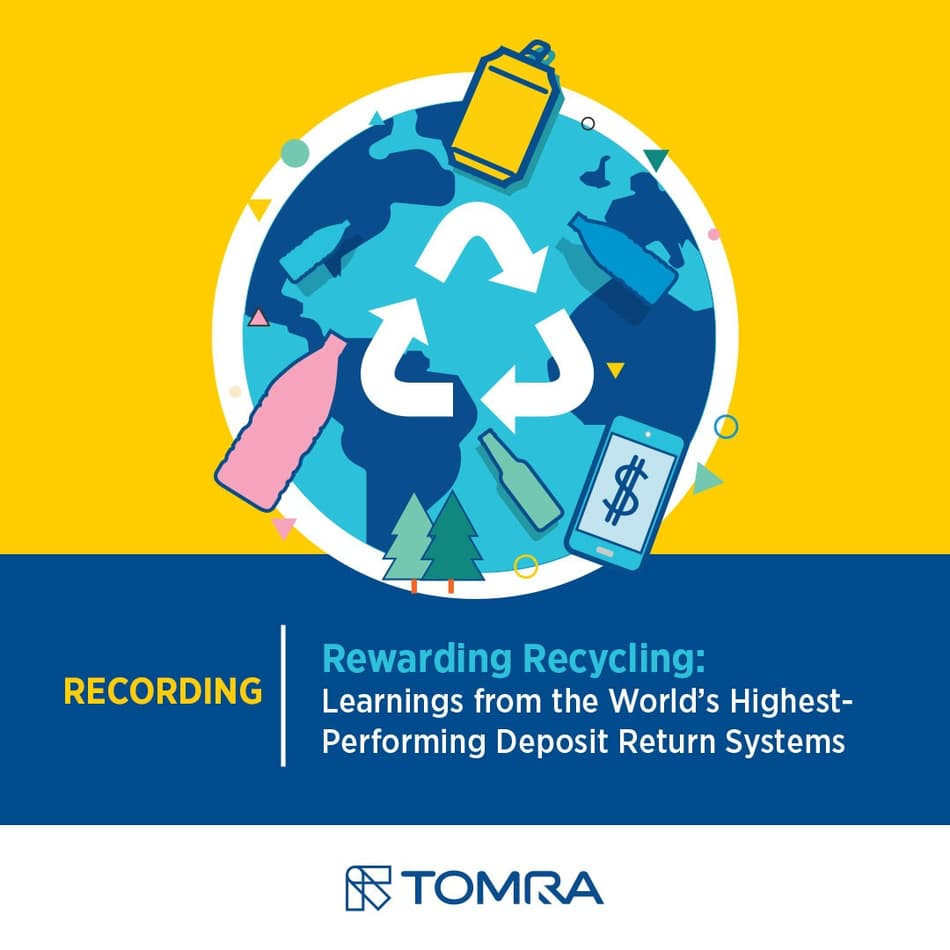 About TOMRA:
TOMRA was founded on an innovation in 1972 that began with the design, manufacturing and sale of reverse vending machines (RVMs) for automated collection of used beverage containers. Today TOMRA provides technology-led solutions that enable the circular economy with advanced collection and sorting systems that optimize resource recovery and minimize waste in the food, recycling and, mining industries.
TOMRA provides reverse vending solutions for Clean Loop Recycling, collecting aluminum, plastic and glass beverage containers to be continually reused and recycled back into new bottles and cans. With over 84,000 installations across more than 60 markets, TOMRA's reverse vending machines capture over 40 billion used beverage containers every year toward a closed loop. This reduces reliance on raw materials, and ensures fewer containers end up in our streets, oceans and landfills. The TOMRA system of machines, digital solutions and service make it easy for the industry, system owners, retailers and consumers to contribute to a more sustainable planet.
TOMRA Group has more than ~100,000 installations in over 80 markets worldwide and had total revenues of ~ 9.3 billion NOK in 2019. The Group employs ~4,500 globally and is publicly listed on the Oslo Stock Exchange (OSE: TOM). For further information about TOMRA, please visit
www.tomra.com
.