TOMRA celebrates Victorian container deposit return scheme appointment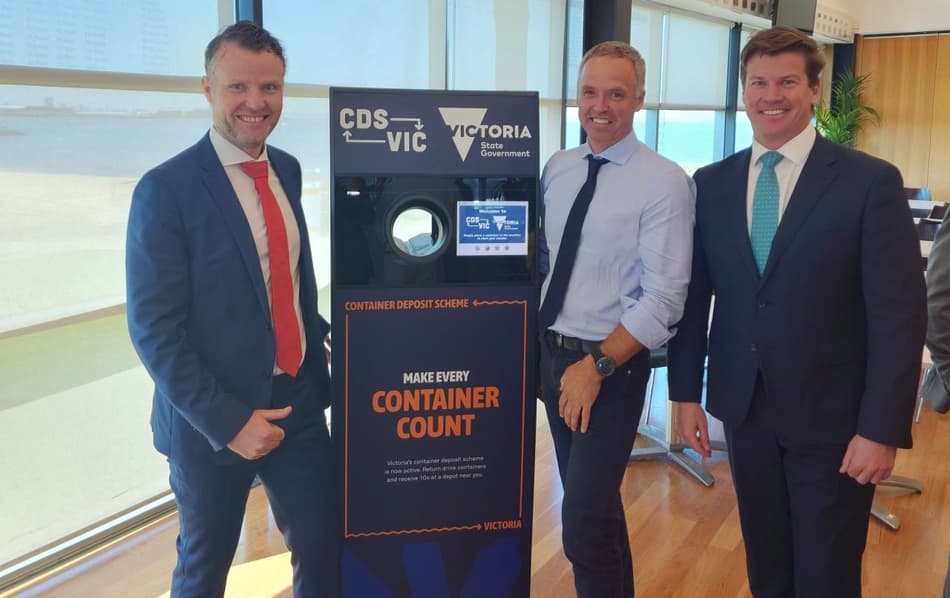 Left to right: Tor Eirik Knutsen, TOMRA Collection Pacific CEO; Mark Schubert, Cleanaway CEO; James Dorney, TOMRA Cleanaway CEO
TOMRA Collection Pacific celebrates news of its appointment today as a 50/50 partner with Cleanaway in the joint venture "TOMRA Cleanaway Victoria", to provide Network Operator services for the Australian state of Victoria's deposit return scheme (known in Australia as a container deposit scheme or CDS) for drink container recycling. TOMRA's appointment will see it operating CDS Zones 1 and 4 (Western Regional Victoria and Western Metropolitan Melbourne), which equates to approximately one-third of the state of Victoria in geographic terms.
The scheme is expected to commence on 1 November 2023. TOMRA is the global leader in reverse vending technology, and Cleanaway is the leading waste management company in Australia.
TOMRA Collection Pacific CEO, Tor Eirik Knutsen, applauded the decision, saying, "Today's announcement by the Victorian Government is an excellent outcome for TOMRA Collection Pacific, our joint venture partner Cleanaway and the broader Victorian community. A bespoke and world-class container deposit network, with unparalleled digital capabilities, will be implemented by TOMRA and Cleanaway across Western Regional Victoria and Western Metropolitan Melbourne."
One of the key features of TOMRA Cleanaway's network will be the provision of TOMRA's world-leading reverse vending machine (RVM) technology that will scan and verify each container as it enters the Victorian container deposit scheme, together with a full range of consumer deposit refund options including retail cash, digital transfers direct to bank account, and donations to charities or community groups.
"The Western Regional Victoria and Western Metropolitan Melbourne combined regions represent a considerable container collection opportunity. Over 400 of TOMRA's RVMs will be installed, serving over two million Victorian residents within the Western regions", said Tor Eirik Knutsen.
100% of all beverage containers collected through TOMRA RVMs will be recycled as part of the new scheme – with the ability to achieve the ultimate goal of bottle-to-bottle remanufacture and circularity. Plastics will be taken to local recycling plants, glass delivered to beneficiation plants for reuse, and aluminum sold into an open commodity market to be infinitely recycled.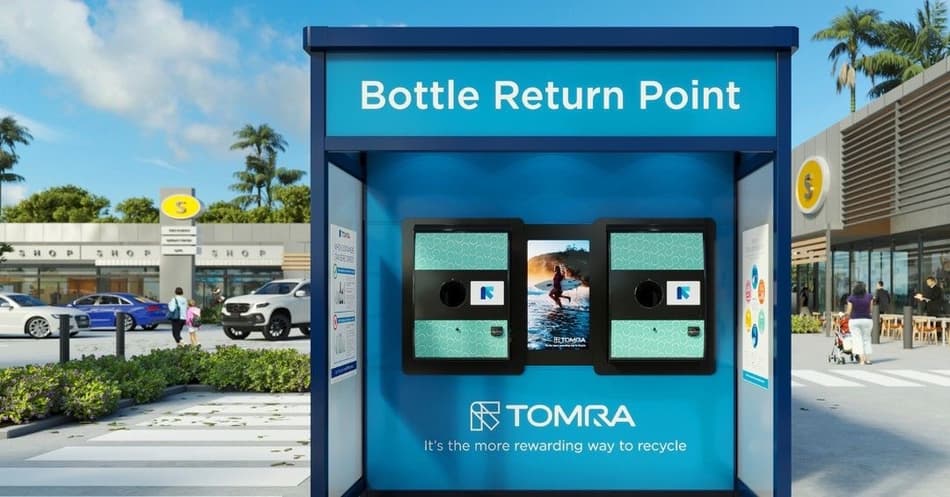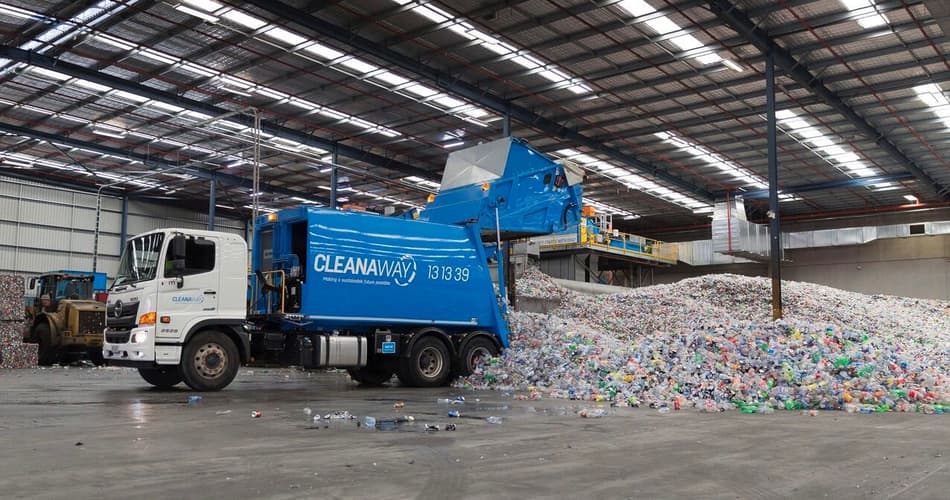 Charity partnerships will also form an integral part of the TOMRA RVM network, just as it has in the Australian state of New South Wales, where over AUD $40 million in donations and handling fees have been raised for major charities, local charities, community groups and social causes.
"TOMRA's worldwide expertise in container deposit scheme network delivery has demonstrated the significant value that our technology can deliver for charities and social enterprises – both financially and in relation to new employment opportunities. This is yet another component of delivering Victoria an outstanding scheme that will stand the test of time," says Knutsen.
"TOMRA Collection Pacific is pleased with the announcement and involvement with the Victorian container deposit scheme that will deliver 'Clean Loop Recycling' in a new market in Australia."
About TOMRA Collection:
TOMRA Collection provides reverse vending machines for Clean Loop Recycling, to transform society's habits and keep valuable resources in a continuous loop of use and reuse. The company's solutions collect aluminum, plastic and glass beverage containers to be continually reused and recycled back into new bottles and cans. With over 80,000 installations across more than 60 markets, TOMRA reverse vending machines capture over 45 billion used bottles and cans each year. This reduces reliance on raw materials, and ensures fewer containers end up in our streets, oceans and landfills. TOMRA's reverse vending machines, digital solutions and service make recycling easy for the industry, system owners, retailers and consumers to contribute to a more sustainable planet. Visit our Reverse Vending pages on tomra.com, and follow us on Facebook, Twitter, Instagram and LinkedIn.
TOMRA Collection is a division of TOMRA Group. Today, TOMRA is leading the resource revolution to transform how the planet's resources are obtained, used and reused to enable a world without waste. The company's other business divisions comprise TOMRA Food and TOMRA Recycling. The Group employs approximately 5000 globally and is publicly listed on the Oslo Stock Exchange.