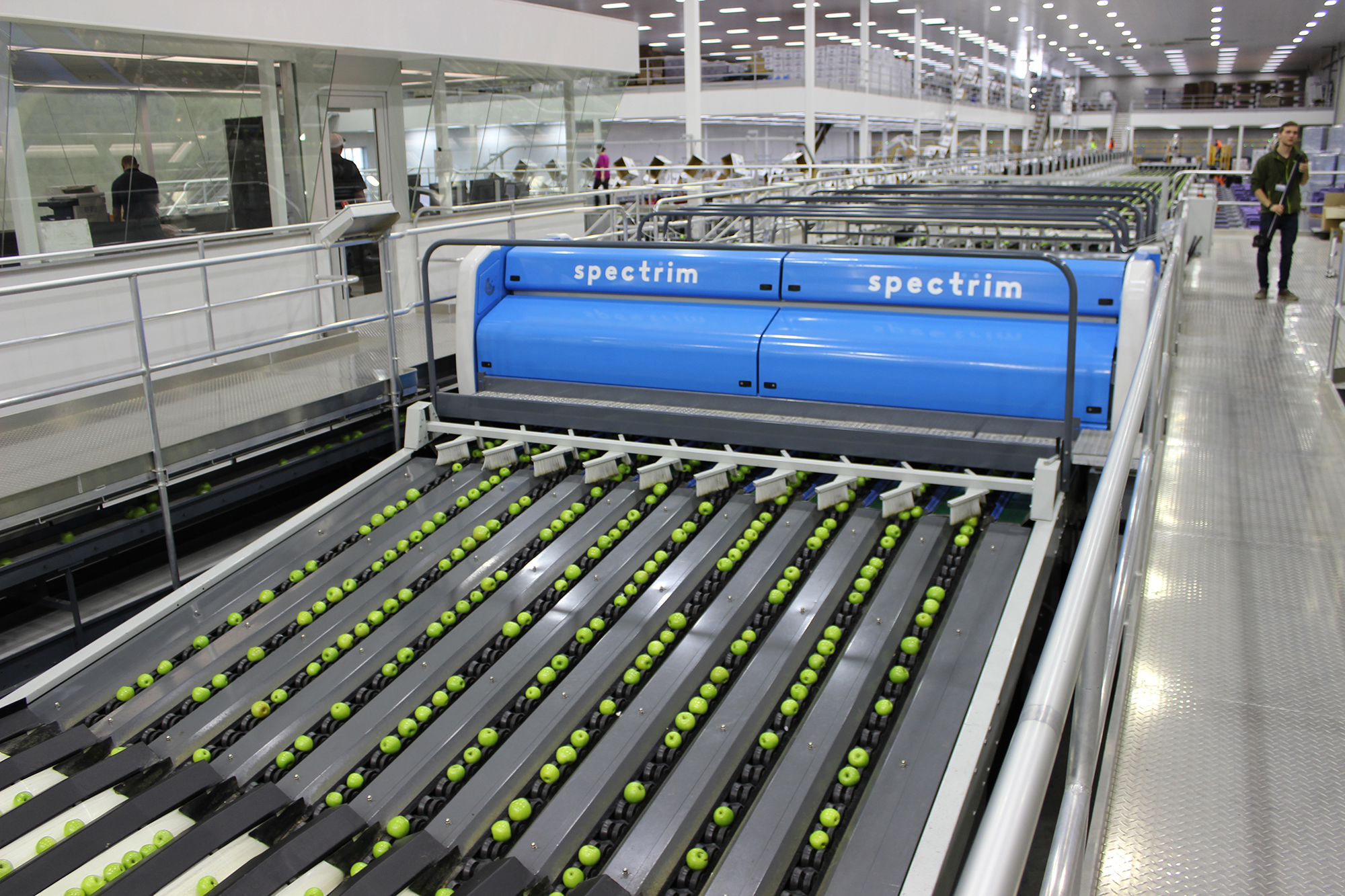 Integrated apple solutions: postharvest to pack

Gentle handling your apples
Our integrated solutions for apple processing ensure a gentle transition throughout the packhouse; from bin to the sorter through to packing.

Value added apple solutions
We're focused on helping our customers achieve the best results in every aspect of their produce journey - from orchard to market. Our integrated packhouse technology is designed with your produce in mind. 

World-leading apple blemish detection
Our optical systems can be configured to grade apples for differing levels of defects, providing maximum control when matching product grades to different markets. Our apple sizing and grading equipment enables maximum efficiency and could make you open new markets with different levels of quality needs. 

Unrivaled apple internal quality grading
Our apple grading solutions keep bad apples out of good boxes and reduce fruit giveaway with our Inspectra2 - a noninvasive solution for internal defect grading.
Our apple grading machines can detect internal browning, apples with worm holes, apples which are not overripe and other internal defects. 

CUSTOMER STORY


Ceravolo Orchards, Australia


Integrated apple solution

The Ceravolo family has been growing fruit in the Adelaide Hills for three generations. The combination of the Spectrim and Inspectra2 guarantee their customers an excellent quality product.
Apple sorting and grading solutions
TOMRA 5S Advanced builds on the class-leading performance of our Multi Lane Sorter and revolutionizes food safety expectations. It is the only platform truly designed for hygienic operation, with toolless cleaning and sanitization, and food safe contact areas. With its advanced connectivity features, it is designed to be the digital heart of the packhouse and meet the industries' evolving needs, futureproofing the customer's business for the next 10 years.
Spectrim combines key elements within hardware, software and operational optimization to offer the most advanced optical sorting platform. The Spectrim System removes the challenges of sorting produce, adding value to packed crops and reducing complexity of operation, all with increased operation efficiency.
UltraView next-generation sensor technology creates superior quality images of the fruit to advance detection of difficult defects. UltraView integrates with the Spectrim cabinet and is powered by the same powerful and easy-to-use Spectrim vision software.
Inspectra2 system is our safe, non-invasive, near-infrared (NIR) technology used for testing the internal properties of your produce.Inspectra2 system is our safe, non-invasive, near-infrared (NIR) technology used for testing the internal properties of your produce.
The Dynamic Lane Balancer allows you to maximize the operational effectiveness of your sorting line by providing overall increased throughput through better distribution of fruit while reducing spill and recycle rates, and damage to fruit. The real-time software allows the Dynamic Lane Balancer to react to the many variables that exist within your packhouse, adjusting automatically for changes in fruit-flow between batches, varieties, or different commodities on your line.

Single and Dual Lane Sorters (SLS & DLS) are versatile platforms which can be used as the primary sorter for small to medium packhouses sorting between 1 to 8 metric tonnes per hour. SLS & DLS machines can also be used as a packing line when connected to a larger Multi Lane Sorter (MLS).
Apple filling & packing solutions
Our box fillers accurately and gently fills boxes and cartons of various sizes. Our box fillers have accuracy down to a single piece of produce and can fill at speeds of three to four boxes per minute. Using our innovative sizer software and a feed belt equipped with sensors, every individual piece of produce is counted as it is packed into a box or carton. Our box filling weighing option ensures boxes meet a certain weight while still filling at a speed of three to four boxes per minute. 
Our rotary tables are equipped with sensors to detect how full the table is, eliminating overfilling which causes damage to produce. Outlet displays communicate pack and grade information to workers at the station.

Our tray filler is an efficient, gentle system designed to move apples from a cross conveyor into trays. Height adjustable, the filler can accommodate different tray sizes, small boxes or cartons.