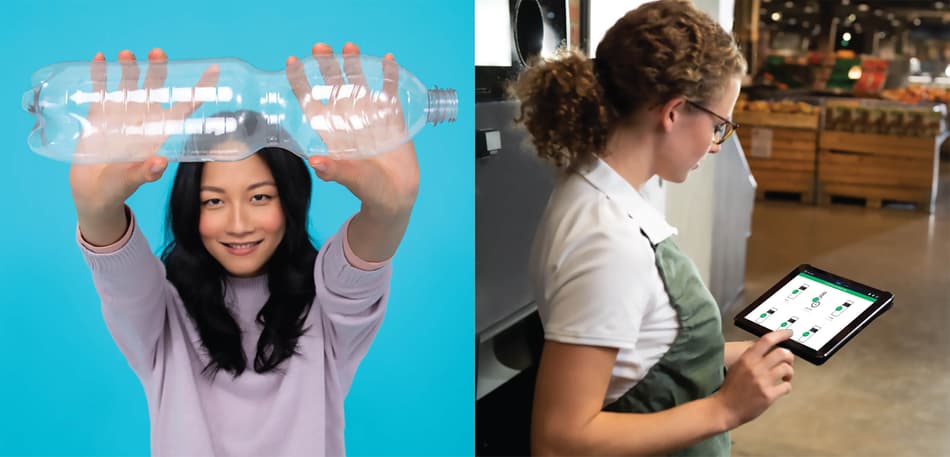 TOMRA APIs
The data-driven way to make recycling pay
The TOMRA Collection APIs offering enable your TOMRA Reverse vending system to be a part of your digital ecosystem. Integrate your bottle return with your existing management system to increase uptime, optimize store operations, and maximize returns. Keep customers coming back with an efficient, easy, and engaging digital recycling experience.

When you invest in TOMRA APIs, you reap the long-term benefits of high-quality, continuous improvements that will help you get the most out of your recycling system for years to come. It's a win-win-win!

Get the most out of your recycling solution
Quick, easy and safe data access

Reward bottle returns with loyalty points
Link your recycling solution to your own app through the TOMRA Digital Payout API to offer customers a seamless, paperless way to return their bottles, receive their payout, and earn loyalty points to redeem at your store.

Turn recycling into revenue
Increase the flow of traffic and revenue coming into your store with a fully integrated loyalty program to make it easy for customers to engage with your store, claim their points, and keep coming back for more.

Simple solutions with sophisticated security
Industry-leading protocols ensure secure communication, authentication, and authorization, keeping everyone's information safe when handling your data and your customers' refunds.

Maximize uptime and streamline store operations
Receive real-time status notifications on your device so you know when your reverse vending machine (RVM) needs attention. Resolve issues with automated guidance, and get back to tending to your store with the TOMRA Status API.

Make sure your store is recycling ready
Ensure a great customer recycling experience with a convenient solution that is always ready to recycle.

Get the most out of your recycling solution
Track daily RVM usage and plan maintenance accordingly for efficient, streamlined workdays, fewer service surprises, and maximum uptime.

Quick and easy data access
With the TOMRA Consumer Sessions API, all data from consumer recycling transactions is stored in the cloud and accessible almost instantly.

Get a clear picture of each transaction
Track each consumer session with a unique ID and refund amount for greater digital payout visibility and easy reconciliation.

Return data that's right where you need it
Integrate return data into your existing software for real-time reporting that provides you with everything you need to know in one place.
TOMRA Volume by Supergroup

Get true container volume visibility
TOMRA's Volume per Supergroup API offers a count of each container type returned through your reverse vending system in each store, every day.

Enjoy peace of mind through container data
Make variable deposit rates simple to track and ensure consumers are paid properly for their returns through container return information you can trust.

Be confident you're receiving accurate fees
Gather container count data per supergroup to verify payouts with your system operator, and feel confident your payment matches container return activity.