Leading the resource revolution: TOMRA's mission is to transform how we all obtain, use and reuse the planet's resources to enable a world without waste. We create lasting social and environmental value through our products and services, driving increased resource productivity in all sectors that we serve.

Becoming a fully circular business: TOMRA is committed to minimizing the environmental footprint of our products and operations. We embed circular and eco-design principles in our product development processes and decision-making, taking responsibility for all materials and machine parts along their value chain; putting as much as possible back into use; with net-zero GHG emissions.

Safe, fair, and inclusive: TOMRA operates with integrity and fairness to be an employer of choice and a trusted business partner, inspiring sustainability in all our relations. We are proudly recognized for a working environment that embraces cultural diversity, inclusiveness, and well-being – where people can live their best lives and get home safely every day.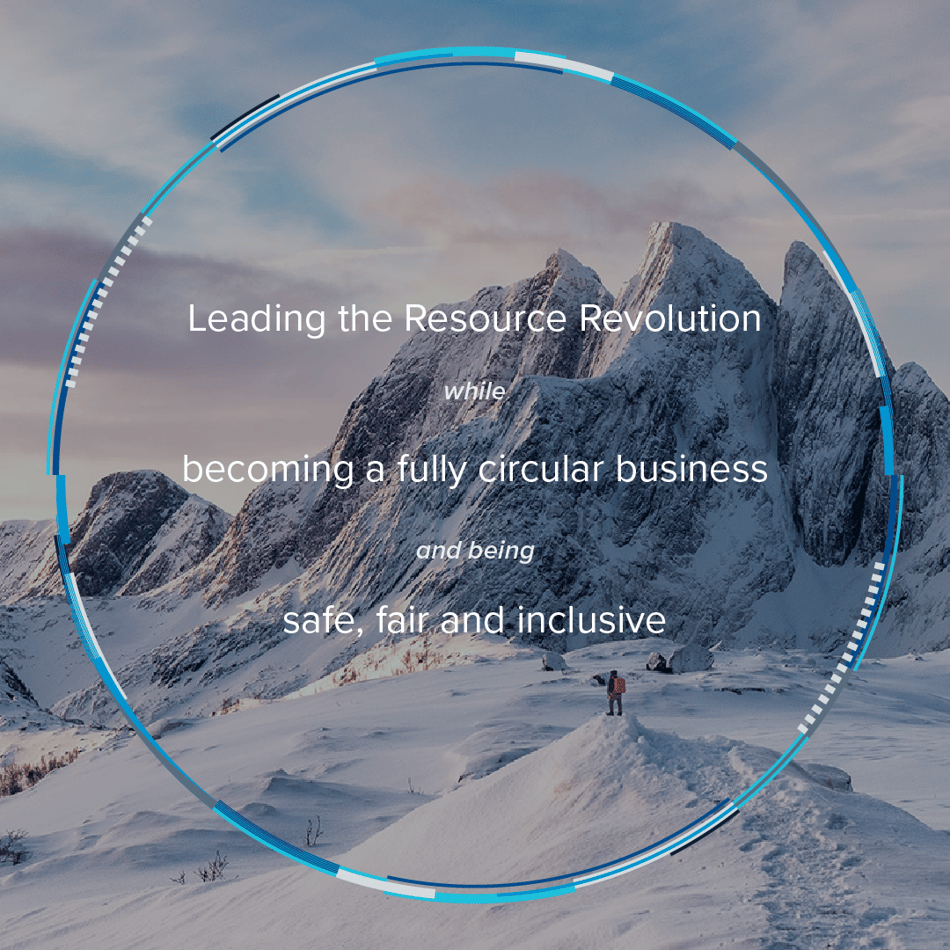 To focus our sustainability agenda and direct efforts where they matter most, TOMRA has outlined five strategic focus areas for sustainability action. This builds on insights gained from our latest materiality assessment, which helped us to better understand where we have the biggest sustainability impact and what specific issues are most important, both from business and stakeholder perspectives.
Click on the circles below to read more about each of our strategic sustainability pillars.
Resource Productivity
Represents the positive impact of our products and solutions in use – making sure every resource counts.
Sustainable Product Design
Is about product circularity and eco-design – optimizing the environmental footprint of our machines across their life cycle
Supply Chain Sustainability
Means working with our partners to sustainably transform the supply chain – minimizing environmental impact in a socially and ethically responsible way.
Climate Impact
Is about managing and reducing greenhouse gas emissions along our entire value chain – ensuring corporate efforts in line with what is needed to achieve the global target of well below 2°C warming, pursuing 1.5°C.
Employee Value Proposition
Means putting our people first and taking dedicated action to ensure high performance on health and safety; diversity, equity and inclusion; staff engagement and satisfaction – being the place where Resource Revolutionaries thrive.
More information about our strategic approach to sustainability, including the full overview of material topics can be found in our
Annual Report 2021
, pages 14-16.
The targets below represent our commitment at TOMRA to ensure that sustainability is embedded in everything we do. It is what we must effectively achieve to realize our ambition – to be Leading the Resource Revolution while Becoming a Fully Circular Business and being Safe, Fair and Equal.
We know that achieving the targets will require lots of hard work, innovation, investments, and not least collaboration. We acknowledge uncertainty regarding how to meet some of the targets, and that the journey must be shaped along the way. Nevertheless, it is a firmly held belief at TOMRA that this is the direction we need to move in – to continue winning in the market, to attract and retain talent, and to further strengthen our position as a leading solutions-provider enabling low-carbon and circular economy.
The targets below were officially launched in June 2022. The target framework will be regularly reviewed and reported on. In due course, this section of the website will be updated with more information about strategy implementation roadmaps that describe actions (planned and initiated) to achieve the sustainability targets, and performance metrics to disclose and evaluate our progress against the set targets. For now, more information about target definitions and related actions is available here.
* These aspirations are not bound to the 2030 targets timeline