7 DECember 2022
#WeAreTOMRA: Meet Marius Fraurud, Senior Vice President and Head of The Solution Hub
For Marius, collaborating with teams, working to bridge business and technology, and applying his skills to have a positive environmental impact, are what he values most in his work.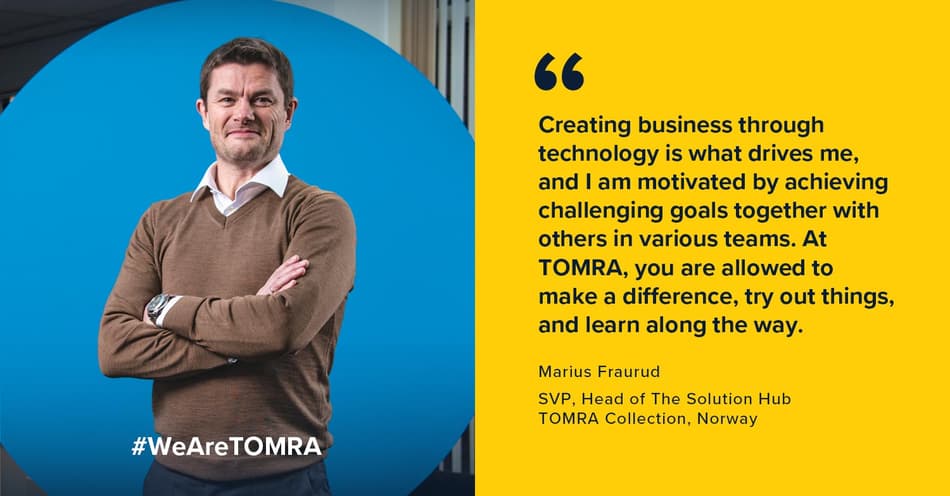 Why did you apply for a position at TOMRA?
I was at a stage in my career where I was considering moving on to something new. Then I saw an ad for a vacant position as Head of Research & Development (R&D) at TOMRA, and instantly told myself, "That is my new job." I'd held several technology management roles before, and I like the connection between business and technology. I also knew of TOMRA as an interesting company since my university studies. I came from the oil and gas industry, and so the green component of TOMRA also felt good to me. I came a little late into the recruitment process, but I gave it my all. And here I am seven years later, and now Head of The Solution Hub in TOMRA Collection, based in Asker, Norway.
How would you describe your work today?
My role is to help our TOMRA Collection market and business units to succeed. In The Solution Hub, we work to ensure TOMRA has the right solutions and secure deliveries of these so that our local teams around the world will succeed in sales and service in all the markets where we are present.
The Solution Hub develops and delivers products and solutions for TOMRA customers, but also provides service tools for internal use to enable efficient operation and support to our customers. We work in the full lifecycle from innovation and product inception through development, sourcing, production, delivery, support, repair, and decommissioning. To help sales, we develop great marketing and communication strategies and tools together with the markets, to help secure TOMRA's market position.
What do you like most about your work?
There are many things that I appreciate in my work. I really like to be part of creating something that succeeds in the marketplace. Creating business through technology is what drives me, and I am motivated by achieving challenging goals together with others in the various teams. I see myself as the football coach: being fortunate to work with talented and experienced people, I am there to motivate, support and lead them so that we can reach our goals together.
I find the green profile of the company matters more and more to me. Learning about and seeing what positive impact we can have on this world is an increasingly stronger driving force for me, the longer I work at TOMRA.
At TOMRA, we have a culture where people can be themselves. I have worked at other companies where this was not the case, so I know that the culture and openness we have is not a given. At TOMRA, you are allowed to try out things. It is okay to fail or make mistakes, to run with a project and learn along the way. We have a great culture, and it may be easy to take it for granted, but we must protect and nurture it to preserve it.
What do you like to do during your spare time?
In my spare time, I enjoy activities where the result can be seen or experienced quite quickly. I do not like to sit still, so mostly there is a physical component to the activity. I love to create things, and therefore I like carpentry projects on my house or cabin where I am both the architect, material buyer, project manager, painter, carpenter and so on. I also enjoy many different types of sports, like skiing, water-skiing or ball sports. I am a playful person and am quite easy to trick into things that sound fun! My 20-year-old daughter says that as long as I am part of our household, we always have a child at home, and I think that's quite true!
Of all the things you have accomplished at TOMRA, what makes you most proud?
There are several achievements I am proud of, but maybe TOMRA R1 and our push for multi-feed container returns is the winner. With TOMRA R1, we really managed to surprise and delight our end users. I have been the project owner, so I followed this development closely, starting with a wooden mock-up with a master's student input, and through three development projects leading up to the TOMRA R1 launch in 2019. I am proud of this achievement because we took a big leap in many areas with this development. It was through persistence and great teamwork that it happened. We worked closely with the markets and succeeded with marketing innovation as well as product innovation. Now we see that multi-feed container return is a key part of the TOMRA growth story in the years to come.