7 May 2021
#WeAreTOMRA: Meet Kellie, Marketing & Communication Manager
For Kellie Porter, Marketing & Communications Manager for TOMRA Collection in the US, values, impact and caring deeply about the work you do is what takes that work from being good to being excellent.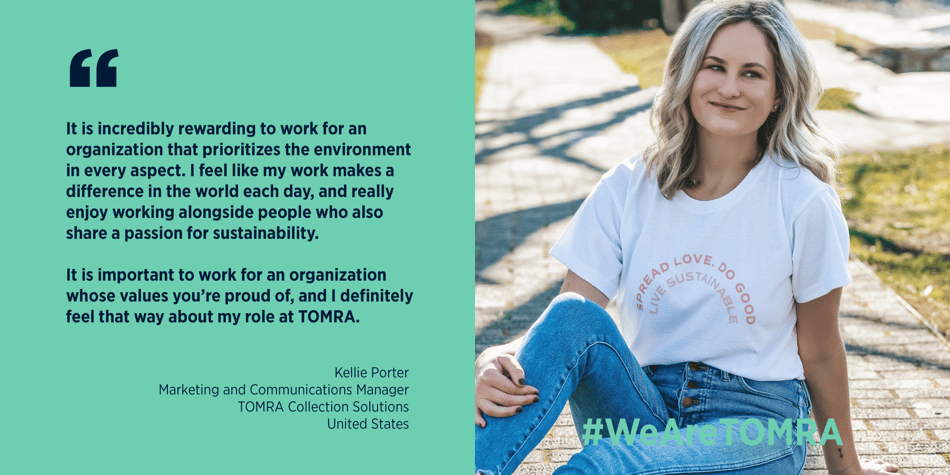 What do you do at TOMRA?
I am the marketing and communication manager for the U.S. here at TOMRA, and have been with the company for five years. In my role, I am responsible for a variety of marketing and communication initiatives for our region such as public relations, social media, customer relations, trade shows and events, charitable programs and branding projects.
What do you like most about working at TOMRA?
It is incredibly rewarding to work for an organization that prioritizes the environment in every aspect of our business – we have a fantastic company culture. I feel like my work makes a difference in the world each day, and really enjoy working alongside people who also share a passion for sustainability. I think it is important to work for an organization whose values you're proud of, and I definitely feel that way about my role at TOMRA. Being in marketing and communication means I also get to talk about all the outstanding work TOMRA does, which makes the job a lot of fun.
What is something a few people know about you?
Outside of work, I am a blogger and content creator focusing on sustainable and fair-trade fashion. I've been blogging for over three years, and my content is a mix of fashion activism, general style content and highlighting companies that prioritize ethical manufacturing, inclusivity and sustainable materials (as well as little fun and personal content here and there!). I've had the opportunity to learn a lot, work with many well-known innovative brands in the sustainable fashion space, and speak on panels about sustainable fashion and consumer activism.

In addition, I am passionate about animal welfare, and have volunteered in a local animal rescue for more than four years! I support social media, public relations and graphic design needs to help meet fundraising and adoption goals.
Which TOMRA value do you most identify with and why?
Passion. I think that caring deeply about the work you do is what takes that work from being good to being excellent, and I also think the passion for sustainability we all share at TOMRA is what makes it such a great place to work.
I also believe our other TOMRA values flow from that passion – when you really care about something, you are naturally going to seek to innovate, feel responsible for the earth and other people, and want to make positive change.