Protect Our Planet appeal raises $157,000 via deposit return scheme to protect Australian wildlife
Between November 2022 and April 2023, together with the Return and Earn and Containers for Change deposit return schemes, TOMRA partnered with the Australian Marine Conservation Society and Bush Heritage Australia to encourage recyclers to help protect Australia's natural habitats and native species.
"Protect Our Planet", a charity appeal launched in November 2022 in Australia, aimed to raise AU$150,000 and recycle 1.5 million bottles and cans by April 2023. To achieve this, recyclers were encouraged to donate their eligible beverage containers to either the Australian Marine Conservation Society or Bush Heritage Australia through TOMRA RVM networks across the deposit return systems set up in New South Wales, Queensland, Western Australia and Northern Territory.
Protecting land, ocean and wildlife through deposit return schemes
The impact of climate change in Australia has been severe, with the country experiencing the highest rate of mammal extinction among the developed countries – more than 500 animals are considered threatened. Globally, more than 100,000 marine animals and over a million sea birds are killed every year by plastic pollution.
Bush Heritage Australia and the Australian Marine Conservation Society are two non-profit organizations dedicated to protecting and restoring the Australian habitat to save endangered animals, both on land and in the oceans.
Bush Heritage Australia is committed to acquiring and managing land for conservation. They manage over 40 reserves across 1.2 million hectares of land throughout Australia, and partner with Aboriginal and Torres Strait Islander people and the agricultural sector to help protect many more millions of hectares.
Meanwhile, the Australian Marine Conservation Society, as the oldest ocean conservation charity in Australia, works to protect vulnerable marine wildlife by partnering with scientists and conservationists to combat unsustainable fishing practices, habitat destruction, ocean pollution, and rising ocean temperatures. The organization has been instrumental in securing habitats such as the Great Barrier Reef and Ningaloo Reef.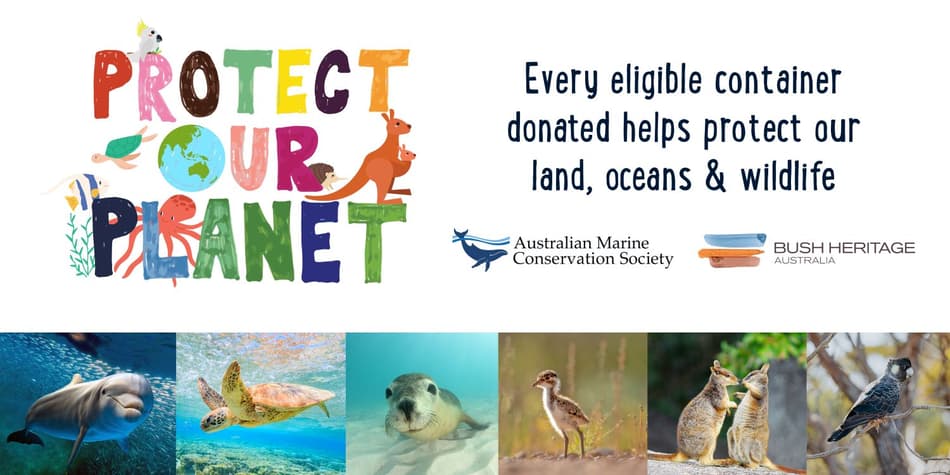 Every bottle counts
The appeal took place across multiple states in Australia and people were able to recycle and donate through TOMRA return points, via the Return and Earn deposit return system in New South Wales, Containers for Change in Queensland and Western Australia, and at the TOMRA Coconut Grove recycling center in the Northern Territory. After returning their beverage containers to a reverse vending machine, the machine's screen gave recyclers the option to either keep the refund for themselves or to donate the funds to either of the partner charities.
Every 10-cent container refund donated will help us save the lives of whales, turtles and seabirds who are being killed by ocean plastic every day.
Darren Kindleysides
CEO of the Australian Marine Conservation Society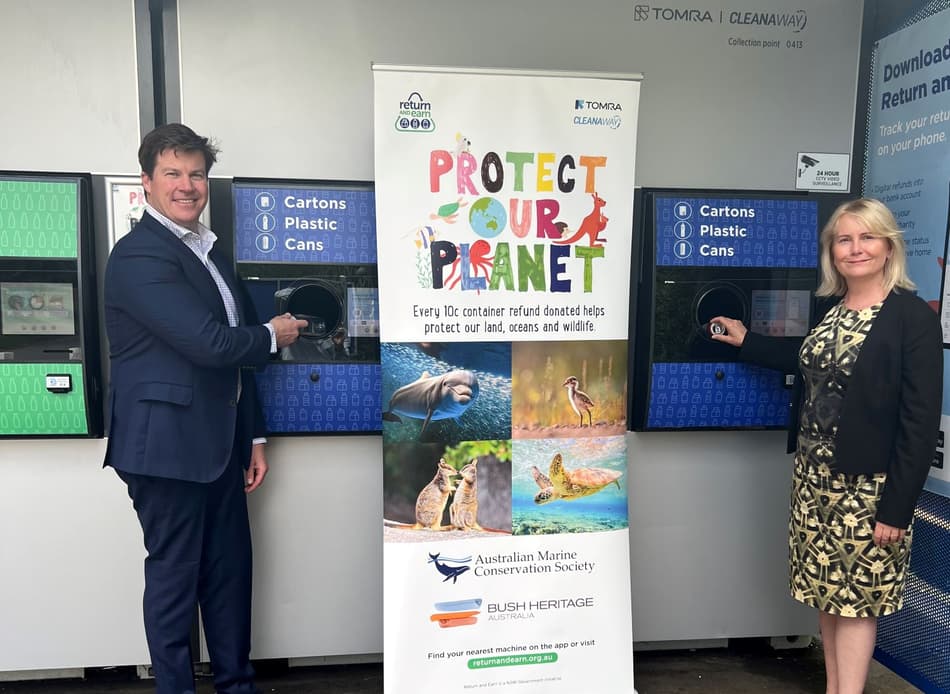 Double the impact
The campaign was a resounding success. By the end of it, Australian recyclers had donated over AU$157,000 in beverage container refunds – or 1.5 million bottles and cans. 100% of the deposit refunds donated went to support the important work of Bush Heritage Australia and the Australian Marine Conservation Society.
Every single action can make a difference and it's amazing to see community initiatives such as the 'Protect our Planet' appeal encouraging people to recycle when they can't re-use and supporting vital causes.
Heather Campbell
CEO of Bush Heritage Australia
By supporting this campaign, recyclers have doubled their impact. Not only has the AU$157,000 made a positive difference to the charities working hard to preserve and protect Australian wildlife, but it also meant that 1.5 million drinks containers were responsibly recycled instead of added to landfills, littered in the community, or ending up in the ocean. The 1,500,000 bottles and cans recycled equated to approximately 124 tons of CO2 emissions being prevented.
The success of this campaign highlights the importance of individual actions in creating positive change for the environment – with every bottle recycled and every donation counting towards protecting our planet.
For more information about:
Previous deposit return scheme fundraising appeals in Australia