"Bottles can change lives" recycling appeal supports Australians during Covid-19
AUSTRALIA: As well as the significant health impact, Covid-19 has brought emotional and financial hardship, with many in communities across Australia struggling to put food on the table or pay their rent or bills. Many others have experienced mental health issues, such as depression or anxiety. From August 2020 to February 2021, TOMRA joined forces with local deposit return schemes and three well-respected charities to support those in need, through the "Bottles Can Change Lives" recycling appeal.  
People across the globe have seen both their health and their lives impacted, financially and emotionally during the coronavirus pandemic, and those who were already struggling before the crisis have been placed in an even more difficult position. As a result, TOMRA Collection Australia took the initiative to launch the "Bottles Can Change Lives" appeal, to support Australians facing hardship and crisis during Covid-19.
Recycling appeal where each container makes a difference


Before the pandemic, 3.24 million Australians were already living below the poverty line. Coupled with the events of the past 18 months (such as the drought crisis, bushfires and the pandemic), this number has now increased significantly, with more and more Aussies impacted.
Beyond Blue – Australia's most recognized and accessed mental health organization, which supports people affected by anxiety, depression and suicide, reported a 42% increase in calls since the pandemic began (March-December 2020), compared to 2019.
The charities OzHarvest (Australia's leading food rescue organization, delivering food to over 1,500 charities around the country) and The Salvation Army also reported that while funding and donations had dropped dramatically since the pandemic began, demand for their services had increased by over 40%. Their workers described the situation as a "tsunami of needs" coming their way. "There are so many people suffering financially and emotionally at this difficult time," explained Matt Kean, New South Wales Minister for Energy and Environment.
In partnership with these three charities – The Salvation Army, Beyond Blue and OzHarvest - the "Bottles Can Change Lives" appeal sought to give recyclers the unique opportunity to turn their drink containers into tangible support: in the form of meals and donations for vital programs like mental health support and financial counselling sessions, to help vulnerable people doing it tough during the pandemic.
Recyclers in New South Wales, Queensland, Northern Territory and Western Australia had the option to select either Beyond Blue, OzHarvest or The Salvation Army as the donation recipient for their container deposit refund. Each eligible bottle or can has a value of AU$0.10.

Recyclers could donate their 10-cent refund by:
Pressing "donate" on the screens of TOMRA reverse vending machines in New South Wales, Queensland, Northern Territory or Western Australia.
Using the myTOMRA app to donate their 10-cent refunds (exclusive to New South Wales).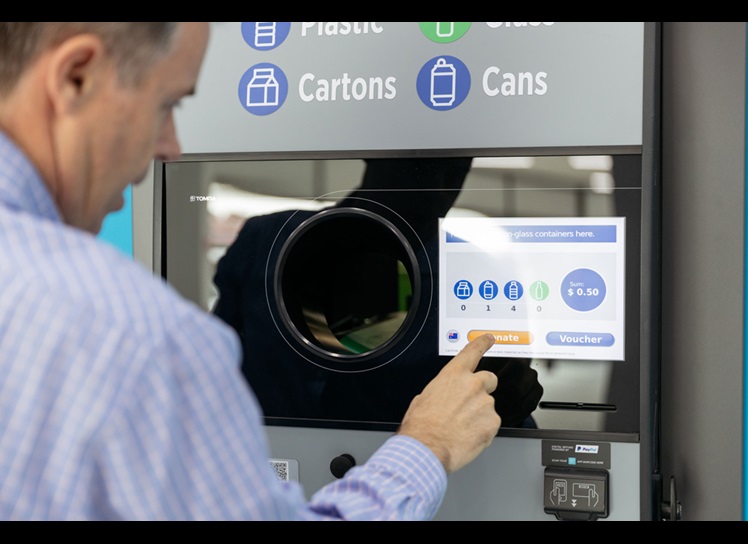 Donations of drink containers helping charities through difficult times


At the launch of the fundraising appeal, Danielle Smalley, CEO of Exchange for Change, scheme coordinator of the Return and Earn scheme in New South Wales, explained, "By donating your beverage container, you are stopping it from going into the environment, but also having great benefits for your community."
The "Bottles Can Change Lives" recycling appeal raised over AU$288,000 for the three selected charities. Thanks to the donations of 2.88 million drink containers, their services helped over 160,000 Australians.

Read below to see the impact made for each charity: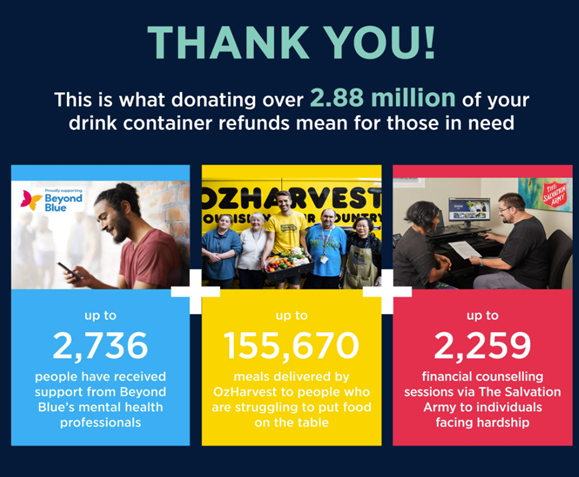 Every five bottles or cans donated to OzHarvest helped provide one meal to someone in need.
Each 10-cent refund donated to The Salvation Army (known locally as "the Salvos") helped provide financial counselling sessions to people experiencing financial hardship.
Refunds donated to Beyond Blue helped provide 24/7 counselling services to members of the community experiencing mental health issues like depression or anxiety.

"We have an opportunity to support the most vulnerable in our community by partnering with three excellent charities. And you don't even have to reach into your pocket, just reach for an eligible beverage container and bring it to your closest Return and Earn machine," Ryan Buzzell, President of TOMRA Collection Australia, explained at the launch of the fundraising appeal.