Containers to pay for her dream wedding
Australian bride recycles 140,000 drink containers to pay for her dream wedding
As part of their local deposit return system, Leonie Starr and her new husband Matt Porter collected 140,000 beverage containers to finance their wedding, cleaning up their neighborhood in the process.
Queensland couple Leonie Starr and Matt Porter began their recycling journey back in November 2018, when Australia state first introduced the "Containers For Change" deposit return system. Here, consumers pay a 10-cent deposit when they buy a drink, which is refunded to them when they return the empty container for recycling. Leonie says this sparked the idea for the Recycled Wedding: raising money for their upcoming wedding by returning cans and bottles.
She began setting aside refund money from her own container returns in a separate savings account, and offering in her local community that she could return containers for others. Leonie started the Facebook page
"A Recycled Wedding"
, where she frequently updated her followers on the number of containers collected. Along the way she collaborated with local stores, cafes and other businesses to help reach her goal.
Part of the TOMRA family
Around when she reached 50,000 containers, Leonie's recycling efforts caught the attention of TOMRA Collection Australia. TOMRA Collection operates 10 recycling centers in Queensland, including the local center in Kunda Park where Leonie returned her own containers for recycling. They donated $1000 towards flowers and decorations for her wedding in recognition for her amazing work.
With recycling becoming close to her heart, in May 2019 Leonie applied for a position at the Kunda Park recycling center. In her role as a front-of-house ambassador for TOMRA, Leonie shared her recycling knowledge with customers by teaching them how to use the reverse vending machines, undertook general cleaning, and formed friendships with the center's regular recyclers. And she didn't stop there: "When a position was advertised to work out the back as a systems operator, I jumped at the chance. As a systems operator now, I process our bag drops, book truck services, complete depot reports, and help our customers with any questions."
Through her role at the TOMRA recycling center, she has also been excited to see other people raising money. "I've noticed so many more people getting involved in the scheme saving up for their own goals. There is a lady that comes in saving money for a trip to the Kokoda trail. Sadly, there's a couple that comes in looking to save money to help their sick child."
Leonie has seen first hand the impact the Queensland deposit return system has had on cleaning up her local community. "Around our streets we've seen a big change. In the first six or so months, I could walk just to the end of my street and find at least 10-12 bottles. If I was going for a 45-minute walk around the neighborhood, I could fill a bag from containers discarded out car windows or thrown into bushes in parks." A year after the deposit began, Leonie would go for a walk in the morning and only find about two containers.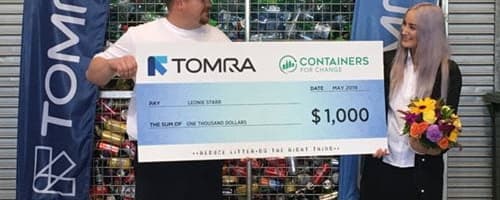 "It's emotional knowing that so many people care and are helping me getting married. It's really beautiful."
Leonie Starr, Recycled Wedding bride
Big recycling efforts for a big day
Leonie's fundraising efforts made local, state, national and international headlines. She has been interviewed for online publications as well as radio and television, and gotten news coverage in the US, China, Indonesia, UK, Italy, Spain, Mexico, New Zealand, Slovakia, Brazil, Croatia, Vietnam and Hungary. The story has appeared in international publications such as Yahoo News, Bright Side and Unilad.
One year after they began collecting, Leonie and Matt had amassed 89,064 bottles, bringing nearly $9,000 in their joint wedding savings account. "We don't plan on spending any of our own money on the wedding at all. My main goal is for it to be completely paid for by bottles," Leonie told the
publication Mamamia
. "Anything extra I collect will be put towards our honeymoon, and when we get back we're looking at buying land, so it will contribute to our house deposit."
After delays due to Covid-19 and restrictions on events, the wedding took place on 7 November 2020. Just as the couple had worked toward, it was entirely funded by the recycled bottles and cans they had collected. The couple even covered some of the last costs of the big day with recycling refunds from the containers they returned after their wedding reception. In the end they collected 140,000 containers for recycling, netting them AU$14,000 in deposit refunds – blasting through their goal of AU$10,000.
Once a recycler, always a recycler
One year after the wedding, Leonie has since given birth to a little baby boy, and that hasn't stopped her from being a passionate recycler. "Heavily pregnant wasn't going to slow me down! I was waddling on down to the recycling center right up until the final weeks." She says her container returns have also helped her pay for everything needed for the baby, even setting up a savings account for the little boy.
Leonie is conscious of reducing waste, and tries to live as sustainably as possible, with even her wedding day featuring many eco-friendly and home-made touches. "I try to recycle wherever I can and will often opt for second hand to reduce waste. I also give things a second life: I collect all my food jars to re-purpose around the house, empty toilet rolls make great homemade Christmas bon-bons and our garden loves all our food scraps! I have a very creative mind and always keep an eye out for my next recycling or re-purposing project."