Deposit hero returns 25,000 cans to raise money for vital medical equipment in local community
Local litter collector Louis Bouwmeester used the local deposit return system to raise money to buy a defibrillator to support safety and health in his neighborhood.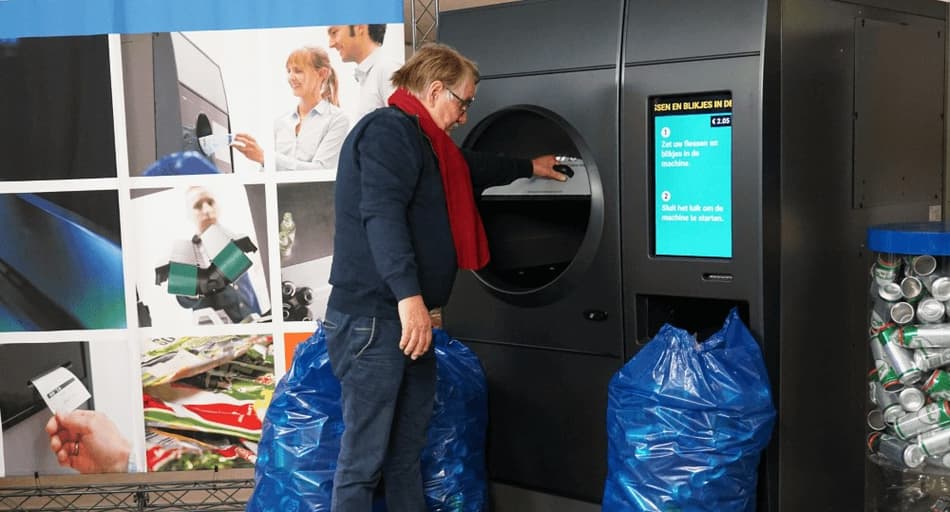 A campaign like this only succeeds if you really do it together. And everyone benefits from it, because you are doing it for your own neighborhood.
In September 2021, litter collector Louis Bouwmeester started a six-month campaign to raise 1200 euros to purchase for an automated external defibrillator (AED), for use in the case of cardiac arrest, in his neighborhood in the city of Apeldoorn in the Netherlands. "The neighborhood has an aging demographic, and the chance of needing a defibrillator is increasing. In my area, the closest one is a seven-minute bike ride for me, which is far too long in an emergency." He sought to raise money by picking up empty containers in nearby streets and waterways, during a six-month initiative.
At TOMRA's office in Apeldoorn, the first publicly-available TOMRA R1 reverse vending machine in the Netherlands went live to support this special charity initiative. TOMRA R1 is a "multi-feed" machine enabling recyclers to pour in an entire bag of empty drink containers for recycling in seconds, making it especially convenient for users returning large volumes of containers, such as those doing charity fundraising.
For every drink can returned for recycling, TOMRA pledged to donate five Euro cents to raise money for Louis's campaign. "We think it's important to support local initiatives like this one. Louis and the other volunteers used to receive support from the municipality of Apeldoorn, but when that ended, we wanted to step in to keep the work going and to reward it," explained René Hissink, Managing Director of TOMRA. "A defibrillator is a perfect cause for this because so many people can – and could – have an interest in it." In addition to being a good cause, it also prepared for the introduction of cans to the Netherlands' deposit return system on 31 December 2022, which has previously included only plastic beverage bottles.
Tidier streets, and a safer neighborhood
Many of the littered cans were picked up from the streets in collaboration with the action group of All Apeldoorn Clean, which has been committed to cleaning up Apeldoorn for years. "A campaign like this only succeeds if you really do it together. And everyone benefits from it, because you are doing it for your own neighborhood," shared Louis. Several other local associations and community centers helped, bringing their cans to Louis's home for his growing collection.
Six months since the campaign began, all of these efforts together collected a total of 25,000 cans, raising 1250 euros and beating Louis's original target for the initiative of 1200 euros. TOMRA was honored to present the defibrillator to Louis at their Apeldoorn office. The new defibrillator will hang on the outside of a house on a corner in Louis's neighborhood, where it can be somewhat sheltered but accessible to everyone. To inform the neighborhood, he will distribute flyers in which he will also offer courses to teach the local community how to use the defibrillator effectively.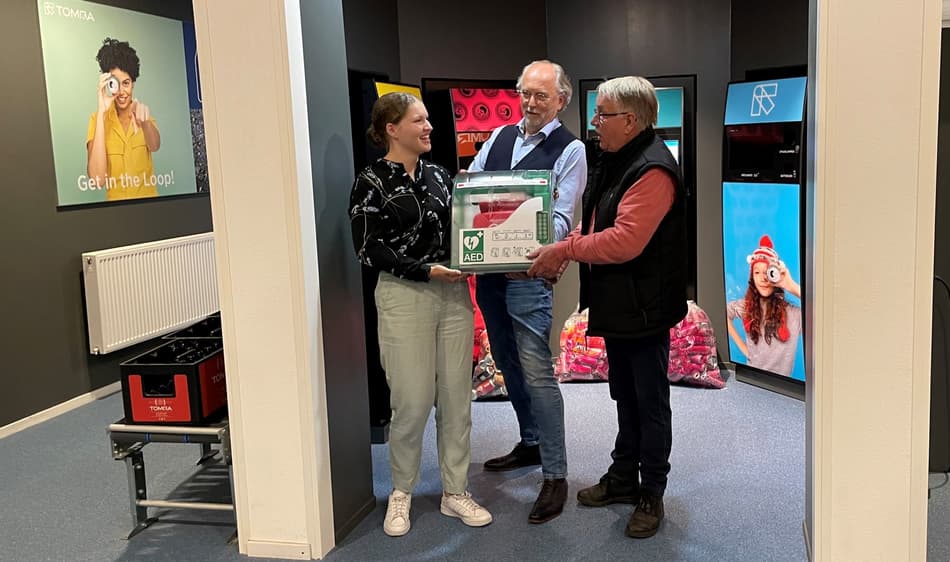 TOMRA Collection in the Netherlands presents Louis Bouwmeester with the automated external defibrillator for his neighborhood