Only 2% of plastic packaging is recycled in a closed loop. What about the other 98%?
The demand for plastic continues to grow and, currently, only 2% of plastic packaging is kept in a closed loop. What about the other 98% and what can be done to support a plastics circular economy?
The world finds itself in a plastic paradox. Plastic as a material offers many benefits to both manufacturers and end-users. We know however the impact that plastic waste is having on our environment, from both the oil being used to create virgin plastics, to the vast amount of waste littering our land and oceans. Although plastic has developed a negative reputation, the material itself is not the issue, but rather the excess use and the way society handles plastic after use.
The demand for plastic continues to grow, and the amount of plastic waste is also exponentially increasing. We've reached a crisis point and we must act decisively now to preserve our planet for future generations.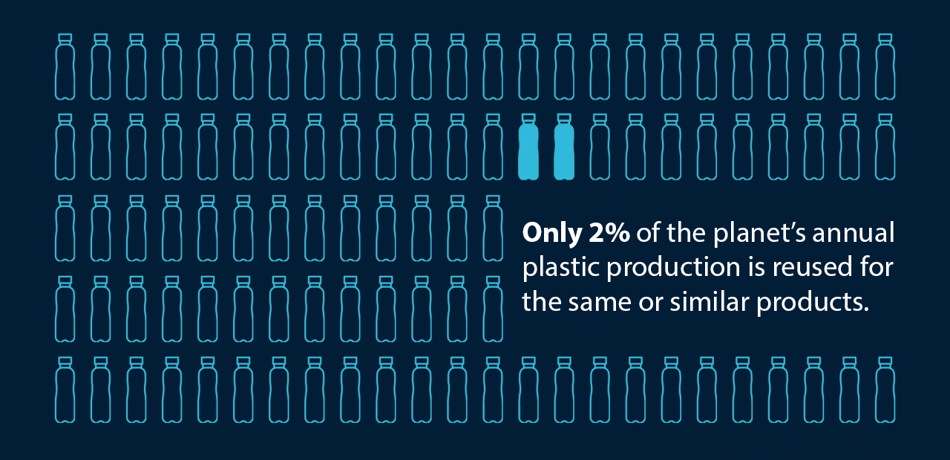 The ongoing battle with plastic waste
Currently, the world is not efficiently handling this resource. Only 14% of the world's plastic waste is captured for recycling, meaning the majority of our packaging is going to landfill, being incinerated or being lost into the environment. According to the Ellen MacArthur Foundation, 32% of plastic packaging ends up polluting our land and oceans as litter.
Only 2% is being kept within the closed loop. That means 98% of plastic packaging currently is being lost outside of the circular economy, a truly staggering amount.
This stems from the tradition of a linear model of 'make, take, dispose' when it comes to plastic packaging. Every year, more than 1.4 trillion plastic beverage containers are sold. That's one million bottles every minute, and a figure that's expected to grow by 20 percent by 2021.
As the demand for plastic packaging shows no signs of slowing, we must design out unnecessary plastic and change the way it is handled. The fact that 98% of plastic packaging is not remaining in the loop illustrates an inefficient recycling system – and a huge opportunity. Keeping plastics in the closed loop and catalyzing the circular economy is a win-win as we reduce the reliance on virgin resources and address the plastic pollution crisis.
Regulations enabling a closed loop
Governments and policymakers must take the lead in promoting a circular economy for plastics through introducing new legislation and regulations.
In Europe, the EU Single-Use Plastics Directive is the most influential piece of legislation to be introduced. The directive is aimed at prioritizing "re-usable products and re-use systems rather than to use single-use products, aiming first and foremost to reduce the quantity of waste generated", through adopting a circular approach to plastic packaging. By 2025, the legislation requires all beverage containers to incorporate 25% recycled plastics, and 30% by 2030.
An emphasis on wider recycled-content laws will also help us enable a circular economy for plastics. Setting ambitious targets on recycled content is key to driving demand and ensuring more sustainable handling of the material. As the demand increases for recycled content, so does the value of this commodity; this makes sure it is economically favorable for the plastic to be recycled and remain in a closed loop.
In California, USA, a new recycled content mandate would require 75% post-consumer recycled plastic to be used in beverage containers post-2030, and Australia is set to introduce compulsory laws around packaging, where 100% of the material has to be reusable or compostable within five years.
Through introducing legislation around recycled content, governments are making companies proactively change their habits. Simultaneously, governments must introduce consumer-oriented schemes to promote the efficient handling of plastic packaging, as we won't be able to achieve recycled content goals if the plastic isn't being collected from consumers.
A deposit return system (DRS) targets the recycling of beverage containers by adding a small deposit on top of the price of the container (for example, 0,25 €). This deposit is refunded to the consumer once they return the container to a reverse vending machine or one of many local collection points for recycling. Through adding a small fee to the container, it gives added value to the material and incentivizes the consumer to recycle the container, rather than throw it in with the general waste or littering. Utilizing a DRS can drastically increase collection rates and, by maintaining purity and quality through the separate collection of the containers, retain the plastic as a high-value resource within a circular economy.
A collaborative commitment to closing the loop on plastic
High-profile companies are already signing up to initiatives to help make the circular economy more collaborative. A private-public coalition, the European Plastics Pact, is aimed at creating a circular economy for plastics in Europe.
The Alliance to End Plastic Waste, which TOMRA joined in 2019, combines the efforts of more than 40 companies and one million employees, and an investment of 1.5 billion USD over five years to aid the circular economy. Both the Circular Plastics Alliance Declaration and New Plastics Economy Global Commitment are also making the circular economy more collaborative.
How TOMRA is tackling the other 98%
TOMRA has been enabling a closed-loop recycling model through our technology and expertise for more almost 50 years and is fully committed to helping innovate new ways to improve how plastic is collected and recycled.
Helping support a DRS, our reverse vending technology plays a vital role in enabling consumers to efficiently recycle beverage containers, whilst our recycling sorting solutions can sort all types of plastics by material and color to maintain product quality.
Now is the time for business, governments and other organizations to be bold with their goals and ambitions to safeguard the future of the planet. That's why TOMRA has committed to collecting 40% of plastic packaging produced globally each year for recycling by 2030, as announced at Our Ocean conference in October 2019. We estimate that our solutions will sort more than eight million tons of plastic per year from waste streams on a global scale, ensuring that this resource is handled so it can be reused and kept within a plastic circular economy.
TOMRA has also stepped up its commitment to cross-industry collaboration with the creation of a Circular Economy Division in 2019. This new division is focused specifically on the goal of empowering people and businesses to transform towards a circular economy and close the loop on plastic.
A circular economy for plastic is achievable and we must, and should, be optimistic about the future. However, for plastic to be retained in a closed loop on a much larger scale, it requires a collaborative approach from industry, government, policymakers and consumers, with all parties playing their role in the resource revolution.