The Arc Eastern Connecticut supports community and environment
The Arc Eastern Connecticut is a non-profit organization supporting people with intellectual and developmental disabilities (IDD), and their families. But the organization doesn't only provide meaningful services – it also helps protect the environment in Connecticut.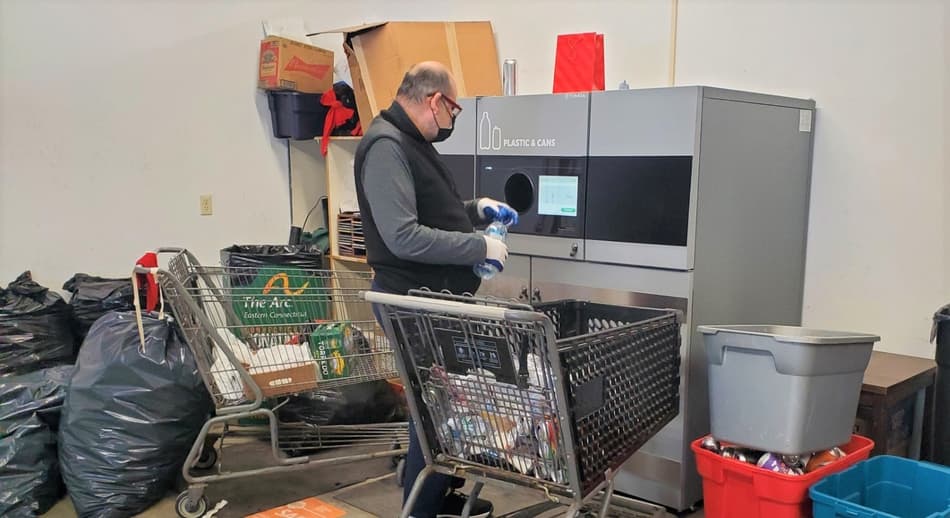 The Arc Eastern Connecticut provides advocacy and support to over 690 people with disabilities and their families across the entire region. Its services handle every aspect of a person's life: supported housing, employment and job development, vocational and micro-enterprise ventures, in-home and family supports, education, day programs, senior services, health/fitness activities, and community involvement. The organization believes that community involvement is a cornerstone of true equality and independence. The ability to build social relationships, develop realistic life goals, and be a contributing member of one's community are all positive outcomes of The Arc's programming.
The Arc's mission is to partner with people living with IDD for equal participation and inclusion in the communities of eastern Connecticut. One way the organization does this is through The Arc's Redemption Center for the return of beverage containers for recycling, and where its nine employees are members of the IDD community. The environmental contributions made through the Redemption Center and Donation Station stem from that focus on community involvement.
No ordinary donation station
These employees have been trained in the operation of TOMRA's T70 reverse vending technology, which is an automated way to collect, sort and handle the return of deposit-eligible beverage containers for recycling. These reverse vending machines can accept and compact multiple material types (cans and plastic bottles, for instance) making it fast and convenient to recycle with less pre-sorting of containers.
Team members are responsible for returning deposit-eligible containers in the reverse vending machines, maintaining the technology and interacting with recyclers who come in with their bottles and cans.
In addition to being a point-of-return for deposit containers, the Redemption Center also serves as a Donation Station, allowing recyclers to drop off their bottles and cans and instead donate the refund value directly to The Arc. Donated refunds directly support The Arc's overhead costs and help the agency continue to provide vital employment opportunities to people with IDD.
Jennifer Ricci is The Arc Eastern Connecticut's Director of Employment Services in Woodstock. "We recently upgraded the reverse vending machines at our center," she noted, "which has allowed our team to process more containers in less time. They've gone from recycling 3,000 containers a day to 5,000 a day, and that includes the time taken for the staff to become familiar with the new machine platform."
Learning to use the new technology and the increased recycling efficiency has made the experience better for staff and recyclers alike. The benefits of using reverse vending machines include a fast and easy recycling experience and ensuring that the bottles and cans collected can be recycled. When bottles and cans are collected separately for recycling, the material is kept cleaner, which enables them to be turned into new bottles and cans.
Marcia Monopoli, Customer Experience Manager at TOMRA, said, "It's truly amazing to see what The Arc does and what they stand for. We are excited to have this opportunity to provide The Arc with our T70 technology, and we can't wait to see what the future has in store for them."