Internet of Things comes to recycling
TOMRA Connect launches digital experiences for can and bottle collection
Recycling is going digital, with the launch of
TOMRA Connect
for returns machines collecting cans and bottles for reuse and recycling. The portfolio of digital products by TOMRA Collection Solutions brings new insights and engagement opportunities, both for the locales providing the machines (also known as reverse vending machines) and for the people who recycle with them.
TOMRA has over 75,000 installations in more than 60 markets, often where a deposit is refunded when consumers return their used beverage containers. The machines identify the can or bottle, give the appropriate refund and can even compact the containers for easier transportation.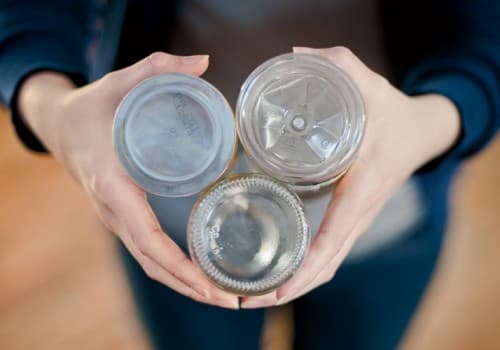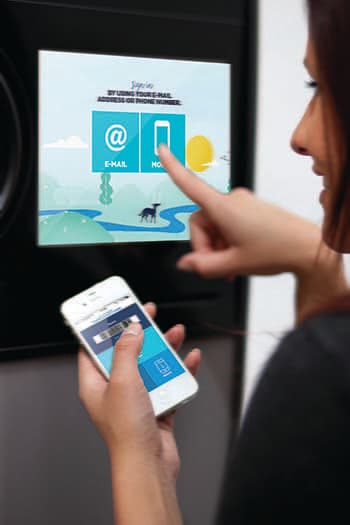 Recycling gets high-tech
TOMRA Connect goes beyond the bin-approaching-full indicators that have so far popularized the Internet of Things for waste collection.
Points programs:

With engagement program TOMRA ReAct (see image right), consumers earn points to redeem rewards or make donations, and share their recycling activity to social media. ReAct already has tens of thousands of users in the US, who have earned millions of points. This can complement deposit refunds, or act as an incentive in markets without deposit legislation.
Marketing and donation:

The machine's touch-screen turns the system into a donation and marketing touchpoint. Consumers can donate their recycling refund to a local charity, and retailers can promote daily specials or show seasonal campaigns – all administered remotely. Retailers can also print discount coupons on refund receipts.

Notifications:

Smartphone app Notify + Assist pushes real-time notifications to personnel when machines require attention (like full bins, stops or low printer paper) and gives step-by-step guidance on how to remedy it.

Insights:

Analytics pulls business intelligence from big data. It shows machine queueing time, how well the machine was cleaned, recycling volumes for different times of day (so sites providing the machines, typically retailers, can plan ahead for busy periods) and more.

Anti-fraud:

TOMRA Connect also combats sneaky fraud attempts (like someone trying to redeem the same deposit amount twice) through real-time validation and devaluation of refund receipts.
Consumers deliver 35 billion used beverage containers for reuse every year to TOMRA's machines. Container reuse reduces reliance on raw materials to produce new containers, and ensures that fewer end up in landfills, oceans and streets.
TOMRA Connect is not TOMRA's first foray into remote communication for its recycling returns machines. TOMRA began in the 1980s with dial-up connectivity to transmit software and databases, plus download log files and statistics. The 1990s saw the implementation of networking and IP. TOMRA Connect represents third-generation connectivity, which moves that infrastructure to the cloud and unites previous local offerings under one umbrella.
TOMRA Connect opens up new possibilities for extending the recycling experience and getting to know recyclers. It's not just cars and fitness devices connecting to the Internet of Things. Just as smartphones made us expect more from our handsets than simply making calls, with smart reverse vending you get much more from the recycling experience.
Aleksander Mortensen
head of TOMRA Collection Solutions Digital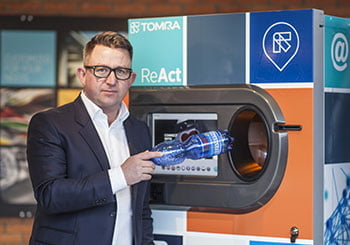 Visit TOMRAConnect.com for more information, and check out the TOMRA Connect and TOMRA ReAct videos.
About TOMRA Collection Solutions
Founded in 1972, TOMRA is the preferred partner for reverse vending solutions for collecting, reusing and recycling cans and bottles. The TOMRA system has the machines, digital solutions and service to make recycling easy for the industry, system owners, retailers and consumers. TOMRA Collection Solutions is part of the TOMRA Group, which creates sensor-based solutions for optimal resource productivity, and has a vision to lead the Resource Revolution. The Group employs approximately 3,300 people globally and is publicly listed on the Oslo Stock Exchange (OSE: TOM). Visit www.tomra.com, and follow us on Facebook, Twitter and LinkedIn.