Reverse vending goes digital: TOMRA launches TOMRA Connect
Retailers can now enhance consumer engagement, insight and in-store management
TOMRA Collection Solutions has officially launched TOMRA Connect, a comprehensive portfolio of digital products for TOMRA's reverse vending machines. The machines collect cans and bottles for reuse and recycling. TOMRA Connect gives retailers new insight, improves operational control and ensures a smooth customer experience. It also brings new opportunities to dialogue with consumers through consumer engagement and in-store marketing.
The move brings the Internet of Things to recycling and makes the machines smarter, more insightful and more engaging - extending the value of retailers' investment and benefiting users, beyond the core functionality of redeeming beverage container deposits.
The new portfolio offers several categories of digital products:
Control advises store personnel when an installation requires attention, provides guidance, helps to secure deposit receipts and offers a fleet view for retail chains.
Analytics provides access to reporting and actionable analytics, as well as opportunities for customized business intelligence and data mining.
In-store Marketing turns reverse vending into a marketing and donation touchpoint, empowering retailers to communicate with customers through on-screen promotions and on-receipt entry coupons.
Consumer Engagement builds a personal relationship with end users through consumer identification, loyalty program integration and even a managed recycling loyalty program that can be offered to consumers.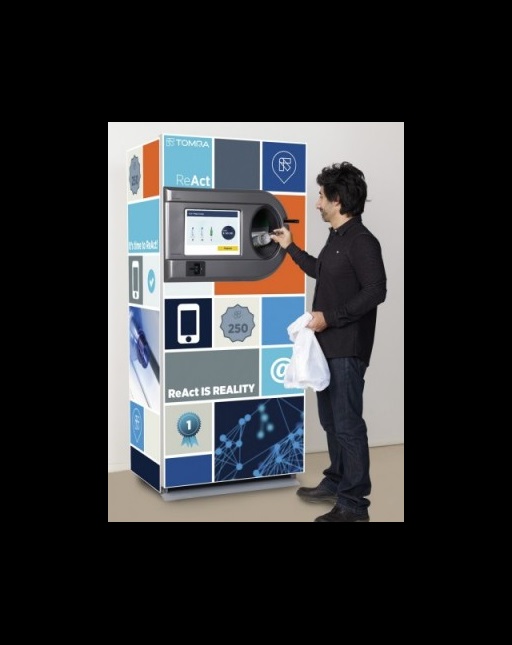 Building the digital experience
The launch of TOMRA Connect completes the three-pillar TOMRA system, spanning reverse vending machines, service and now digital solutions. TOMRA Connect unites previous local offerings into one portfolio, available in all 60 markets where TOMRA has its 75,000 reverse vending installations. Around 25,000 reverse vending machines are already connected.
Notify + Assist (Control) give store personnel real-time notifications and intuitive guidance when machines require attention (see image right).
Receipt Control (Control) ensures deposit-refund receipts are validated and devaluated in real time at the point of sale, so that retailers need not worry about attempts at double redemption of receipts.
ReAct (Consumer Engagement) lets consumers earn points to redeem rewards or make donations, and share recycling activity to social media. It can integrate with existing store loyalty programs. Tens of thousands of users in the US have already earned millions of points.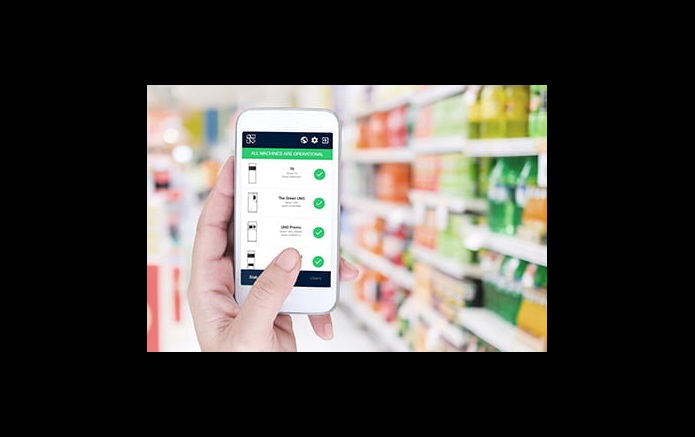 TOMRA Connect is quite a unique offering in the space. Just as smartphones made us expect more from our handsets than simply making calls, with a smart reverse vending system, your store and customers can get so much more from the recycling experience, TOMRA Connect opens up new possibilities for retailers. It allows retailers to understand machine usage patterns, prioritize tasks and better plan staffing for different times of the day and week. It shows how well the machines are cleaned and when. TOMRA Connect even measures queueing, so retailers can explore with TOMRA other ways to make customer service hassle-free.
Aleksander Mortensen
Head of the TOMRA Collection Solutions Digital business unit.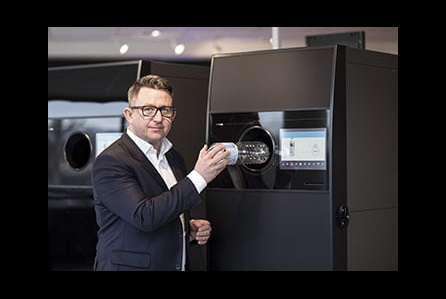 Find out more
Visit TOMRAConnect.com for more information, and check out the video with the TOMRA Collection Solutions Digital team.

See TOMRA Connect in action at EuroShop, the world's largest retail trade fair, in Dusseldorf on 5-9 March. Visit TOMRA Collection Solutions' booth in Hall 7A, stand number B07. To arrange a commercial or media meeting, contact [email protected].
About TOMRA Collection Solutions
Founded in 1972, TOMRA is the preferred partner for reverse vending solutions for collecting, reusing and recycling cans and bottles. The TOMRA system has the machines, digital solutions and service to make recycling easy for the industry, system owners, retailers and consumers. With over 75,000 installations across more than 60 markets, TOMRA's reverse vending machines capture 35 billion used beverage containers every year - reducing reliance on raw materials and ensuring fewer containers end up in landfills, oceans and streets. Visit www.tomra.com, and follow us on Facebook, Twitter and LinkedIn.TOMRA Collection Solutions is part of the TOMRA Group, which creates sensor-based solutions for optimal resource productivity, and has a vision to lead the Resource Revolution. The Group employs approximately 3,300 people globally and is publicly listed on the Oslo Stock Exchange (OSE: TOM).