TOMRA launches Wash & Waste for tidier recycling
TOMRA Collection Solutions has launched the Wash & Waste, a sink and waste bin combined in a single unit in the style of TOMRA's reverse vending machines. Reverse vending machines, often located at retailers, collect empty bottles and cans for reuse and recycling.
With the introduction of the Wash & Waste, TOMRA is responding to increasing demand from the international market to provide an optimum shopping experience and maximum convenience for the recycling consumer. The first Wash & Waste has been installed at the Jumbo Wiegmans supermarket in Apeldoorn in The Netherlands.
TOMRA's Wash & Waste stems from the combination of two trends within the retail environment: responsible environmental management and the creation of an optimum experience in the physical store. Addressing these trends, the store's recycling point grows from a single reverse vending machine to a complete collection wall aimed at promoting recycling. At the same time, it provides convenience and a pleasant shopping experience for the consumer.
"Obviously, empty drink cans or bottles of deep-fryer fat (for returning to TOMRA's ECO-Wall collection system for multiple recyclable materials) can leak into the consumer's bag and leave sticky residue on hands. What could be more customer-friendly than allowing consumers to wash their hands immediately and dispose of the contaminated plastic bag?" said René de Hart, Supervisor Production & Logistics at TOMRA. The Wash & Waste offers convenience and provides a professional shopping experience. "Our goal is to continuously create added value for our customers. The Wash & Waste is the result of TOMRA responding to requests from our markets."
"We are always looking for that extra convenience and service for our customers," said Jumbo entrepreneur Bas Wiegmans. "The Wash & Waste is a wonderful example. We would like to offer customers the opportunity to start their shopping with a fresh feeling, particularly because our customers are helping to fight litter when they return their containers."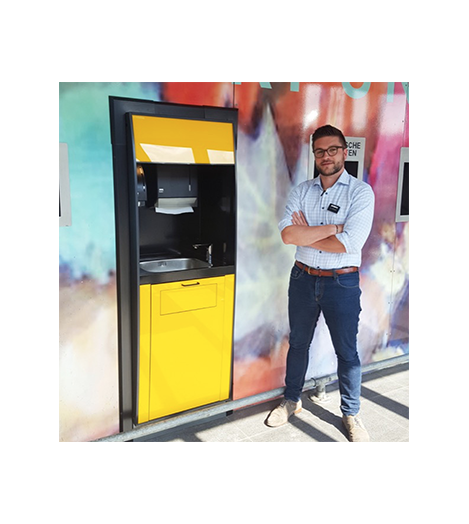 The Wash & Waste features a sink and contactless tap, and includes a soap dispenser and paper towels. There's a trash can placed under the drain for recyclers to dispose of their plastic bags. The Wash & Waste has been designed in the style of TOMRA's latest reverse vending machines, such as the premium T-9 machine. It is also possible to adapt the colors or print according to the brand and style of the store.
About TOMRA Collection Solutions
Founded in 1972, TOMRA is the preferred partner for reverse vending solutions for collecting, reusing and recycling cans and bottles. The TOMRA system has the machines, digital solutions and service to make recycling easy for the industry, system owners, retailers and consumers. With over 75,000 installations across more than 60 markets, TOMRA's reverse vending machines capture 35 billion used beverage containers every year – reducing reliance on raw materials and ensuring fewer containers end up in landfills, oceans and streets. Visit our Reverse Vending pages on www.tomra.com, and follow us on Facebook, Twitter and LinkedIn.
TOMRA Collection Solutions is part of the TOMRA Group, which creates sensor-based solutions for optimal resource productivity, and has a vision to lead the Resource Revolution. The Group employs approximately 3,300 people globally and is publicly listed on the Oslo Stock Exchange (OSE: TOM).