07 oct 2020
TOMRA joins forces with ReAct on Internet of Things platform for greater retail productivity
Reverse vending updates bring smoother operations on in-store communication platform
Hamburg, Germany: Global reverse vending leader TOMRA Collection Solutions has joined forces with German start-up ReAct to integrate updates from in-store recycling machines into ReAct's innovative "Call To Action" IoT Communication Platform. This gives store personnel real-time insights into reverse vending activity, making it easier to operate the machines efficiently and keep shoppers satisfied.
Retail customers of "Call To Action" can receive direct to their in-store phones and smart watches any notifications about their TOMRA reverse vending machines (RVMs), where shoppers return empty beverage containers for recycling. Personnel can receive updates when machines need attendance for predictive maintenance (eg nearly full bins, stops or low printer paper, etc), and address them quickly before customers are inconvenienced. Notifications can even be sent only to specific staff members with reverse vending training and keys to the equipment.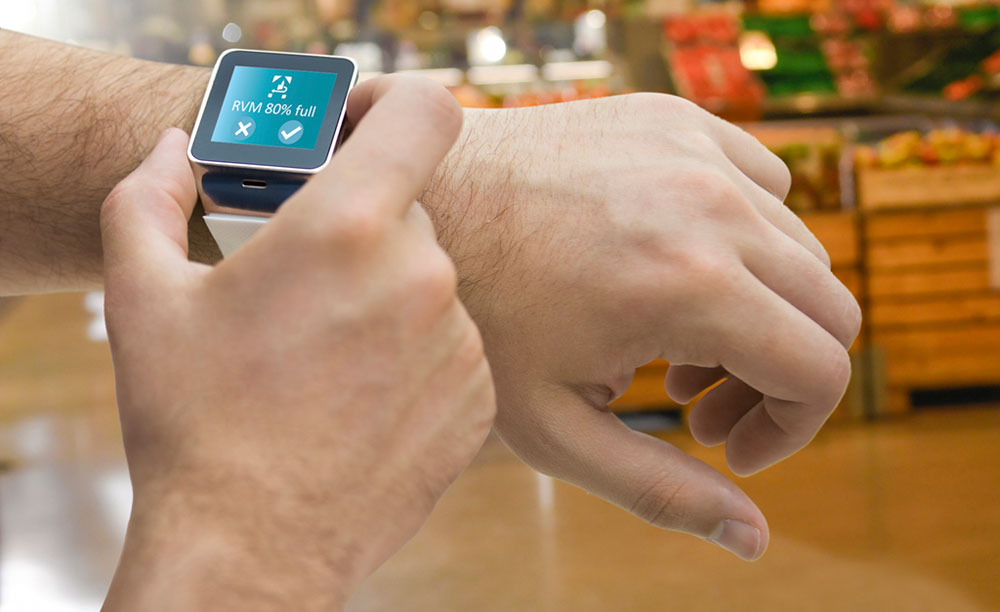 "Call To Action" brings together all information from across a store environment into one system – whether data from bakery ovens, calls to open new cash registers, or individual questions from shoppers. As one of the most sophisticated and complex technologies in a store environment, reverse vending machine data was important to plug into "Call To Action", to provide a total package for greater retail efficiency.
"Process digitalisation will be one of the strongest drivers of efficiency in the future. With TOMRA, we are pleased to have found a leading industry partner that offers digital solutions with its RVMs," said Patrick Langeslag, Managing Director of ReAct.
"Call to Action" uses the Status API developed by TOMRA, which matches the serial number of each reverse vending machine to the correct store account and users. Call To Action's reverse vending assistance can be extended with the TOMRA app Notify+Assist, which adds visual, step-by-step guidance on how to resolve any reverse vending issues. It also gives access to daily statistics on reverse vending activity. Notify+Assist is part of the larger portfolio of TOMRA Digital Solutions, including in-store marketing, analytics reports and consumer engagement apps.
"With this cooperation we're spearheading the IoT journey in retail, to leverage digital developments and increase efficiency for stores," said Aleksander Mortensen, head of Commercial at TOMRA Collection Solutions. "We have the ability to set up and work in digital eco-systems to truly benefit our customers, helping them plan their operations, increase uptime, and empower their staff to act."
The ReAct/TOMRA cooperation will cover central and eastern Europe, with the reverse vending integration now available to order in "Call To Action".
Internet of Things and digital collaboration in the retail space - TOMRA Talk
Manuel Tessloff, CEO of ReAct, discusses at EuroShop 2020 their work to shape the digital retailer experience and ReAct's partnership with TOMRA.
About ReAct:
Responsive Acoustics GmbH (ReAct) is the innovation leader for digital market management. With the IoT communication platform "Call to Action", ReAct offers numerous intelligent answers to the challenges of stationary retail. The company, which was founded in Hamburg in 2014, is not only revolutionizing internal processes, but its communication and sound solutions also make shopping more enjoyable and increase customer satisfaction and turnover. More information can be found at www.react-now.com, on Facebook, Twitter, Instagram, Xing and LinkedIn.
About TOMRA Collection:
Founded in 1972, TOMRA provides reverse vending solutions for Clean Loop Recycling, collecting aluminium, plastic and glass beverage containers to be continually reused and recycled back into new bottles and cans. With over 84,000 installations across more than 60 markets, TOMRA's reverse vending machines capture over 40 billion used beverage containers every year toward a closed loop. This reduces reliance on raw materials, and ensures fewer containers end up in our streets, oceans and landfills. The TOMRA system of machines, digital solutions and service make it easy for the industry, system owners, retailers and consumers to contribute to a more sustainable planet. Visit our Reverse Vending pages onwww.tomra.com, and follow us on Facebook, Twitter, Instagram and LinkedIn.
TOMRA Collection Solutions is part of the TOMRA Group, which creates sensor-based solutions for optimal resource productivity, and has a vision to lead the Resource Revolution. The Group employs approximately 4500 people globally and is publicly listed on the Oslo Stock Exchange (OSE: TOM).