"Containers 4 Kids" recycling appeal launches in Australia to brighten the lives of sick kids
Every minute of every day a child is admitted to hospital in Australia. In that moment, they often receive a diagnosis that turns their world upside down. Suddenly, smiles disappear, and life is filled with feelings of isolation and loneliness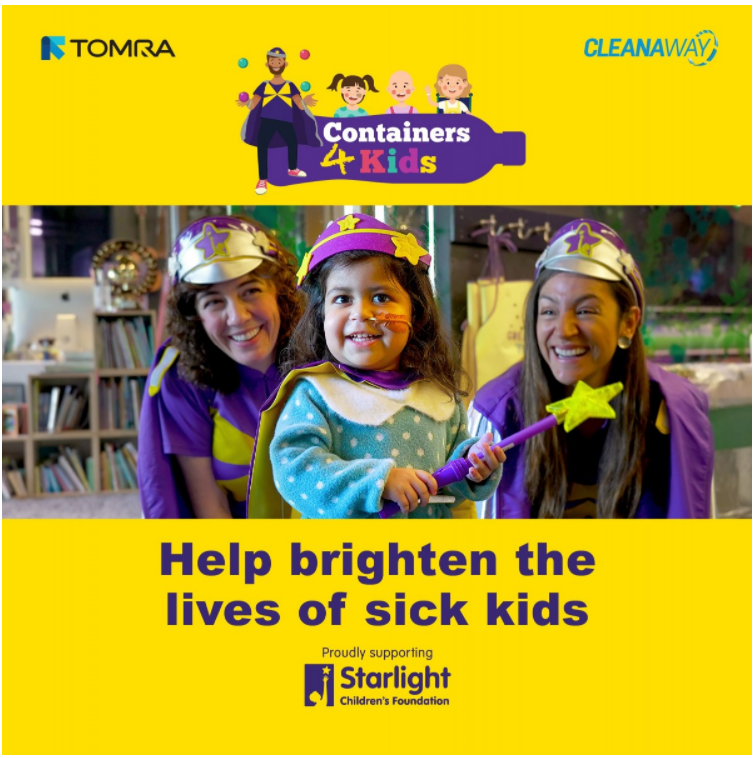 To combat this, TOMRA Collection Australia and Cleanaway are launching a new nationwide appeal for Aussies to turn their empty drink containers into smiles and support, bringing happiness to up to 6,000 sick kids and their families.
Launching in time for National Recycling Week 2021, the appeal - called "Containers 4 Kids" - is the latest campaign between TOMRA, Cleanaway and Starlight Children's Foundation.
Containers 4 Kids aims to raise $250,000 by encouraging Aussie recyclers to donate the 10-cent refund from their empty drink bottles and cans. Funds raised will ensure Starlight can deliver its vital in-hospital services, including Captain Starlight and the Starlight Express Rooms, across children's hospitals in NSW, Brisbane, Perth and Darwin.
"Over the last 18 months, the hospital experience has been dramatically impacted for thousands of sick kids across Australia. Research from Starlight shows that as a result of COVID-19, children who are hospitalised have been lonelier and more isolated than ever before," says Ryan Buzzell, President of TOMRA Collection Australia.
"With these hardships ongoing, recycling drink containers and donating the refund to Containers 4 Kids is a great way to support Starlight's vital services while helping the environment. We're proud to be working with TOMRA to promote this important cause and play a small part in bringing happiness and laughter to sick kids, teens and their families at such a tough time in their lives," says David Clancy, General Manager Cleanaway Solid Waste Services NSW, the logistics provider for Return and Earn.

Until April 2022, recyclers in New South Wales, southeast Queensland, Perth and Darwin can donate their 10-cent container refunds at any Return and Earn machines in New South Wales, Containers for Change TOMRA recycling centres (in Queensland and Western Australia) and TOMRA Coconut Grove in the Northern Territory. One hundred per cent of the refunds donated will go directly to Starlight Children's Foundation.

Louise Baxter, CEO of Starlight, said: "Starlight has been there for sick kids throughout the challenges of the past 18 months. Only with the help of the community and our valued partners such as TOMRA and Cleanaway can we continue to bring happiness to sick kids when they need it most."

"Every resident who chooses to donate their refund at their local TOMRA recycling location will ensure Starlight help turn the isolation and loneliness of hospitalisation into fun, joy and laughter. Why? Because happiness matters," she continued.

Four-year-old Aru (below) had a life-saving heart transplant and is a beneficiary of Starlight's services. Read Aru's full story here to understand the challenges facing children in hospital and their families and see how Starlight can make a difference with the help of TOMRA and Cleanaway.
The campaign kicks off today and will run until 3 April 2022. To find your nearest TOMRA machine, go to www.containers4kids.org.au. You can also show your support on social media using #containers4kids.Updates on funds raised and tangible outcomes will be posted to the "Containers 4 kids" website.
For more information, interviews and images, contact:

Zoe Benham, [email protected] or 0402 117 782

Patrice Pandeleos, [email protected] or 0405 995 050

About Starlight


Starlight Children's Foundation brightens the lives of seriously ill and hospitalised children and young people by replacing pain, fear and stress with fun, joy and laughter. Since its establishment in 1988, Starlight has expanded to become the broadest reaching and reputable children's charity in Australia and was awarded the AFR's Most Innovative Company (Government, Education and NFP Sector) in 2020. There is now a Starlight Express Room in nine children's hospitals across Australia and over 160 Captain Starlights nationwide. In 2020, Starlight granted over 386,944 positive Starlight experiences for children, teenagers and their families, including 126,000 Fun with Captain Starlight experiences and 326 Starlight Wishes. www.starlight.org.au.
About TOMRA Collection


Founded in 1972, TOMRA provides reverse vending solutions for Clean Loop Recycling, collecting aluminium, plastic and glass beverage containers to be continually reused and recycled back into new bottles and cans. With approximately 80,000 reverse vending machines across more than 60 markets, TOMRA captures over 40 billion used beverage containers every year toward a closed loop. This reduces reliance on raw materials, and ensures fewer containers end up in our streets, oceans and landfills. TOMRA's reverse vending machines, digital solutions and service make recycling easy for the industry, system owners, retailers and consumers to contribute to a more sustainable planet. Visit our Australian website: www.mytomra.com.au and follow us on Facebook, Twitter, Instagram and LinkedIn.
TOMRA Collection is part of the TOMRA Group, which creates sensor-based solutions for optimal resource productivity and has a vision to lead the Resource Revolution. The Group employs approximately 4,300 people globally and is publicly listed on the Oslo Stock Exchange (OSE: TOM). Visit our global website: www.tomra.com
About Cleanaway


Cleanaway Waste Management Limited is Australia's leading total waste management, industrial and environmental services company. We have supported Australian businesses for over 50 years, delivering solutions that offer extraordinary benefits not only for our customers, but also for our communities. Cleanaway's reach and scale comprises over more than 6,300 expert staff, a fleet of more than 5,300 specialist vehicles across more than 250 locations around Australia. Our essential waste, recycling, industrial, liquids and clinical waste services are supported by a substantial network of state-of-the-art facilities, transfer stations, engineered landfills, liquid treatment plants and refineries. Because we see all waste as a resource, managing Australia's waste needs isn't a matter of asking "where does it go now?", but "what can it be next?" Our experience and expertise in the industry means we're always finding better, smarter and cleaner ways to make a sustainable future possible.