09 april 2021
TOMRA appointed as reverse vending technology provider for new Latvia deposit return system for beverage container recycling
Global reverse vending leader TOMRA today wins tender for reverse vending machines for the return of bottles and cans across the country
SIA Depozīta Iepakojuma Operators, the future central system administrator for the deposit return system (DRS) in Latvia, today announced that TOMRA has won the tender to provide the reverse vending technology for the upcoming bottle and can recycling program. A negotiation period will follow with the contract set to be signed by July 1st 2021.
The world's leading provider of reverse vending machines, TOMRA will supply approximately 800 automated collection points, combining around 625 indoor reverse vending solutions and 175 outdoor kiosks. These return locations seek to ensure optimal convenience for Latvian consumers to return their containers, and deliver on the ambitious targets set by the central system administrator. The reverse vending equipment will be owned and maintained by TOMRA, and TOMRA will be paid for the usage based upon the returned volume of containers through the machines.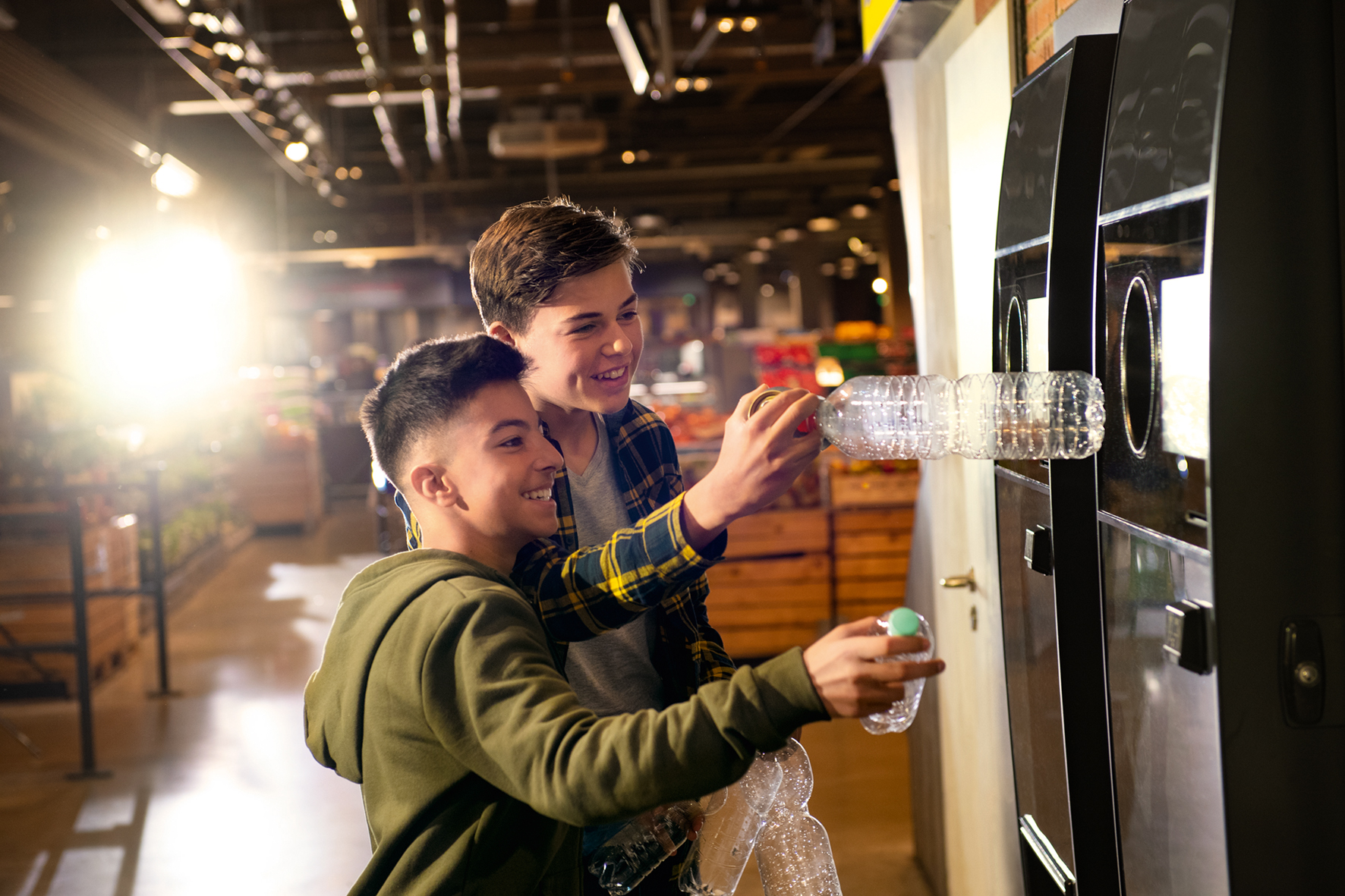 Track record in deposit return systems
TOMRA has over 45 years of experience working in DRS programs, in roles spanning redemption technology, data management, material pick-up and PET processing. The company's experience includes large-scale rollouts of reverse vending technology in new DRSs in Lithuania as well as New South Wales, Australia. TOMRA has approximately 80,000 reverse vending machines in 40 deposit markets, with seven of every 10 reverse vending solutions worldwide produced by TOMRA.
Deposit return systems add a small deposit on top of the price of drinks sold in beverage containers, which is repaid when the consumer returns the container for recycling Reverse vending machines like TOMRA's automate the redemption and collection of used beverage containers for recycling in DRSs. The machines scan, compact and sort eligible empty containers, and refund the user's deposit.

Latvia deposit return roll-out
The DRS in Latvia will launch on February 1st, 2022, with a deposit value of €0.10. The system will include cans as well as plastic and glass bottles in various sizes (covering beverage types such as non-alcoholic beverages, beer and cider) and retailers will serve as return points.
The new recycling incentive program will see Latvia join the other Baltic states – Estonia and Lithuania – in offering deposit systems. The DRS is also set to help Latvia achieve the goals of the European Union's Single-Use Plastics Directive, which mandates that its member states collect 90% of plastic beverage containers by 2029.
"We are very pleased that, thanks to fierce competition, we can provide the best available packaging return technology solution to the Latvian deposit system and our society, which has successfully proven itself in such deposit system countries as Lithuania, Estonia, Germany, Norway, Sweden, and so on," said Miks Stūrītis, Chairman of the Board of Ltd. Depozīta Iepakojuma Operators. "The establishment of a deposit packaging return infrastructure is a task of great responsibility, as it goes hand in hand with the sustainability of the system and the overall experience for society, as well as the desire to return the empty beverage packaging. Given the short period of time available for the implementation of the deposit system, the partner's experience and available resources is a very important aspect. TOMRA will help us create a modern, safe and practically tested deposit system, which will allow us to fulfill the set goals in environmental protection."
"We are proud to be named the preferred partner for SIA Depozīta Iepakojuma Operators," said Harald Henriksen, Head of TOMRA Collection Solutions. "We look forward to work together with Latvia in delivering a world-class deposit return system and creating green job opportunities for around 30 people in our new local entity that will be established. The introduction of a DRS in Latvia positions the Baltic region as a frontrunner within circular economy, ensuring the collection and recycling of packaging waste across three countries. We applaud Latvia's initiative in driving a circular economy, and TOMRA will strive to make it easy for industry, retailers and consumers across the country to contribute to a more sustainable planet through participating in the new DRS."

Contact us.
About TOMRA Collection Solutions:
Founded in 1972, TOMRA provides reverse vending solutions for Clean Loop Recycling, collecting aluminium, plastic and glass beverage containers to be continually reused and recycled back into new bottles and cans. With approximately 80,000 reverse vending machines across more than 60 markets, TOMRA captures over 40 billion used beverage containers every year toward a closed loop. This reduces reliance on raw materials, and ensures fewer containers end up in our streets, oceans and landfills. TOMRA's machines, digital solutions and service make recycling easy for the industry, system owners, retailers and consumers to contribute to a more sustainable planet. Visit our Reverse Vending pages on www.tomra.com, and follow us on Facebook, Twitter, Instagram and LinkedIn.

TOMRA Collection Solutions is part of the TOMRA Group, which creates sensor-based solutions for optimal resource productivity, and has a vision to lead the Resource Revolution. The Group employs approximately 4300 people globally and is publicly listed on the Oslo Stock Exchange (OSE: TOM).