Less plastic waste, more sustainable kicks: TOMRA helps recyclers trade plastic bottles for sustainable sneakers
TOMRA, in collaboration with Adidas and Mojo Supermarket, recently rewarded recyclers for doing good – with the ability to recycle plastic bottles and earn a discount on redesigned, more sustainable sneakers.
NEW YORK – During April, shoppers at the 565 5th Ave. adidas store in Manhattan could recycle their empty plastic bottles and earn a discount on a pair of new Stan Smith sneakers made from recycled materials. To participate, recyclers returned their deposit-eligible plastic bottles at the in-store, Stan Smith-branded TOMRA reverse vending machine. After returning their bottles, the machine issued a voucher for a discount.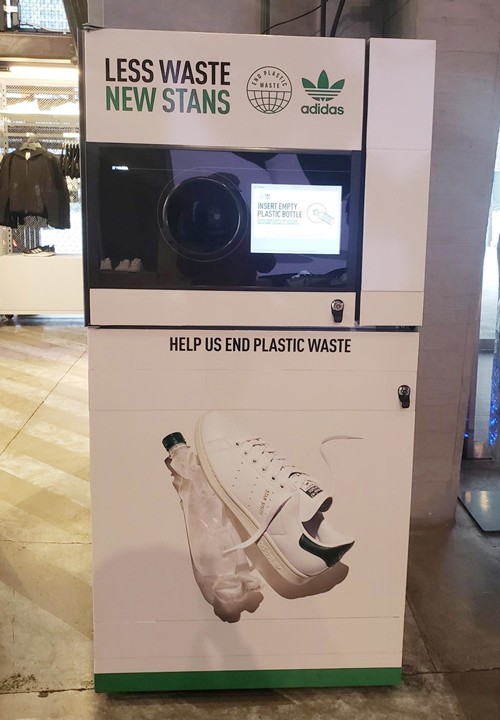 The iconic Adidas Stan Smith sneaker was recently redesigned as part of the brand's commitment to use only recycled polyester by 2024.
"Adidas' innovative Stan Smith redesign, paired with TOMRA's best-in-class recycling technology, is a winning combination for both shoppers and the planet," said Nir Samuel, Vice President and General Manager, TOMRA Metro New York. "TOMRA technology is able to facilitate the collection and recycling of plastic bottles in a fast, clean and simple way, ensuring more containers stay in a loop of reuse and out of our oceans. And, being able to collaborate with adidas and offer this discount on more sustainable Stan Smiths makes all that even more exciting."
TOMRA, who provided its T70 reverse vending technology for collecting plastic bottles on site, has over 45 years of experience in recycling. Reverse vending machines provide an easy way for the public to return containers for recycling. TOMRA has approximately 80,000 reverse vending machines installed in over 60 markets, capturing over 40 billion used beverage containers worldwide each year.
About TOMRA Collection


Founded in 1972, TOMRA provides reverse vending solutions for Clean Loop Recycling, collecting aluminium, plastic and glass beverage containers to be continually reused and recycled back into new bottles and cans. With approximately 80,000 reverse vending machines across more than 60 markets, TOMRA captures over 40 billion used beverage containers every year toward a closed loop. This reduces reliance on raw materials, and ensures fewer containers end up in our streets, oceans and landfills. TOMRA's machines, digital solutions and service make recycling easy for the industry, system owners, retailers and consumers to contribute to a more sustainable planet. Visit our Reverse Vending pages on www.tomra.com, and follow us on Facebook, Twitter, Instagram and LinkedIn.

TOMRA Collection Solutions is part of the TOMRA Group, which creates sensor-based solutions for optimal resource productivity, and has a vision to lead the Resource Revolution. The Group employs approximately 4300 people globally and is publicly listed on the Oslo Stock Exchange (OSE: TOM).