31 AUG 2021
Tesco in Slovakia selects TOMRA as reverse vending supplier for upcoming deposit return system
140 reverse vending machines to roll out across supermarket chain to enable beverage container recycling in 2022.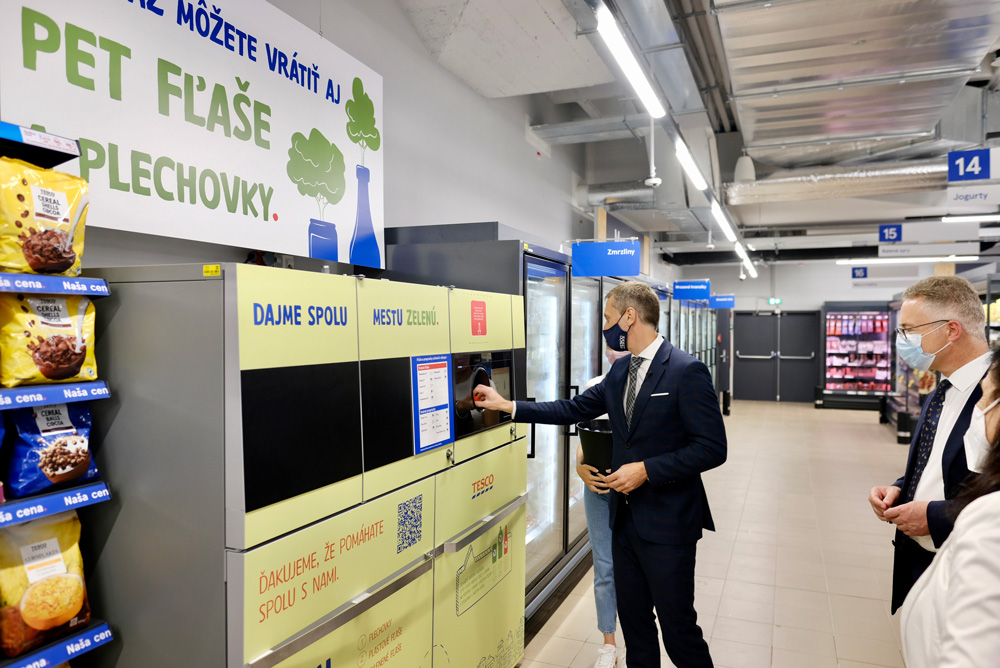 Tesco, one of the leading retailers in Slovakia, has selected global reverse vending leader TOMRA as the supplier of its infrastructure for collecting beverage containers for recycling. Customers at Tesco stores across the country can start returning their empty containers to TOMRA reverse vending machines when Slovakia's new deposit return system launches on 1 January 2022.
The reverse vending machines will be gradually installed in approximately 140 Tesco stores throughout Slovakia. Reverse vending machines enable the return of beverage containers in a deposit return system for recycling, for greater efficiency and convenience for both consumers and stores. Under Slovakia's new deposit system, return points for cans and PET bottles and cans will be required in grocery retailers with an area of more than 300 meters squared.
Working toward sustainability in Slovakia


"Tesco is a strong and proven business partner. We are very much looking forward to further cooperation, which will bring customers an efficient and simple deposit system," said Roman Postl, Managing Director of TOMRA Collection Slovakia. "The key to the success of Slovakia's new deposit return system is for consumers to value it and adopt it as their own, which can be achieved by making the system practical and convenient for them for participate in. It is also important to make sure that the collection infrastructure in place is also retailer friendly."
"Tesco has been contributing to building sustainability in Slovakia for 25 years and we are committed to creating a system where packaging is treated as a valuable resource that can be used, re-used, collected and recycled in a closed loop. By 2025, all our own brand products will be 100% recyclable or reusable," says Martin Kuruc, CEO of Tesco in Slovakia. "We have already been preparing for the launch of the deposit return system in January 2022 with a pilot project of reverse vending machines in the cities of Senec and Nitra. Here, customers can already try out the new container deposit return system and, in addition, Tesco financially contributes for each returned PET bottle or can to making their city greener."
In a deposit return system, legislation adds a small deposit to the price of a beverage, which is repaid to consumers when they return the empty containers for recycling.
TOMRA has almost 50 years' experience in deposit return systems. The company has approximately 80,000 reverse vending machines in over 60 markets worldwide, collecting over 40 billion containers for recycling each year.
About TOMRA Collection


Founded in 1972, TOMRA provides reverse vending solutions for Clean Loop Recycling, collecting aluminium, plastic and glass beverage containers to be continually reused and recycled back into new bottles and cans. With approximately 80,000 reverse vending machines across more than 60 markets, TOMRA captures over 40 billion used beverage containers every year toward a closed loop. This reduces reliance on raw materials, and ensures fewer containers end up in our streets, oceans and landfills. TOMRA's reverse vending machines, digital solutions and service make recycling easy for the industry, system owners, retailers and consumers to contribute to a more sustainable planet. Visit our Reverse Vending pages on www.tomra.com, and follow us on Facebook, Twitter, Instagram and LinkedIn.
TOMRA Collection is part of the TOMRA Group, which creates sensor-based solutions for optimal resource productivity, and has a vision to lead the Resource Revolution. The Group employs approximately 4300 people globally and is publicly listed on the Oslo Stock Exchange (OSE: TOM).