K-Citymarket in Turku breaks bottle return world record with TOMRA R1
Turku, FINLAND: The TOMRA R1 has landed at the K-Citymarket store in Kupittaa, Turku. The world record for bottle returns was set there in October 2020, through the newest flagship reverse vending machine in the TOMRA family.
Customers are flowing into the bottle return area at one of Finland's largest K-Citymarkets. Following the installation of the new TOMRA R1 reverse vending machine, long-time K-Citymarket retailer, Hannu Aaltonen, challenged his customers to participate in a bottle returns campaign that aimed to break the world record of 28,000 containers returned. The previous record had only recently been set by another store in Finland, also offering TOMRA R1.
More than 33,000 returned bottles in a day
The TOMRA R1 has taken the entire process of returning bottles into a new era, as customers can pour more than 100 plastic bottles or cans into the TOMRA R1 in one go. Pouring in the containers, rather than inserting them one by one, means recyclers can do their part for the planet without getting their hands sticky. "It doesn't get any faster or cooler to return a bottle, and the best part is that you no longer have to touch sticky bottles by hand," says one K-Citymarket customer. Throughout the record-seeking day, the TOMRA R1 received 33,328 beverage containers, which was enough for K-Citymarket Kupittaa to take the world record for the number of containers returned in one day to a single machine.
Customer and environmental action


Finland is a champion country in bottle returns due to their proactive recyclers and longstanding tradition of deposit return. In the K-Citymarket bottle return area, a wall mural explains that during 2019, a staggering 1.9 billion beverage containers were returned in Finland. When the retailer Aaltonen was asked why he thinks Finland is so good at recycling, he answered, "Unlike in many other countries, no cans or bottles can be seen littered anywhere in Finland, but everything is efficiently returned to the loop - thanks to Finland's excellent deposit system and good returns machinery."
According to Aaltonen, the installation of TOMRA R1 presents a change of volumes from customers and change in the store's image and environment. "The role of bottle returns has grown, and I feel that this is the biggest change in the grocery trade for the consumer throughout this millennium," says Aaltonen. He believes that TOMRA R1 will attract customers even more, since today's busy customers appreciate clean and smooth returns. TOMRA R1 has increased bottle return volumes everywhere - including Kupittaa. "In the past, about seven million bottles were returned to us annually, and now the pace is as much as 10 million bottles a year. Volumes have risen by as much as 30% with the arrival of R1," Aaltonen sums up. Modern bottle return systems have also increased the capacity of the K-Citymarket bottle return point in Kupittaa. "Working hours at our bottle return point have been significantly reduced as the systems have developed, and the staff no longer have to deal with the bottle room to maintain the machines," says Aaltonen.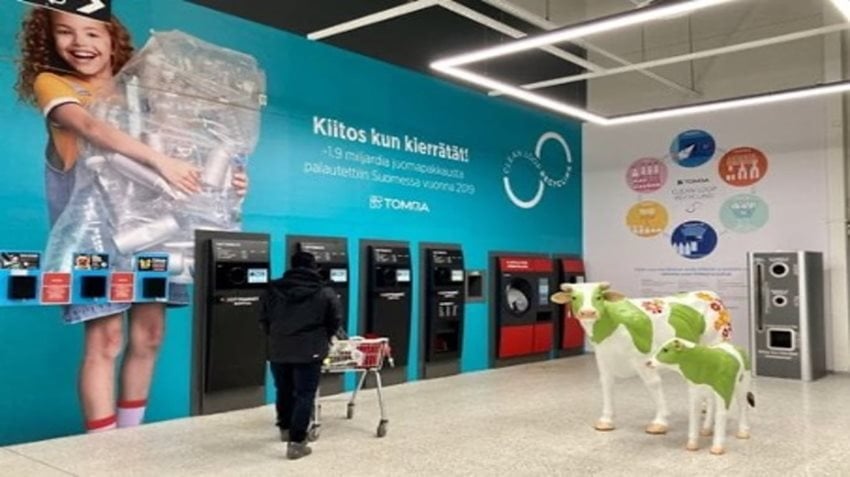 Installed Reverse vending systems

revolution line
TOMRA R1 & T9 with MultiPac Air 
Recycling just got more wow
Designed for  large supermarkets and hypermarkets

Modular reverse vending system

Accept cans and plastic bottles

Collects over 100 containers at once

flexible line
TOMRA T9 with MultiPac
Say hello to high volume
Designed for medium to large stores

Accept cans, plastic bottles, glass bottles, and crates

Up to 60 containers / 21 crates per minute 

Modular system: choose from 2 to 7 cabinets