23 May 2022
The early days to nowadays: TOMRA's longest-serving colleague
As TOMRA celebrates its 50th anniversary in 2022, the company looks back at its history and profiles the longest-serving member of the TOMRA team.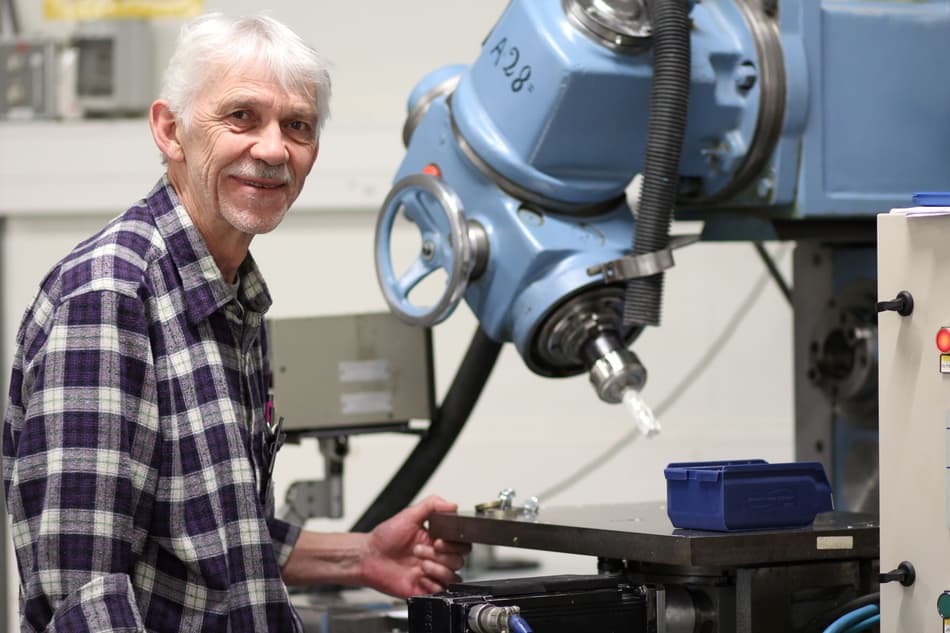 Introducing TOMRA's longest serving colleague, Senior Mechanical Technician Tore Martin Torvbråten
In 1974, TOMRA hired him so that he could play on their football team. He accepted the job offer because it was the shortest commute to work. Now, 48 years later, Tore Martin Torvbråten is Senior Mechanical Technician at TOMRA Collection in Norway, and the longest-serving colleague in the entire TOMRA team of 4,600 people.


Starting out in TOMRA
At the age of 21, Tore had completed his compulsory military service and was on the lookout for job opportunities. He found a place in TOMRA in July 1974, two years after the company was founded to produce reverse vending machines for collecting bottles for recycling. With a study background in mechanics, he worked on building early prototypes of TOMRA's machines. He was employee number 13.

Tore chose the offer to work in TOMRA over three other job prospects, for the most pragmatic of reasons. "It was the shortest commute to work. It wasn't more than 5-6 kilometers from where I lived in Slemmestad," he explains.

His bosses were equally practical. "I was hired because I was good at playing soccer. If you go through the archives, you'll find 'very good football player' written on my employment contract." The TOMRA football team played in a local corporate league, battling other organizations like Kverner, Taxisentralen (Taxi Central) and Norges Idrettsforbund (Norwegian Confederation of Sport). So important was football that lunches were used for practice and the TOMRA co-founders, brothers Tore and Petter Planke, extended the lunch break so that everyone had time for showers afterwards.

Tore fondly recalls the early days of the company. "It was a really nice working environment. Since we weren't very many, everybody worked on everything together." He worked closely with Tore Planke, responsible for the technical side of TOMRA. Petter Planke was manager, their father was chairman of the board, and their mother made the coffee and prepared lunch. Tore describes the family as wonderful, straight-down-the-line people, who created a very open working environment. "If there's one thing that I would want to come forward about how I've enjoyed being in TOMRA, it's how fantastic it was to work with the Planke brothers. They had so many ideas and I learned so much from them, but it was also lots of fun."


Growing with the company
Tore liked the uniqueness of the work, which was a completely different kind of mechanics to what people worked with at the time. "TOMRA was very early to the market; there was no one else with a product like it," he recalls. The task that was simultaneously the biggest challenge and biggest achievement in Tore's eyes is the 1974 order from Systembolaget, the government-owned Swedish liquor stores, for 100 reverse vending machines – TOMRA's largest order to date, and a breakthrough for the young company.

Throughout his time with TOMRA, Tore has worked primarily with mechanics and product development. His TOMRA career has seen him work abroad in the US, United Kingdom and Sweden. In 2015, the head of TOMRA Production Services, which manufactures and assembles the reverse vending machines, asked if he would like to join the team there. Now, as Senior Mechanical Technician, Tore reviews production methods to see how the processes can be made more efficient and effective.

When asked what has motivated him to stick with TOMRA for 48 years, he chalks it up to the tasks. "I like working independently and being able to drive my own tasks, while at the same time working in project teams – it's been fantastic fun and I've learned an incredible amount."


Reflecting on history
The greatest and most rewarding change Tore has seen during his time at TOMRA is a shift in focus: away from producing the reverse vending machines as quickly as possible, toward truly listening to the market as the machines are made. "I have learnt a lot more about the whole process – from development to delivery and service – and it's been amazing to hear what our customers and users really want, and working to provide it for them."

Looking back on his 48 years contributing to the company, Tore hesitates to pin down a favorite anecdote. "There are many favorites, some too funny to tell the world," he says with a grin. "I've seen it all at TOMRA: the highs, the lows, the struggles, the victories. We've worked a lot of overtime, but we've shared a lot of good times and a lot of laughs. It's been quite a ride and I've been glad to stick with a great organization like TOMRA throughout its history."