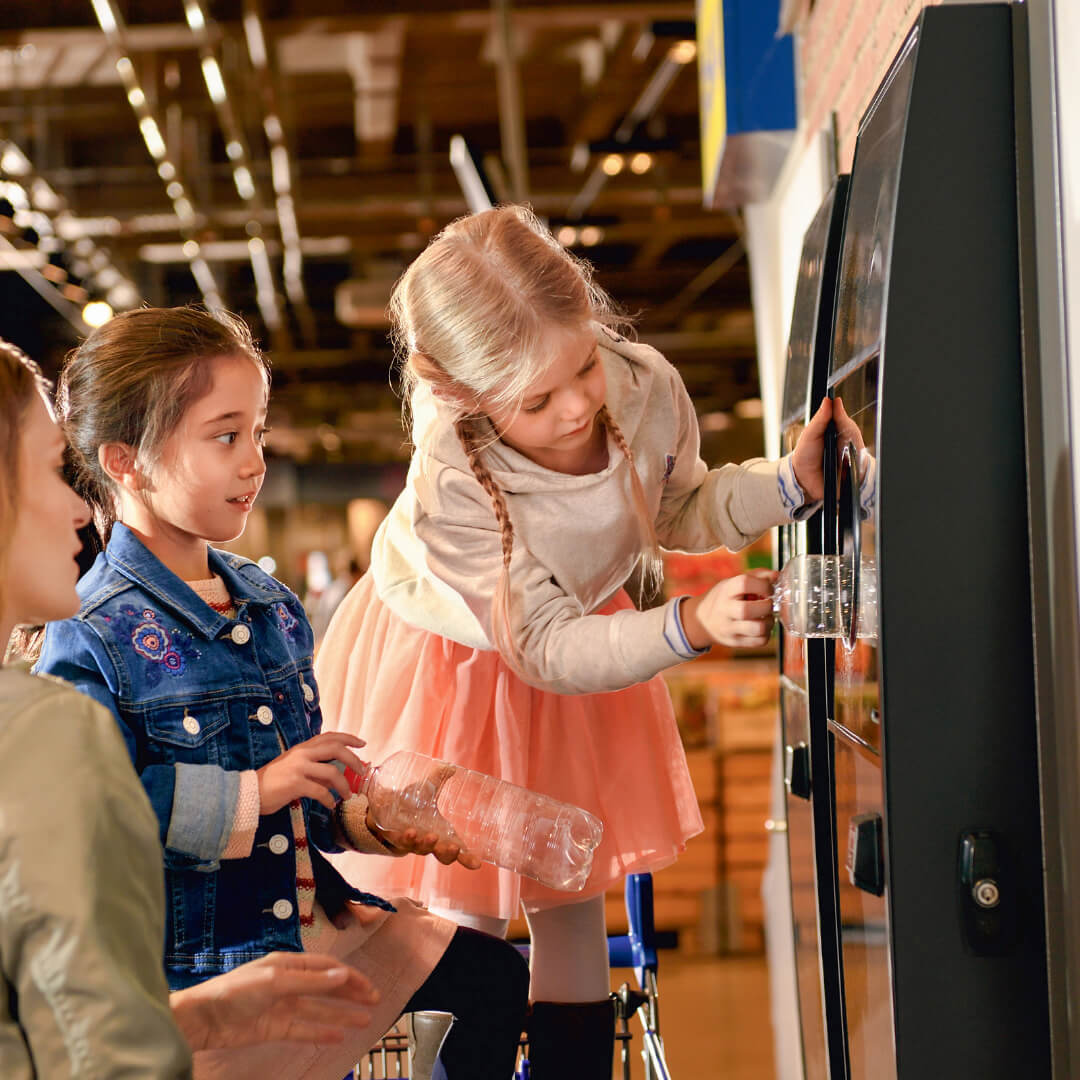 Reverse vending machines for bottle and can recycling
TOMRA Collection is a leading innovator in the circular economy and Clean Loop Recycling. Founded on the invention of the world's first reverse vending machine, we are now responsible for approximately 80,000 installations across more than 60 markets. From expert advice for reverse vending providers and new deposit return regions to engaging recycling experiences for end-users, you can rely on TOMRA for the best reverse vending machines for collecting aluminum cans and glass and plastic bottles for recycling.
What is your recycling role?

About reverse vending
Deposit return systems have achieved return rates of up to 98% of eligible beverage containers in some markets, making a huge positive impact on plastic pollution and container litter. TOMRA reverse vending machines not only facilitate this effect, but also instantly refund the deposit due from bottle and can recycling, as well as offering other benefits. This motivates repeat use and raises collection rates. Reverse vending often becomes part of communities' everyday routines, so recycling is made convenient, efficient and rewarding.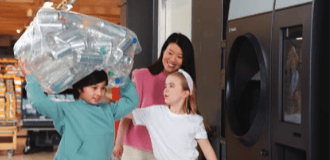 What are reverse vending machines?
Reverse vending machines provide an automated method for collecting, sorting and handling the return of used beverage containers for recycling or reuse.
Learn more about reverse vending machines

The Single-Use Plastics Directive
The automated technology used allows the mass return and processing of containers, while making bottle and can recycling simple and rewarding for recyclers and retailers.
Learn more about the single-use plastics directive

What is the circular economy?
Reverse vending ensures bottles, cans and other containers are recycled in the most effective way and their materials used again and again in a closed loop, helping to preserve precious resources.
Learn more about enabling a circular economy

get in the loop
Clean Loop Recycling
Find out how returning containers with TOMRA contributes to the Clean Loop, making a difference to our communities and the planet.
Learn more about clean loop recycling

Why TOMRA?
TOMRA Collection seeks to lead the resource revolution, collecting more than 45 billion containers a year to keep them in the Clean Loop and out of our streets, oceans and landfill. We have been pioneering reverse vending technology for more than 50 years and work with retailers, decision makers, partners and people to continuously innovate, making bottle and can recycling better for everyone.
For business
TOMRA offers a proven approach with no need for expensive alternative waste systems. Our solutions automate manual tasks to save employee time, save on space and logistics through efficient material compacting and storage, as well as engaging customers and driving footfall.

For people
TOMRA's solutions makes bottle and can recycling convenient, clean and efficient, with an instant deposit refund issued to recyclers. We also offer options for other benefits such as retailer offers, donating to charity, or collecting points through retailer loyalty programs.

For planet
TOMRA works to maximize the value of materials by maintaining their purity and quality, ensuring they can be recycled into new containers, avoiding downgrading and reducing reliance on virgin resources in container production. 

discover what tomra solutions can do for you
For recyclers
Our machines give the ultimate user experience, from ensuring container return is clean and efficient, to offering the opportunity to donate your deposit to charity
Learn more about TOMRA benefits for recyclers

A life without litter
Working with beverage containers, TOMRA pays attention to what happens to them. Every year, more than 1.4 trillion beverage containers are sold. 500 billion of those are made of plastic. Only 14% of those containers are collected for recycling, with 40% of plastic packaging sent to landfill, and 32% ending up in nature, as litter.