26 may 2023
#WeAreTOMRA: Meet Hege Botnen, Mechanical Engineer 
Hege is a mechanical engineer, gamer and a master's student. While studying, she was concerned she wouldn't be able to find a job that matched both her passion for engineering and her values. But luckily, she did at TOMRA Collection in Asker.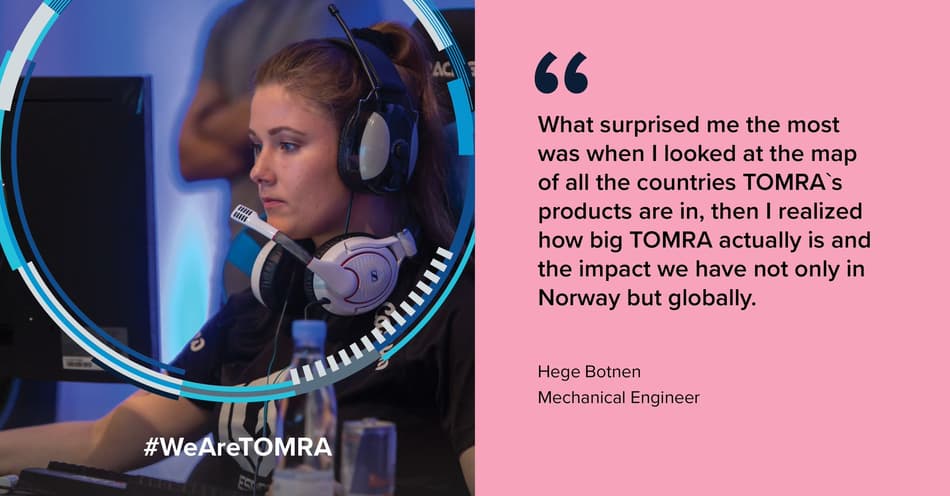 It all started with Super Mario.
Her interest in gaming led her to be curious to learn how a computer is put together and how everything affects each other and at 17, she built her own PC. Since then, her curiosity has led her to complete two bachelor's degrees in engineering. In addition, she has created a career in professional gaming and has been working as a commentator in esports for, among others, the Norwegian broadcaster TV 2. Today she uses the knowledge she gained through gaming and studies to develop new products for TOMRA Collection as a Mechanical Engineer.
What do you do at TOMRA?
I am working 50% as a Mechanical Engineer. In my role, I have a variety of tasks but one of my main tasks is to design and model machine components, host design reviews and iterate on the design until the team and I are confident in a prototype. I am also taking my master's in system engineering at the University of South-Eastern Norway. It is a three-year program where you have a temporary part-time job concurrent with your studies. So, I am now juggling my studies, work and my passion for gaming, but due to the flexibility TOMRA is providing, it is working out pretty well.
What surprised you the most about TOMRA?
 What surprised me the most was when I looked at the map of all the countries TOMRA products are in, then I realized how big TOMRA actually is and the impact we have not only in Norway but globally. I was also surprised by how down to earth everyone here is; when I started, our CEO Tove Andersen took part in some of the same on-boarding program as we did. There is really no hierarchy here.      
What is the most exciting project you have been a part of so far?
It has to be the new multi-feed concept we are working on. I am so impressed by the pace we have and how my colleagues manage to find great solutions to every obstacle we meet on our way. It is so exciting to be able to contribute to something we believe is going to be revolutionary within our industry. 


What kind of things do you like doing outside work?
 When I'm not gaming or commentating, I love being out in nature, whether it is on foot, on skis, or racing down a hill on a snowboard. When you spend a lot of time in front of a screen, having breaks outdoors is both nice and important. I also really enjoy going to electronic music festivals. 
How would you describe the culture in TOMRA?
The first word that comes to me is passion. You can see that everyone here is passionate not only about their job but passionate about our overall goal of working towards a healthier planet. Another word I would use to describe our culture is "happy." I don't think I have seen one grumpy face here since I started. Everyone is friendly and including.