30 September 2022
#WeAreTOMRA: Meet Nicole, Communications Intern
For Nicole, being able to learn and use her skills for a bigger purpose, along with a supportive team, are the keys to a meaningful internship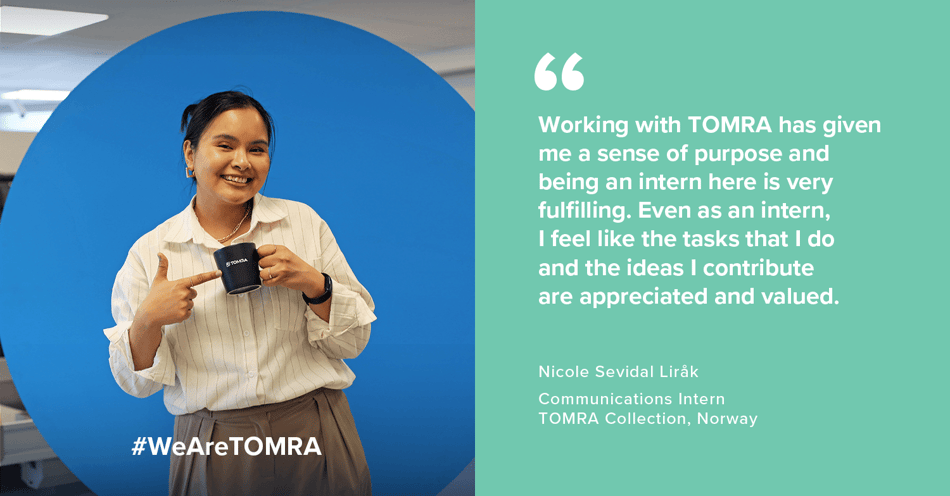 What do you do at TOMRA?
I have been working as a Communications Intern in TOMRA Collection. I assist the Brand, Marketing & Communication department with several tasks to share what TOMRA does and its values.

These include writing case studies on how TOMRA's partnerships with different non-profits have helped several communities around the world, interviewing other employees about working with TOMRA, helping build the new website, writing blog posts, and creating social media posts that share tips on how we can all be Resource Revolutionaries not just at work, but also in our everyday lives.
What is the best thing about your job?  
TOMRA's values are not just about making profits, but also helping the environment and helping people. This makes me motivated at work, which is the best thing about doing my internship here. If I could use whatever talents or skills that I have to help change the world for the better, then I would gladly do so.
I also get to work with some amazing people, which inspires me even more to give my best. Even as an intern, I feel like the tasks that I do and the ideas I contribute are appreciated and valued. I feel like TOMRA really cares about their employees, including interns like me, and makes sure they get the right training and resources to be able to do their job well. And if there are any hindrances to completing your tasks, people are approachable and supportive to help you with what you need in order to complete them.
What kind of things do you like doing outside of work?
I am in the final semester towards getting my Bachelor's degree at BI Norwegian Business School, and my internship with TOMRA is part of the curriculum. So, usually on weekdays when I am not doing my internship, I am in front of my laptop, studying and writing term papers. It may not sound so fun for now, but soon I will be completing my studies and I know it will be worth it.
In my spare time, I practice my hobby of portrait photography. I do concepts such as artistic photography, fashion and photographing cosplay with a cinematic look. I like to show that everyone can be photographed beautifully in a way that tells a story. When I don't have a photo shoot, I either visit art museums to look for inspiration that I can apply to my next photo projects, or I stay at home, cook some good food, and chill out with my dog.
What about TOMRA makes you proud? 
Every time I get asked what company I am spending my internship at, I always am proud to say that I am doing it at TOMRA. Why? Not only because of what I do here, but most importantly, because of what the whole company is doing to make the world a better place. I love it when they react like "wow, that sounds like a cool company". Working with TOMRA has given me a sense of purpose and being an intern here is very fulfilling.