20 janUARY 2022
#WeAreTOMRA Meet Olav Johan, Data Scientist / Big Data Developer 
For Olav Johan Horgen, data scientist / big data developer at The Solutions Hub for TOMRA Collection in Norway, the most important things in his work are truly taking part, getting the opportunity to bring ideas to life, and using his skills for a greater purpose.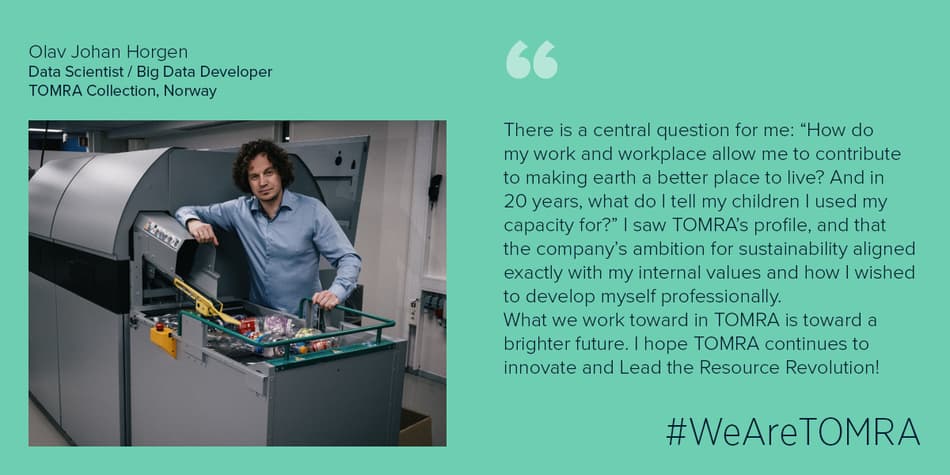 What do you do at TOMRA?
In TOMRA I work with data analytics and big data, in a team of six called Data Solutions. We seek patterns in how people return their containers for recycling across the globe. Every time you return a container, it generates a huge amount of data, such as how many containers, the types of containers, the refund value for the session, and more. The data also tells us what's happening inside the reverse vending machine, from the sensors to the software, and if there are things that requiring fixes. So I work with preparing all data for analysis and processing, and have quite varied tasks in doing so.
Why did you apply to be part of the TOMRA team?
I joined the company in January 2018. I began my career in the oil and gas industry, and I had very exciting work areas there. But, the day came when I asked myself why I am working here, and in this job? I thought to myself, there is a central question for me: "How do my work and workplace allow me to contribute to making Earth a better place to live? And in 20 years, what do I tell my children I used my capacity for?" I saw TOMRA's profile, and that the company's ambition for sustainability aligned exactly with my internal values and how I wished to develop myself professionally. So, it was a choice for my ethics, and it means I can enjoy my tasks in a completely new way.

I also appreciated the TOMRA was very strategic, competitive, technologically innovative and very exciting challenges, where I could apply my data analysis skills to a new and dynamic field. It's always the case that if you come with an idea in the company, there's a real opportunity to get a go-ahead on it and bring that idea to life.
What kind of things do you like doing outside of work?
I am quite active with cycling. I have opportunities for terrain cycling right outside my door and live close to the office, so I actually take a terrain cycling route as part of daily commute to TOMRA. Twenty minutes of cycling, a shower at the office, and I'm ready to start the day! In winter, I switch and take the ski tracks to work, I can often make it door to door. I enjoy both cross-country and downhill skiing, though unfortunately there's no downhill ski runs straight to the office!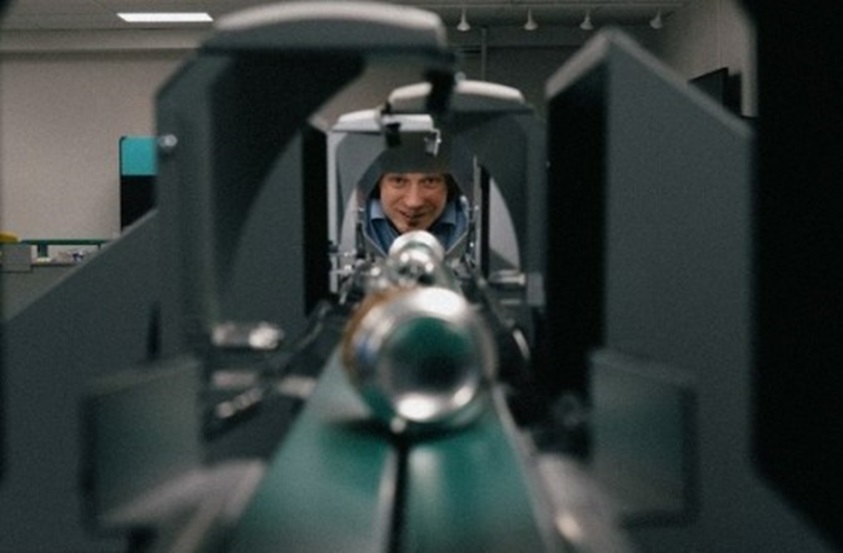 What are you passionate about?
Joining in and saying "yes" to new things are very important to me. I have decided to always offer to help, and always accept when others offer to help me. It's great to see the good that come from it if you do it over time: getting to know new people, try out new activities, or have conversations that you might not have had otherwise. I'm not afraid to put my hand up at work, which has seen me join in video filming and even dress up as Santa Claus to help explain data concepts in presentation to my colleagues--that way I'm trying different things outside my everyday to-do list. One of the most exciting things I have done at TOMRA, as part of my on-boarding, was visiting Infinitum (Norway's central system administration for its deposit return systems) to see how they process the drink containers TOMRA collects and get an overview of the entire deposit return system. My personal motto is "Your best memories are ahead of you." And what we work toward TOMRA is toward a brighter future. I hope TOMRA continues to innovate and Lead the Resource Revolution!