4 June 2021
#WeAreTOMRA: Meet Rémi, Charity Partnerships Manager
For Rémi Duracher, Charity Partnerships Manager for TOMRA Collection in Australia, challenging the status quo and finding ways to reduce his impact on the planet are key goals.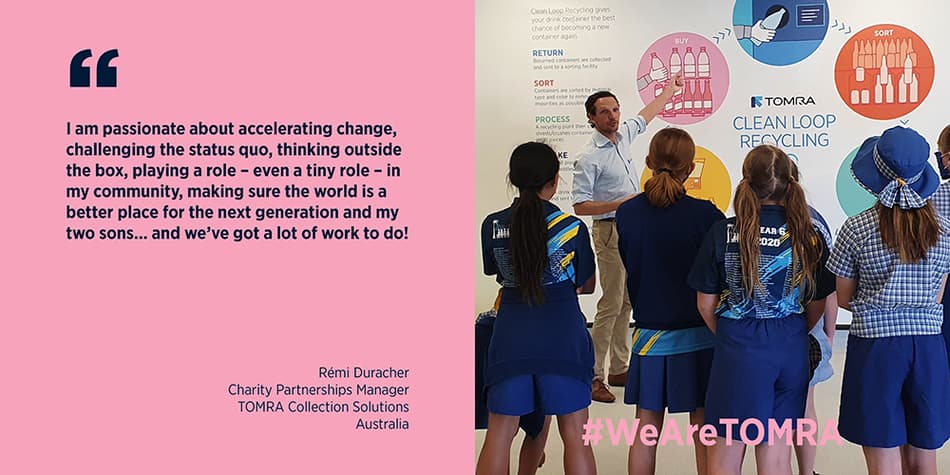 What do you do at TOMRA?
I am the Charity Partnerships Manager at TOMRA Collection Australia, part of the Marketing team. I started part-time in April 2018, only a few months after the launch of the container deposit scheme in New South Wales. My main responsibility is to manage our donation partnership program, help educate our donation partners (schools, sports clubs, community groups, and charities, both local or international) and encourage them to participate in the scheme, raise funds for their cause, and engage with the community.
What motivated you to apply for a job at TOMRA?
So many stars were aligned… I came across the job advertisement for the Charity Partnerships Assistant role back in April 2018. For over five years prior to joining TOMRA, I was a "domestic engineer", which is a much more accurate definition of what it means to be a "stay-at-home" parent! During that time, I had the privilege to disconnect from the corporate world to raise my kids. I was also lucky to have had the opportunity to try new things: I volunteered for charities and social enterprises and became active in the social entrepreneurship sphere in Sydney, following both my interests in social change and sustainability.
One of my goals was to find ways to reduce my impact on the planet – consuming less, generating less waste. So from worm farming and collecting coathangers for my local dry cleaner, to diving into the bins of my neighbors to remove perfectly recyclable material, and purchasing sunglasses made of milk bottle lids and beer keg caps, I was clearly already – quite unknowingly – a "resource revolutionary".
I also remember the job ad. It mentioned something along those lines: "This is a perfect opportunity for a mum or dad wanting to go back to the workforce". This was not just a coincidence. It was tailor-made for me. These stars were well aligned for me that day.
What are you passionate about?
I am passionate about accelerating change, challenging the status quo, thinking outside the box, playing a role – even a tiny role – in my community too. I am passionate about helping reshape our social and economic system and transitioning towards a more equitable, respectful, and sustainable (socially and environmentally) society, making sure the world is a better place for the next generation and my boys. And we've got a lot of work to do!
Outside of work, I love playing with my two very active sons. When injury-free, I enjoy playing sports, especially tennis, and recently discovered beach tennis. I love the outdoors, exploring and I look forward to more adventures in 2021.
What is the most exciting thing you have done in TOMRA?
I have been very lucky. I have been involved in exciting projects and campaigns including "Bottles for the Bush", "Cans for Koalas" and more recently "Bottles CAN Change Lives". But the most exciting project for me has been the development of the new "Charity" functionality in the myTOMRA app. From just a "seed" planted over two years ago to seeing the functionality live today is very satisfying, and I am grateful for the opportunity that was given to me to work with the development team at TOMRA headquarters in Norway and lead this project. I hope it will – and I believe it will be successful in Australia and might even inspire other markets.