Royal flying doctor service brings medical care to Australia's remote communities
New South Wales, AUSTRALIA: People living in remote areas of the country do not have the same access to medical care as those who live in the cities, due to fewer clinics in the area and the distance to medical services. From April to October 2021, TOMRA Collection Australia together with the Return and Earn deposit return system encouraged consumers to donate their deposit refunds to support the Royal Flying Doctor Service South-Eastern Section in bringing medical care to people living in the outback.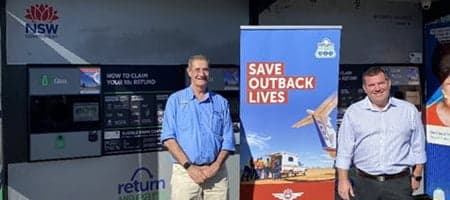 The need for medical services in remote areas
People living in remote areas in Australia are at a disadvantage when it comes to accessibility of medical care. For instance, they might have to drive for hours by road before they can get medical care at the nearest city hospital.

The Royal Flying Doctor Service (RFDS) is a not-for-profit aeromedical organisation that helps people living in these communities by ensuring they receive healthcare when needed. As well as emergency retrievals, the Royal Flying Doctor Service provides other medical services such as general practitioner clinics, mental and dental care, breast care, and chronic disease screening.

Their cause inspired TOMRA Collection Australia and the Return and Earn deposit return system in the Australian state of New South Wales (NSW) to partner with the Royal Flying Doctor Service, to raise funds that would help to bring much needed quality healthcare services to outback communities.

Supporting communities one container at a time
Through the Return and Earn Container Deposit Scheme, NSW
consumers pay a 10-cent deposit every time they purchase an eligible drink,
such as those in bottles or cans, and receive back a refund when they return
the empty beverage containers for recycling, for example at a reverse vending
machine. Recyclers can also choose to donate their deposits to selected
charitable organizations, direct from the reverse vending machine. 

In April 2021, at the launch of the fundraising campaign,
RFDS South Eastern Section CEO, Greg Sam, said, "This partnership will
help raise vital funds and will allow us to continue delivering life-saving
emergency medical retrievals and primary health care services to rural and
remote communities."

How recycling helped save lives
At the end of the campaign, the Royal Flying Doctor Service raised AU$140,000, thanks to the generosity of the NSW residents who donated their deposit refunds. "It's great to see so many people in our community support such an important cause while at the same time helping the environment," said Dugald Saunders, Minister for Agriculture, Minister for Western New South Wales and Dubbo MP.
The additional funds came at a time of a particular need, in the middle of the pandemic. Royal Flying Doctor South Eastern Section, Chief Medical Officer, Dr Randall Greenberg, said, "The pandemic has had a significant impact on rural and remote communities and the $140,000 funds raised through recycling means the Flying Doctor can continue bringing healthcare to outback families and communities who need it most."