TOMRA and Cleanaway partnership appointed as network operator for New South Wales container deposit scheme
Global sensor-based solutions provider TOMRA, and Australian waste management company Cleanaway, have been appointed as the network operator for a new container deposit scheme in New South Wales (NSW), Australia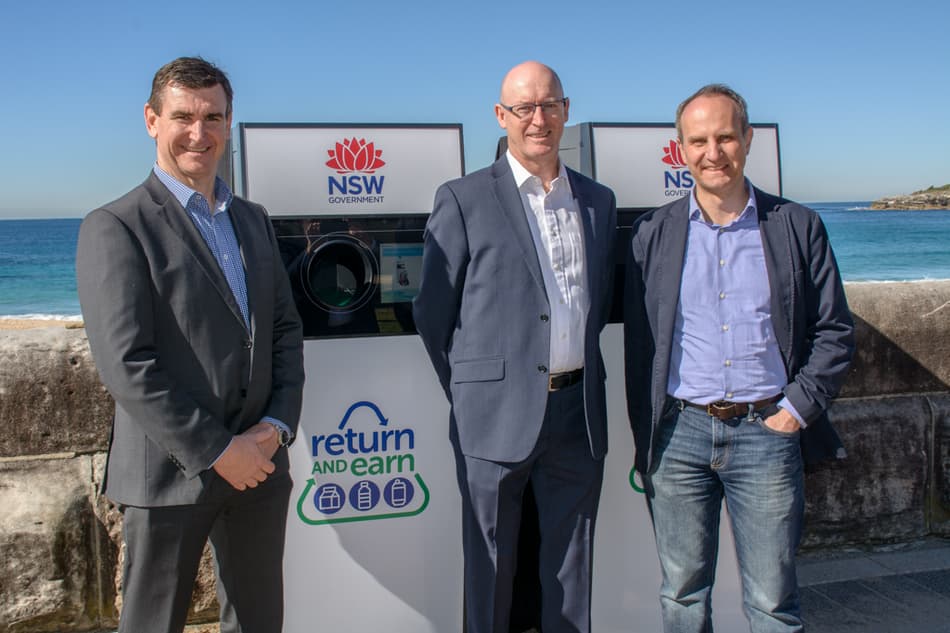 Cleanaway General Manager NSW, David Clancy; Cleanaway Commercial Finance Manager NSW/ACT, Ken Donley; and TOMRA Collection Solutions Managing Director Australia, Markus Fraval
NSW environment minister Gabrielle Upton announced the new scheme, which will see approximately 800 reverse vending machines installed across the state, contributing to its litter volume reduction target of 40% by 2020.
Environment minister Upton says: "This is the biggest initiative to tackle litter in the state's history and it will make a massive difference to the amount of rubbish on our streets, parks and waterways right across NSW."
The initiative will provide customers with a 10 cent refund in exchange for bottles and cans, which can be donated to charity, used as credit in store or redeemed for cash.
TOMRA's president and chief executive Stefan Ranstrand says: "We are proud to be the preferred partner and to be part of a world class container deposit scheme in New South Wales."
As part of the partnership, TOMRA will provide technology, software and carry the investment for the technology, while Cleanaway will deliver the logistics, sorting of collected material and act as broker for the related commodities.
Stefan Ranstrand adds: "We are very happy to enter into this partnership with Cleanaway, the leading waste management company in Australia. Our two companies are a great fit and together we are providing our core competencies into the role of network operator.
"New South Wales is the first state in Australia to implement a deposit scheme where large-scale, convenient automated solutions are being offered to the consumer. Engaging with the consumer to make recycling relevant and personal is the only way forward to make sure we are efficiently taking care of and reusing the world's resources.
"A container deposit scheme is the best way to promote closed loop recycling and make sure we are addressing the major challenges we see today such as marine littering and wasted plastic in our natural environment."
The majority of the 500 collection points across the state will be in place by December 2017, when the scheme is due to commence, with the remaining reverse vending machines set to be installed by February 2018.
Commenting on the scheme, Minister Upton adds: "It will also provide a fundraising opportunity for schools, community and sporting groups, which share in of dollars every year in places where similar schemes have been running for decades."
TOMRA's ambition is to be a leader in the resource revolution by creating sensor-based solutions for optimal resource productivity. The NSW container deposit scheme is a perfect illustration of what TOMRA stands for, providing smart solutions for optimising resources and ultimately contributing to a more sustainable future.
To work with TOMRA-Cleanaway or express interest in operating a collection point in New South Wales, please visit www.tcnsw.com.au.