2021 recycling round-up: The future of reverse vending is already here
Convenience, community and digital experiences hit beverage container recycling.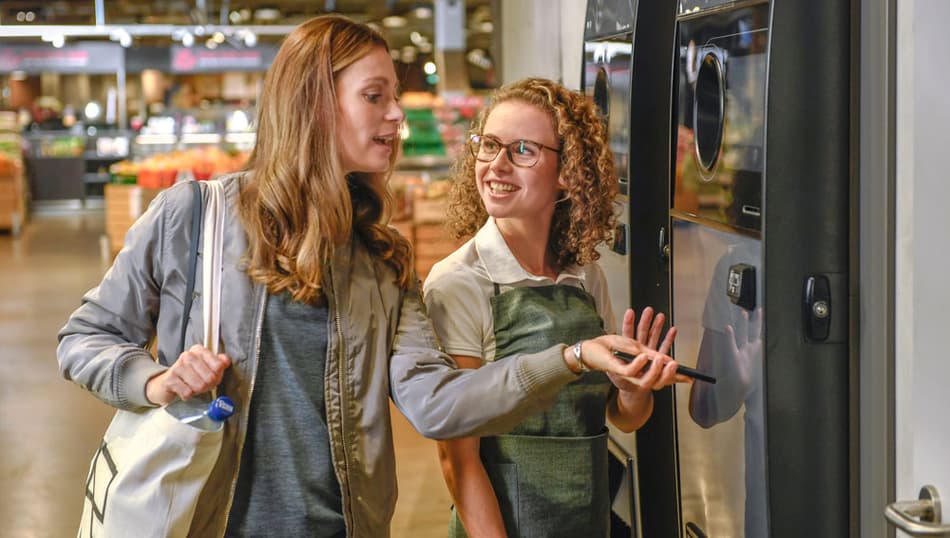 With alarming growth in plastic pollution worldwide, and particular concern over waste from single-use beverage containers, the recycling space is driving forward new innovations to make returning bottles and cans more motivating and efficient.
This is especially true at global resources sustainability company and
reverse vending leader TOMRA
. TOMRA has reverse vending installations in more than 60 markets across the globe, and a long history of reverse vending innovation: from inventing the world's first fully-automated reverse vending machine (RVM), to pioneering the first 360-degree instant recognition system for containers, and the first Internet of Things (IoT) platform and consumer app for reverse vending. As the calendar turns to a new year,
Gudbrand Arnesen, Head of Product & Solution Management at TOMRA Collection
, shares eight of the latest innovations in reverse vending.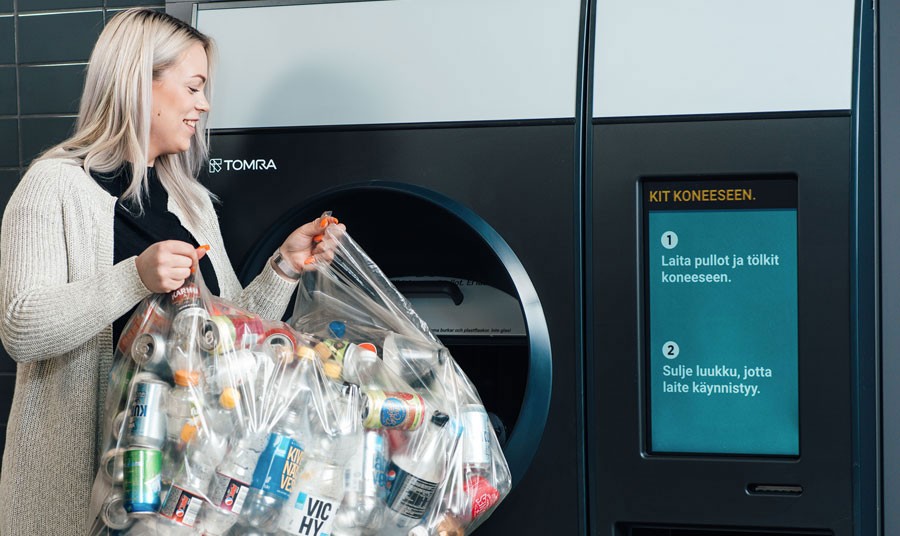 1. Multi-feed reverse vending: With today's hectic lifestyles, consumers prioritize convenience. TOMRA launched the TOMRA R1 "multi-feed" reverse vending machine, which enables recyclers to empty an entire bag of drink containers in seconds, rather than inserting them one by one. When returning over 100 containers, recycling is up to five times faster than using a single-feed solution. As such, the new machine reduces queues and wait times. Another convenience is mess-free recycling, as there is no need to handle each bottle – so consumers can contribute to the environment without getting their hands sticky. "The multi-feed concept fundamentally transforms the recycling experience, making it more engaging and motivating for recyclers to do their part for the planet – 100 bottles at a time," describes Gudbrand Arnesen. TOMRA R1 is currently installed in Sweden, Norway, Estonia, Finland and US.
2. Paperless payout: More and more everyday tasks are moving online, and consumers are seeking experiences that fit seamlessly with their digital lifestyles. Getting a container deposit refund paid out is no exception. Container return locations now have the option to reimburse recycling refunds not only with a traditional paper voucher, but also a digital voucher – sent direct to the end user's mobile phone, or via instant and secure electronic transfer to their account. Both digital payouts are enabled through the myTOMRA app, available free in the iTunes App Store and on Google Play in selected markets. "With the movement toward paperless working, we thought it was counter-intuitive that a machine that enables recycling should rely on paper," explains Gudbrand Arnesen. Flexible payout options also means no more losing or forgetting to redeem paper vouchers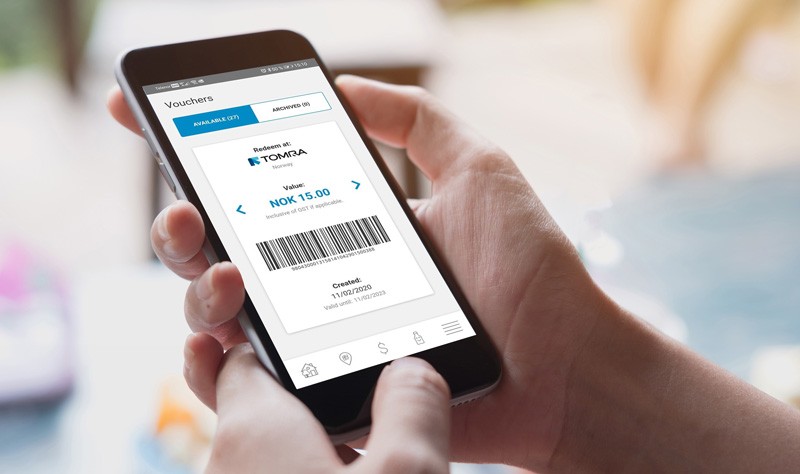 3. Fully automated container recycling: Technological advances are enabling new customer experiences. TOMRA took container recycling automation to the next level with the Express returns concept for TOMRA R1. The Express concept lets recyclers leave the TOMRA R1 while the machine is still processing their containers. The recycling refund is sent electronically once processing is complete. With no need for recyclers to manually handle each container or wait at the machine for a voucher, it is the first completely automated container recycling experience. "TOMRA R1 with Express returns is like the self-driving car of container recycling, fully automating the experience," adds Gudbrand.
4. Gamification of recycling: From earning frequent flyer miles to getting your 10th cup of coffee free, gamification of everyday activities employs fun, competition and achievement to increase engagement and gratification. This gamification has also arrived in container recycling. With the myTOMRA app, recyclers scan their barcode at the start of a returns session, so they can track recycling milestones and earn badges for their efforts. Achievements include number of containers recycled, number of recycling sessions, returning large volumes in a single session, and more. Recyclers can even share their badges on social media. Celebrating these achievements keeps recyclers engaged and can build loyalty with the recycling locations that offer gamification options. It brings together the extrinsic reward of badges with the intrinsic reward of knowing you have contributed something positive to the planet.
5. Reverse vending notifications: The Internet of Things has truly arrived in reverse vending, with RVMs able to communicate not only with consumers about their recycling sessions, but also with retailers and redemption center staff. Notify+Assist gives instant in-app notifications when an RVM needs attendance, such as a storage bin approaching full capacity, so staff are informed long before users are inconvenienced. The app shows the RVMs visually and in real time. "This maximizes uptime and helps personnel stay on top of efficient operations, so they can always be ready when customers are ready to recycle," explains Gudbrand. Using the Status API developed by TOMRA, TOMRA has joined forces with German start-up ReAct to integrate Notify+Assist updates into the innovative IoT communication platform "Call To Action", which brings together all data from the entire store environment into one system for task management and communication.
6. Charity donation: Giving and community is important for society during tough times. TOMRA's IoT technology also enables recyclers to donate their container deposit refund to charity – direct from the RVM screen. A button to donate to a single charity has existed for many years, like the Recycling Lottery in Norway that raises money for the Red Cross. However, the newest reverse vending innovations allow beneficiaries to be changed regularly, to involve more charities in the community and reflect current social needs. (For example, following the devastating drought and bushfires in Australia, the local "Bottles For The Bush" recycling appeal raised money to buy food, water and hay for struggling rural communities.) Most RVMs can even have multiple donation partners. Charity donation partners can be selected by an individual return location, or deployed across a chain or network of RVMs.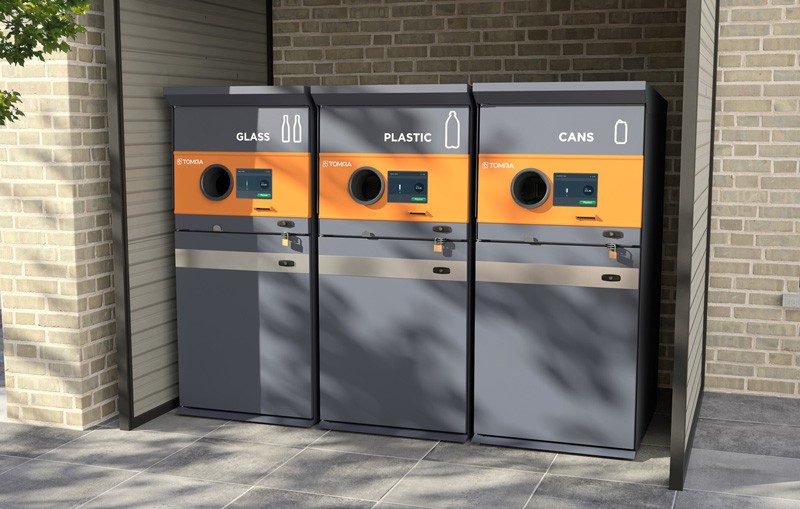 7. Recycling in any conditions: "Different markets have different container return models and infrastructure based on local requirements. Reverse vending technology must be ready and rapid in adapting to those local market needs," explains Gudbrand. For example, while many regions have indoor reverse vending in stores or depots, others offer outdoor return points. TOMRA S1 Rugged was unveiled in 2020, designed for semi-sheltered locations and able to withstand challenging weather conditions. The robust RVM was tested to comply with product standards for water resistance, and features a hardier exterior and brighter touchscreen display for reading in direct sunlight. Also previewing in 2020 was the new, small-footprint TOMRA M1, specifically designed for smaller stores with shallow shelf space. The solution is compact and affordable, though still has capacity to handle three different types of container materials.
8. New containers and applications: As well as adapting to different return locations, reverse vending is also responding to demand for different items to be returned. Today's RVMs can already handle a wide variety of drink container types, in terms of material (glass, plastic bottles, steel/aluminum cans, and liquid paperboard) and use (refillable and non-refillable containers), and even being able to scan entire crates of empties. TOMRA has taken beverage container handling a step further through a new pilot with SodaStream, the world's leading sparkling water-maker brand, for the return of used CO2 cylinders. SodaStream-branded RVMs are now being installed in retailers in the European Union and United States, to make cylinder exchange more efficient for retailers and consumers. SodaStream CO2 cylinders are produced to remain in a closed loop, and returned to SodaStream plants where they are cleaned, refilled and sealed for reuse – bringing TOMRA technology to new applications and contributing further to circular economies for beverages.
A huge amount of innovation and activity is happening in the reverse vending space, to ensure that recycling is truly remaining up to date and reflecting the needs and habits of today's savvy consumers and bustling return environments. The exciting news is that these seemingly futuristic developments in reverse vending are already here, and we are ready and eager to bring these innovations to more geographies, more stores and depots, and more recyclers in the near future. We thank our customers and users for helping us to develop these solutions, and look forward to the reverse vending innovations that 2021 brings."
Gudbrand Arnesen
Head of Product & Solutions Management, TOMRA Collection Norway