TOMRA powers up 100th TOMRA R1 reverse vending machine, for recycling over 100 containers in one go
Coop Obs Amanda supermarket in Norway joins stores offering "multi-feed" solution for a fast, convenient and engaging recycling experience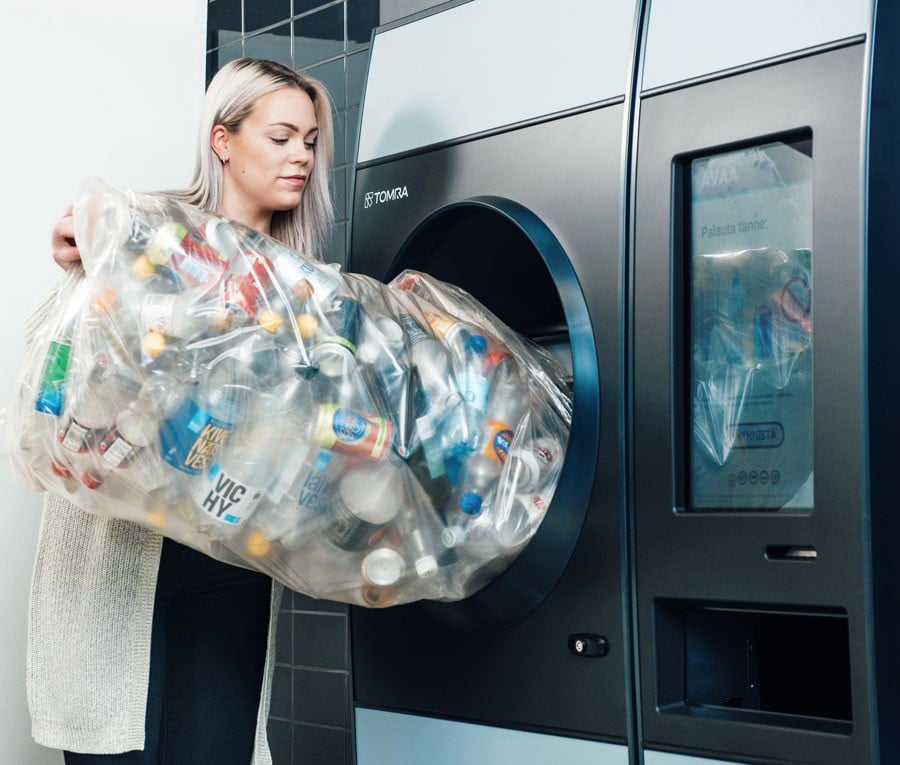 Just 18 months ago, global reverse vending leader, TOMRA, unveiled its highly-anticipated R1 solution, a "multi-feed" machine that enables recyclers to pour in over 100 empty beverage containers in one go – rather than inserting them one by one. Today, TOMRA marks a milestone with its 100th R1 installation, at supermarket Coop Obs Amanda in Haugesund, on the west coast of Norway. Internationally, a further 20 TOMRA R1 reverse vending machines have already been ordered.
Consumer research has found nearly half of all recyclers select the store where they recycle based on the quality of the recycling experience on offer, and volumes of redeemed bottles and cans at TOMRA R1 locations have risen as much as 403% in one store. Coop Obs Amanda will be hoping to replicate these results, along with the up to 272% increase in the number of consumer recycling sessions other stores have experienced.
Coop Obs Amanda store manager, Harald Fosen, explained, "We're excited to offer our customers such a clean and convenient recycling experience. If it puts us on the map as the place to come for container returns in the region, that's a big plus."
So far over 128 million containers have been returned to TOMRA R1s, from 1.5 million recycling sessions, with an average of 83 containers returned per session. Visits to TOMRA R1 locations have even caught the imaginations of social media users, with many documenting their experiences online, with one recent TikTok video amassing 616,000 views and a video posted to Reddit reaching 3 million views.

Below: The milestone 100th installation of the TOMRA R1 multi-feed reverse vending machine, at Coops Obs Amanda in Haugesund, Norway.
[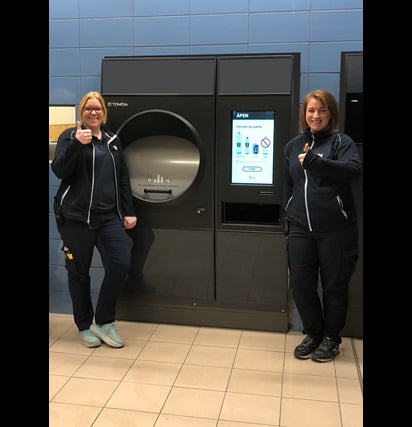 "We have been so excited to see this kind of reaction to the R1. We knew that recyclers would find the multi-feed solution extremely convenient, but the extent to which recyclers and even stores are having fun with it is something special," said Jonas Døvik, Product Manager for TOMRA R1. "We say with TOMRA R1 that recycling just got more 'wow', and now it's gotten 100 times more wow."
TOMRA's roll-out of the R1 has so far included Norway, Sweden, Estonia and Finland, as well as redemption centers in the United States. TOMRA R1 will roll out to more regions in the future, with Denmark set to be the next country to launch R1.
As well as its large capacity and rapid mode of operation, TOMRA R1 provides a mess-free recycling experience as there is no need to handle each bottle. These features make recycling more convenient and attractive for shoppers, better enabling empty drink containers to remain in a clean, closed loop so they can be turned into new bottles and cans again and again. By providing a smoother recycling experience, TOMRA R1 engages people to do their part for the planet.

Contact TOMRA if you have any questions, need images or would like to arrange to speak to the TOMRA team.
About TOMRA Collection


Founded in 1972, TOMRA provides reverse vending solutions for Clean Loop Recycling, collecting aluminium, plastic and glass beverage containers to be continually reused and recycled back into new bottles and cans. With approximately 80,000 reverse vending machines across more than 60 markets, TOMRA captures over 40 billion used beverage containers every year toward a closed loop. This reduces reliance on raw materials, and ensures fewer containers end up in our streets, oceans and landfills. TOMRA's machines, digital solutions and service make recycling easy for the industry, system owners, retailers and consumers to contribute to a more sustainable planet. Visit our Reverse Vending pages on www.tomra.com, and follow us on Facebook, Twitter, Instagram and LinkedIn.

TOMRA Collection Solutions is part of the TOMRA Group, which creates sensor-based solutions for optimal resource productivity, and has a vision to lead the Resource Revolution. The Group employs approximately 4300 people globally and is publicly listed on the Oslo Stock Exchange (OSE: TOM).