myTOMRA deposit return system app reaches 10 million user sessions
TOMRA marks five years since the launch of the consumer fintech app for drink container recycling and examines its evolution and milestones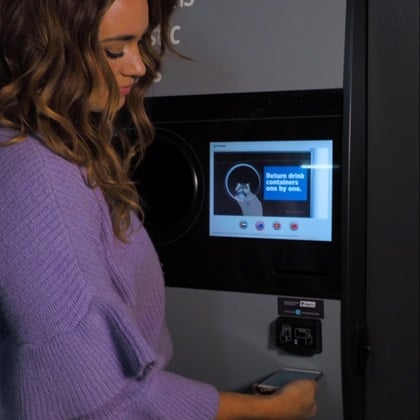 For the launch of the New South Wales deposit return system (DRS) in Australia, international reverse vending leader TOMRA Collection developed the myTOMRA app, launching on 30 November 2017. This free consumer fintech app sought to offer recyclers electronic payout of their deposit refund and find their nearest return point.
myTOMRA has since evolved to offer gamification, information on reverse vending status, and more payout options. In 2022 alone, the app:
Became the world's first consumer app for digital payout for an entire deposit system
Launched APIs and a Developer Portal letting DRSs and stores integrate the technology with their own loyalty programs and apps
Reached a new milestone of 10 million user sessions and the equivalent of 50 million euros paid in deposit refunds
A DRS works by adding a small deposit to the purchase price of a drink, which is refunded when a consumer returns the empty container for recycling. myTOMRA seeks to make DRS participation more engaging and convenient, and seamlessly integrate with today's increasingly digital lifestyles. Learn more about the development behind myTOMRA, how it has matured since launch, and the results the app is achieving today.
Developing a new consumer recycling experience
The idea began as an intrapreneurship or "skunkworks" project, from TOMRA's portfolio of digital products for extending the value of using and owning a reverse vending machine (RVM). This Internet Of Things platform officially launched in early 2017. It included access for RVM providers to reporting and analytics, notifications for when action is required at the machine, voucher control to secure refund receipts, and options to use the RVM as a marketing touchpoint.
An early direction for the platform was "consumer engagement" solutions: building a digital relationship with users through consumer identification, electronic payout, maps, and a loyalty/incentive program, all through a mobile app. Engaging consumers is key to the success of a DRS. TOMRA ran several pilots in the Mediterranean, Norway and the US, with trade shows, universities and DRS administrators. This enabled TOMRA to learn about who is using the program, their motivations, and what works (and doesn't work) in a digital user journey for consumers.
"Our starting point was that there must be a value to knowing who is the recycler standing in front of the RVM," said Aleksander Mortensen, Senior Vice-President and Head of TOMRA Collection Commercial. "When we started work on digital solutions for consumer engagement, we truly started from scratch."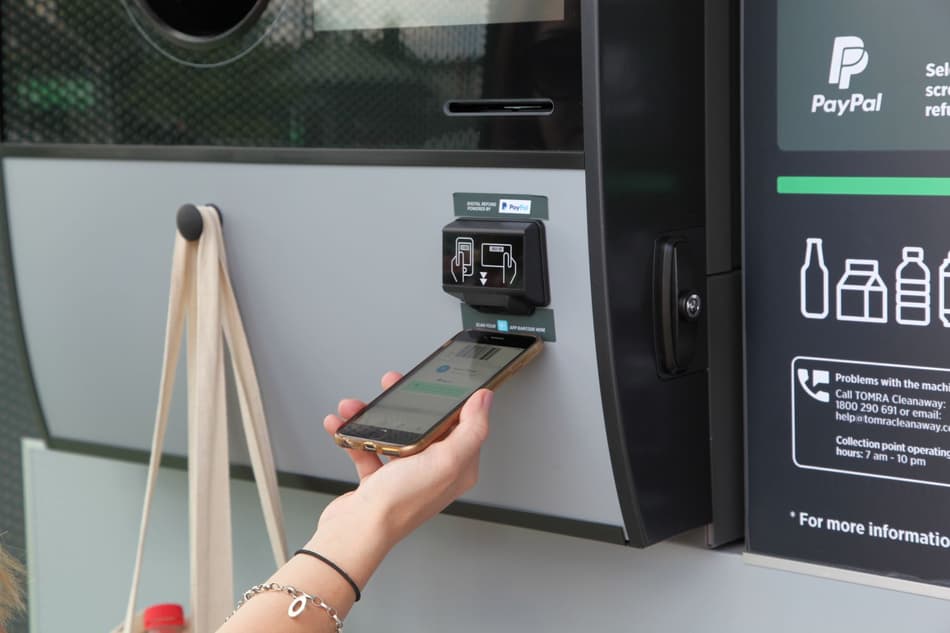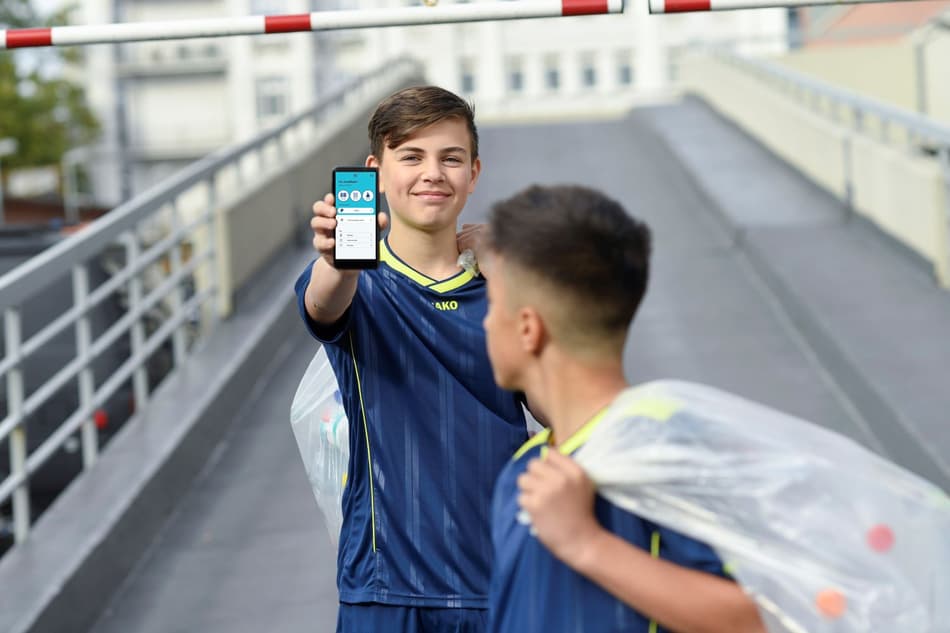 myTOMRA prepares for Australia
In July 2017, TOMRA and waste management company Cleanaway were appointed in a joint venture as the Network Operator for the new Return and Earn DRS in New South Wales, Australia. TOMRA would provide reverse vending technology and software (including a complete IT eco-system), while Cleanaway would deliver logistics, sort collected material and act as broker for the commodities.
Many deposit markets around the world use "return-to-retail" collection, where grocery stores host return points (like RVMs) and consumers receive their deposit refund as in-store credit. With no retailer obligation in the New South Wales' DRS, TOMRA saw value in a consumer app that could instead offer digital payout of refunds, and a map to show recyclers where to return their containers. TOMRA's previous experience enabled the company to quickly scale an app for consumers in the state.
Launching myTOMRA
In November 2017, TOMRA partnered in Australia with PayPal to deliver secure electronic payouts of deposit refunds. This enabled consumers' drink container refunds to be transferred to their PayPal accounts via myTOMRA. The partnership was a world-first in offering digital refunds for a DRS of this scale.
Recyclers could create a myTOMRA profile and connect it to their PayPal account, then scan their personal myTOMRA barcode at an RVM when returning containers. They could then select digital payout, and have their refund amount appear in myTOMRA within seconds. The myTOMRA app also featured a map of RVM locations across the state, ensuring consumers could find the nearest collection point.
"TOMRA has taken the initiative to offer an abundance of payment options for recycling, to make it easy, personalized and engaging to participate in Return and Earn," said Aleksander Mortensen. "We wanted to ensure a digital way for claiming refunds to accommodate a rising consumer preference for mobile commerce experiences."
The myTOMRA app went live on the iTunes App Store and Google Play on 30 November 2017, to coincide with the launch of the DRS on 1 December. Within a month, myTOMRA reached the top 100 downloads in Australia's App Store, and second place in the Food & Drink category. By April 2018, the app had gained 85,000 users and paid out refunds from 22 million containers.
Expanding the myTOMRA offering
myTOMRA has continued to develop and mature, refining existing features and adding new ones, for greater consumer engagement and convenience. TOMRA undertakes quantitative research about the app each year to listen to consumer needs and preferences.
Map functionality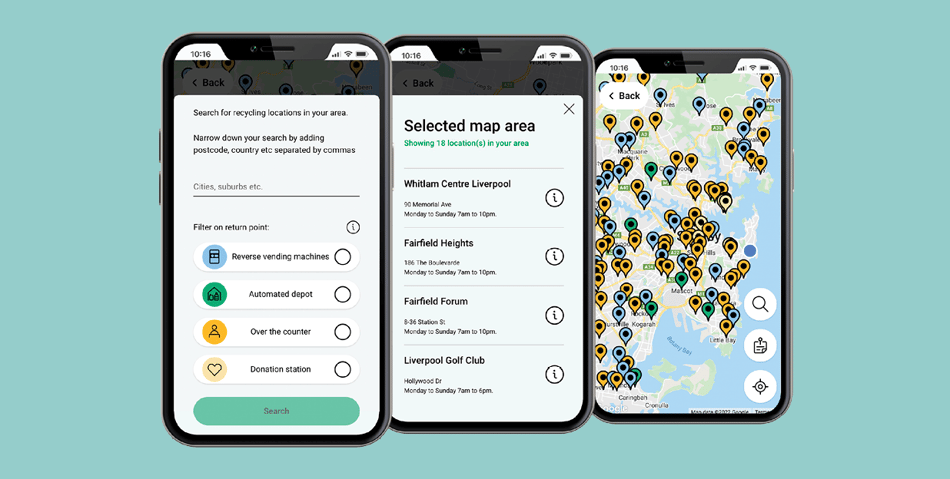 The first major update came in 2018, with a feature in high demand from New South Wales' new recyclers. "We saw on Facebook groups that people were asking others in their local area if they knew whether their nearest RVM was open," explains TOMRA Collection product manager Chris Brasøygård. "This led to the release of live real-time RVM status information in myTOMRA early in 2018, expanding on the existing maps showing RVM locations."
As such, users could check the operational status of RVMs in real time before heading out to recycle. It showed the RVM as open, almost full, temporarily unavailable, or in sleep mode during out-of-hours periods. Users could now also add a favorite RVM to their homescreen, to keep its live status at their fingertips.
In November 2021, myTOMRA updated to enable users to search their closest RVM by suburb or postcode (as a list or pins on the map), also in relation to their current location.
Refund payout options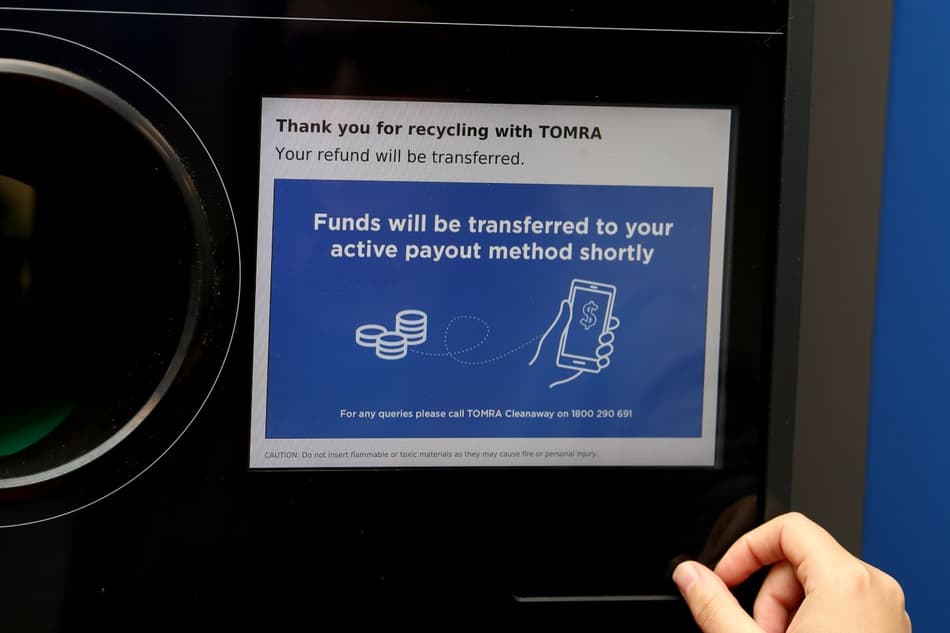 Digital payout also evolved. In November 2018, TOMRA became the first reverse vending provider to offer "digital vouchers" as a payout option for DRSs, which could be redeemed at participating supermarkets as in-store credit. "With our planet's resources high on the agenda and the movement toward paperless working, we thought it was counter-intuitive that a machine that enables recycling should rely primarily on paper," explains Aleksander Mortensen.
Digital payout options expanded to include charity donations. From 2021, registered charities could sign up for myTOMRA's donation program, and recyclers could search for them in the myTOMRA app. So far, over 185 charities have signed up and over AUS$70,000 has been donated. Like a crowd-funding program, charities can set a goal for their myTOMRA fundraising campaign, and show their progress in the app. myTOMRA also added the ability for users to download a tax-deductable receipt.
"We wanted to offer more options to support charities, especially when we saw the community's enthusiasm for our early fundraising appeal Bottles for the Bush, which encouraged donations for drought-ravaged rural areas," explained Ryan Buzzell, Head of TOMRA Collection Pacific. "By having more donation partners across more touchpoints in the DRS, we could help charities reach more people and raise more awareness, with an easy call to action to donate. It generates good outcomes for the community, and gives consumers even more choice for their deposit refunds."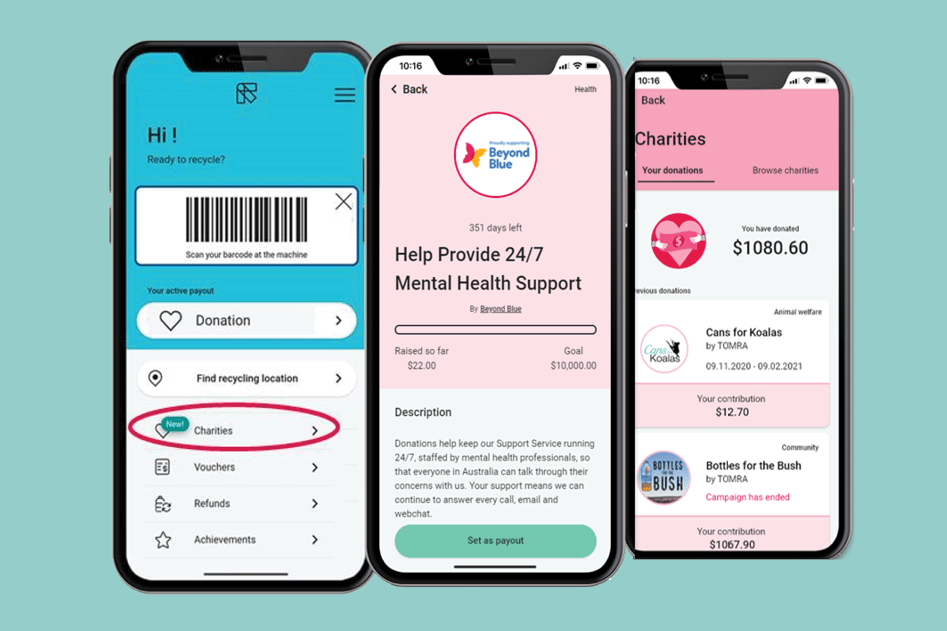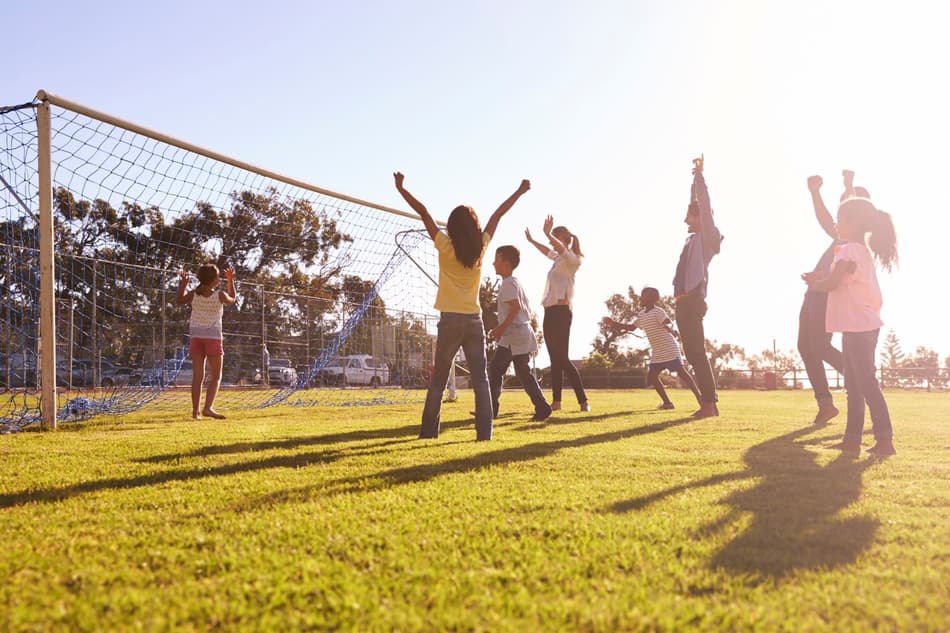 And the growing choice of payout options didn't stop there: just a month later, myTOMRA added direct bank transfer, a request that came from consumer research. It links to virtually all banks and allows customers to register through an instant account verification process. Since then, direct bank transfer has become myTOMRA's fastest-growing digital refund option, with 10 million containers recycled and redeemed as bank transfer (AUS$1 million) in the first 12 months.
Gamification
In March 2019, myTOMRA's functionality expanded in a new direction, with gamification of the recycling experience. Recyclers could now track milestones and earn in-app badges for their efforts. Achievements include number of containers recycled, number of recycling sessions, returning large volumes in a single session, and more. Recyclers can also share their badges on social media.
From earning frequent flyer miles to getting a 10th cup of coffee free, gamification of everyday activities employs fun, competition and achievement to increase engagement and gratification. Celebrating these achievements in myTOMRA keeps recyclers engaged and builds loyalty to a DRS. It brings together the extrinsic rewards of milestones and badges with the intrinsic reward of knowing they have contributed something positive to the planet. After the launch of gamification, myTOMRA saw a 10% increase in recycling engagement among those consumers using the feature.
Re-launch as the Return & Earn app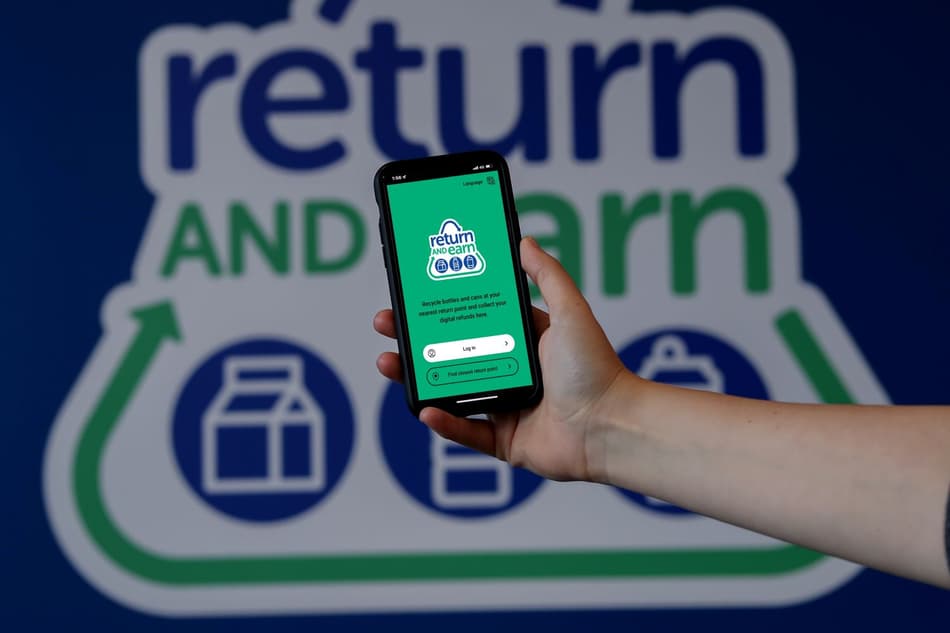 In a major update in 2022, myTOMRA re-launched in April in New South Wales as a new native app, re-branded as Return and Earn, to help the government and DRS operator achieve the best outcomes for the DRS. TOMRA's new Digital Payout API allowed seamless integration of myTOMRA functionality into a partner app.
As the official app for the entire scheme, the Return and Earn app now offers digital payout for every type of return point and has added all return points to its map function, such as depots and over-the-counter collection points. TOMRA's consumer research found that a barrier for people to join the DRS was knowing their nearest return point, so showing all locations was key for encouraging participation.
Last month also saw the arrival of a new feature, with a "container checker". This enables users to take a picture the barcode of a drink container from inside the Return and Earn app, to identify the container and confirm if it is eligible for the deposit return system.
Results and achievements for myTOMRA
The app is well liked among users, with the Return and Earn app one month after launch achieving a rating of 4.8 (out of 5) on the App Store. (As of February 2022, the average rating of the leading apps was 3.35.) This beat myTOMRA's previous rating of 4.76, based on feedback from 15,000 users. There have been over 10 million consumer sessions since the original launch of myTOMRA, with over 50 million euros paid out in deposit refunds.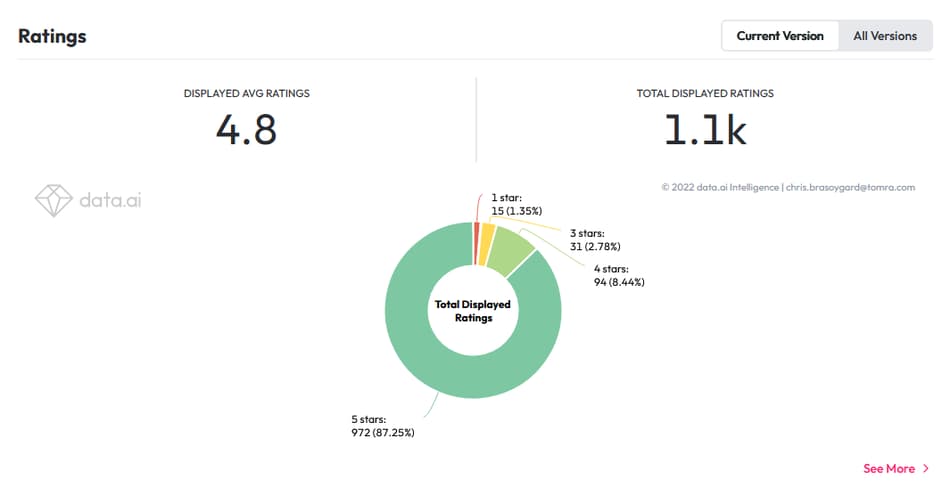 Return and Earn iTunes App Store rating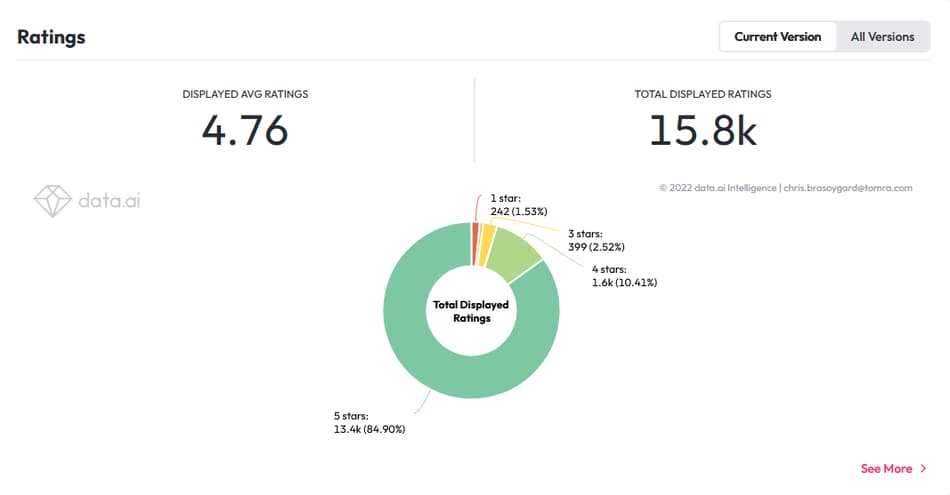 myTOMRA iTunes App Store rating
"We are extremely proud to see the app rated so highly by our users," said product manager Chris Brasøygård. "Our vision is to provide an app that is relevant, engaging and effective for the average consumer when returning their containers. We build our features based on user insights and always strive to enhance the usability of our services. This rating shows us that we're on the right track, but we'll never stop developing the app to make our users appreciate it even more."
The app is also widely used. Today, approximately 12% of New South Wales' DRS refunds are paid out digitally, which is expected to increase as the app expands to the entire Return and Earn DRS. So much so that, in just four months, 200,000 users have downloaded the new Return and Earn App and transfered over from myTOMRA in New South Wales.
"At the beginning of New South Wales' DRS, the myTOMRA app was an extension of the RVM recycling experience. Now, as the Return and Earn app, it has become the main interface for the consumer to the entire DRS," explains Aleksander Mortensen. "We are excited to help the New South Wales Government and Return and Earn scheme coordinator Exchange for Change deliver on the best outcomes for tackling litter, driving recycling, and accelerating a circular economy."
Today, the focus for TOMRA's consumer app is in Australia, but the app is also available for programs in Portugal and New York. By integrating myTOMRA's Digital Payout API, the central system administrator for Sweden's DRS, Returpack, has launched a digital recycling experience with its "MinPant" ("MyDeposit") app. Another implementation of the Digital Payout API is also under way with a large grocery retailer in Belgium, integrated with the store's loyalty app.
"TOMRA truly cares about consumer choice and continuous improvement," concluded Ryan Buzzell. "We don't see this app as the end product, but as something that will continue to develop in response to user needs and new ways to motivate the community to take part in a deposit system."