TOMRA Cleanaway serves as a network operator for new drink container recycling system 
TOMRA Cleanaway on board as Victoria's container deposit return scheme launches in Australia today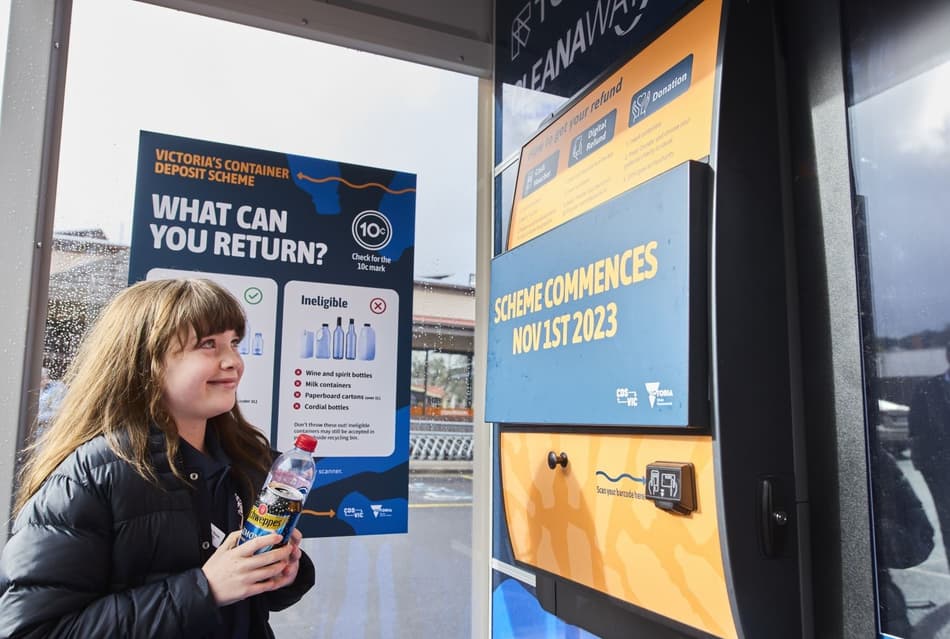 From today, November 1, the Australian state of Victoria kicks off its new deposit return system (DRS) to incentivize the return of empty drink containers for recycling. Together with joint venture partner Cleanaway, TOMRA will provide network operator services for Zones 1 and 4 (Western Regional Victoria and Western Metropolitan Melbourne), approximately one-third of the state in geographic size.
Victorian consumers will be refunded 10 cents when they return eligible empty drink containers for recycling. Victoria's DRS (known locally as a container deposit scheme or CDS) spans non-concentrated fruit or vegetable juice, flavored milk, beer, soft drink and mixed spirits in PET and glass bottles, cans and small cartons. Empty drink containers can be returned to reverse vending machines (RVMs), depots, over-the-counter sites and pop-up return locations.
The network operator, TOMRA Cleanaway, is a 50/50 joint venture between TOMRA and Cleanaway. TOMRA is the global leader in reverse vending technology for collecting drink containers for recycling, and Cleanaway is the leading waste management company in Australia. TOMRA Cleanaway will over the coming months mobilize a broad network of around 180 collection points, where a vast majority will be automated using TOMRA technology. When fully mobilized, the network will comprise around 100 outdoor RVM kiosks, typically located in high-traffic areas, and around 40 stand-alone RVMs operated in partnership with regional retailers. TOMRA Cleanaway has also appointed charity organizations to operate 12 automated depots using TOMRA Expert Line bulk technology. Hume City in Melbourne will host the first TOMRA-operated automated bulk centers in Australia, offering consumers a combination of reverse vending machines and bulk in-feed, for optimal convenience. There will also be 15 pop-up collection points for the DRS launch.
When fully mobilized, more than 400 TOMRA reverse vending installations will serve more than two million Victorian residents. TOMRA also provides a range of refund options including in-store credit at supermarkets, digital payout, and charity donations. Charity partnerships will form a vital part of their RVM network, giving community groups opportunity to do fundraising via public container returns.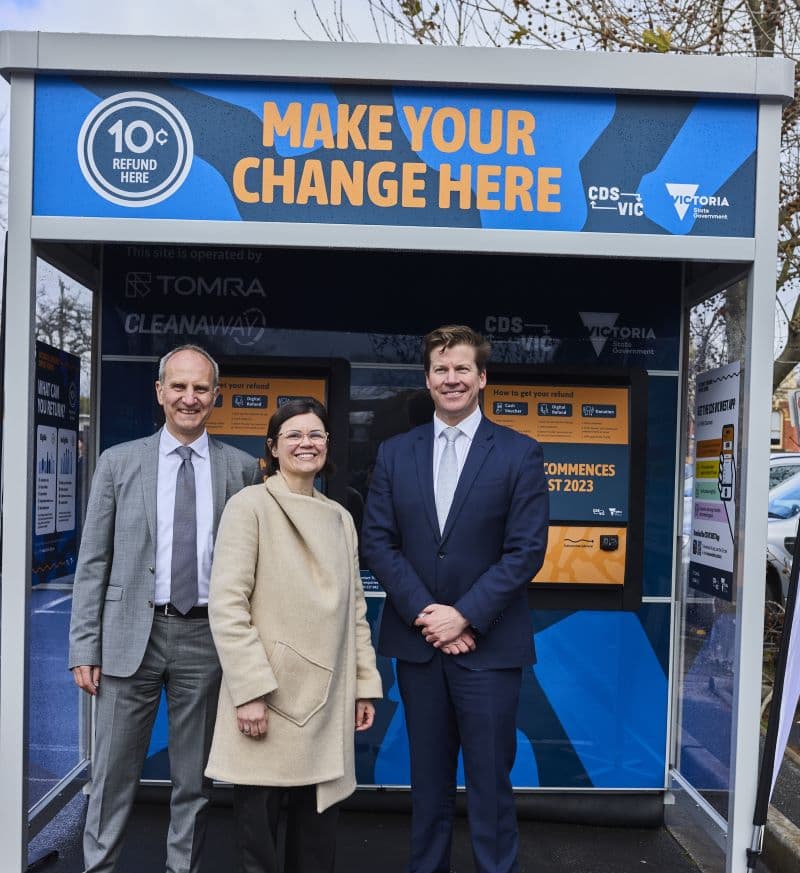 Left to right: Markus Fraval, SVP Strategy & Business Development at TOMRA Collection Pacific; Claire Halsey, General Manager CDS at Cleanaway; James Dorney CEO of TOMRA Cleanaway.
Congratulations to Victoria today on this milestone toward combatting litter, boosting recycling, and driving a circular economy through the new deposit return system. We are excited to provide a world-class return network for Victoria, and work toward our common goal of a cleaner state keeping millions of containers out of landfills and the environment, and keeping them in the loop of resource reuse.

Tor Eirik Knutsen
Head of TOMRA Collection Asia Pacific, and Chairman of TOMRA Cleanaway
Victorians use over
3 billion drink containers
each year. 100% of all drink containers collected through the TOMRA Cleanaway network in Victoria will be recycled. Plastics will be taken to local bottle-to-bottle recycling plants, glass will be delivered to local glass recycling facilities, and aluminum will be sold into an open commodity market to be infinitely recycled.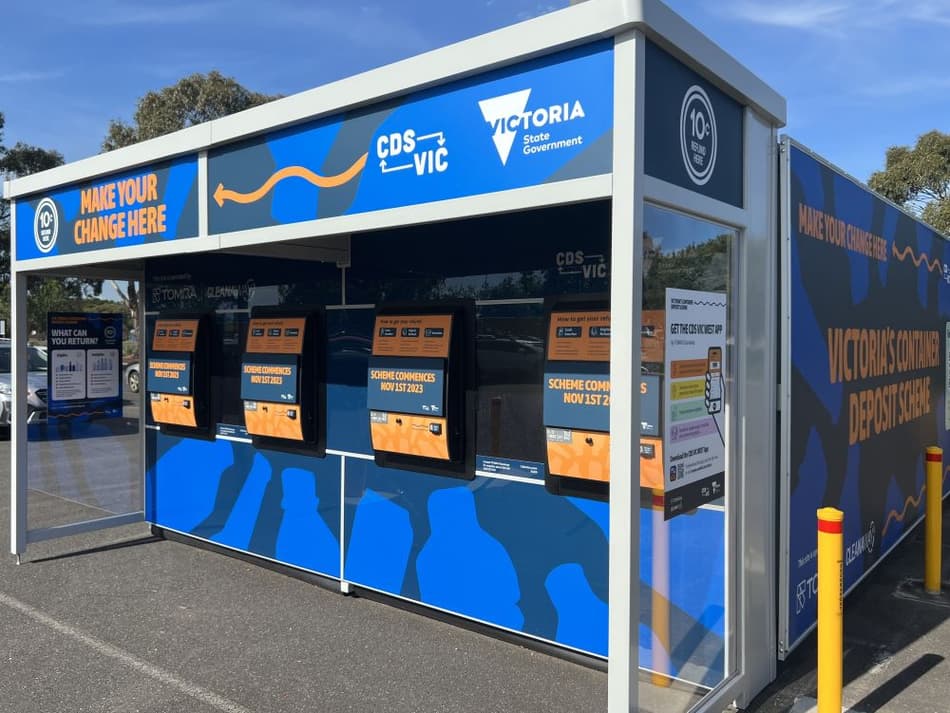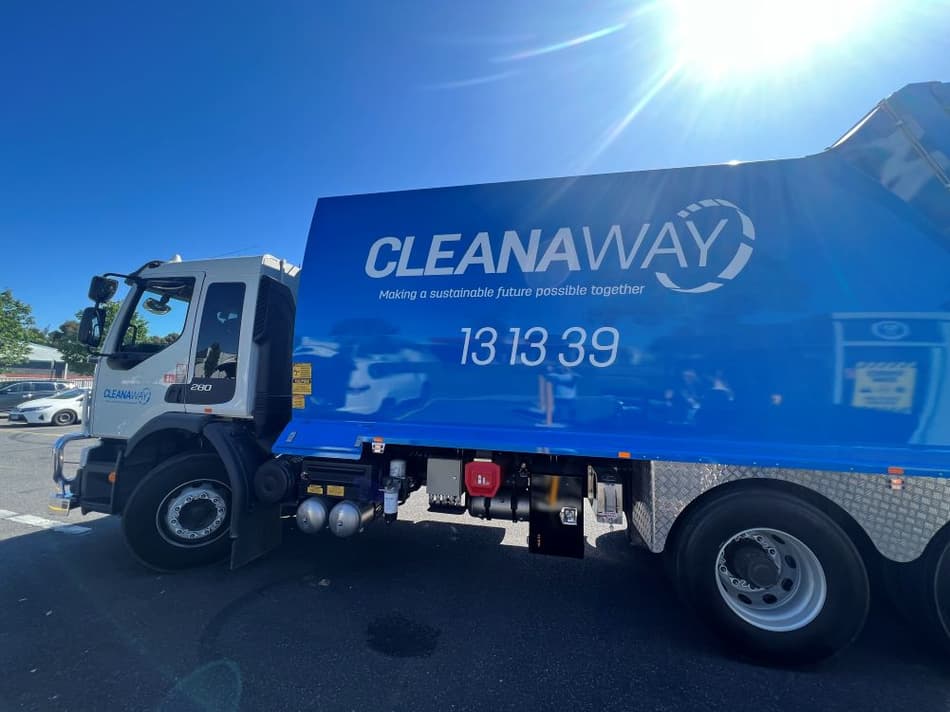 TOMRA Cleanaway also serves in Australia as the network operator for the New South Wales DRS; the success of the cooperation's work saw the joint venture re-appointed in 2022 as network operator in New South Wales for a further four years. In Australia, TOMRA also provides reverse vending technology in Queensland, Western Australia and the Northern Territory. TOMRA has more than 50 years' experience working in deposit return systems around the world, in roles across every part of the DRS value chain.
The state of Tasmania has communicated that it plans to implement its own system in 2024. When it does so, Australia will become the first entire continent to be covered by deposit return systems.
About TOMRA Collection:
TOMRA Collection provides reverse vending machines for Clean Loop Recycling, to transform society's habits and keep valuable resources in a continuous loop of use and reuse. The company's solutions collect aluminum, plastic and glass beverage containers to be continually reused and recycled back into new bottles and cans. With approximately 82,000 installations across more than 60 markets, TOMRA reverse vending machines capture over 45 billion used bottles and cans each year. This reduces reliance on raw materials, and ensures fewer containers end up in our streets, oceans and landfills. TOMRA's reverse vending machines, digital solutions and service make recycling easy for the industry, system owners, retailers and consumers to contribute to a more sustainable planet. Visit our Reverse Vending pages on tomra.com, and follow us on Facebook, Twitter, Instagram and LinkedIn.
TOMRA Collection is a division of TOMRA Group. Today, TOMRA is leading the resource revolution to transform how the planet's resources are obtained, used and reused to enable a world without waste. The company's other business divisions comprise TOMRA Food and TOMRA Recycling. The Group employs approximately 5000 globally and is publicly listed on the Oslo Stock Exchange.