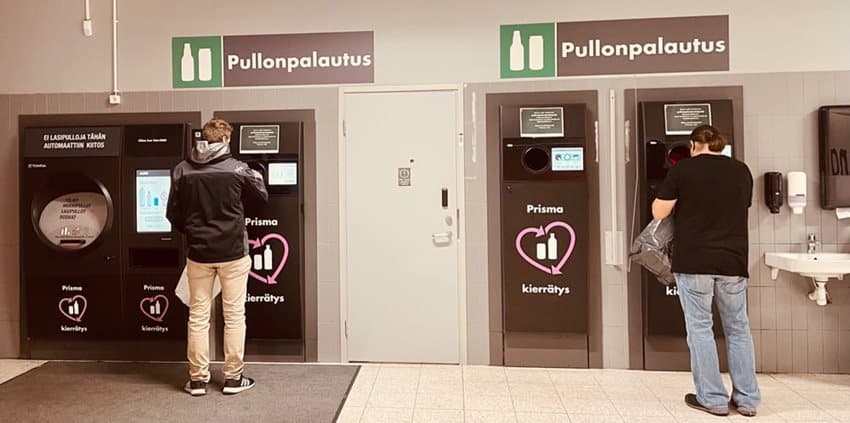 Hypermarket Prisma ensures maximum recycling uptime for their customers
Pirkkala, FINLAND: The hypermarket Prisma's service agreement with TOMRA ensures their reverse vending systems are always in the best working condition.
The bottle return point at the Prisma hypermarket in Pirkkala, Finland is busier than ever. The store installed a TOMRA R1 back in November 2020, and the system has since proved to attract people from both near and far. "The R1 has been received very well here in Finland, and empty cans and plastic bottles are being returned in huge quantities – people realize how fast and easy it is to return recyclables with these new systems," says Prisma Pirkkala's sales manager, Mia Laakso.


Customer magnet

With the machines working at full speed to keep up with the huge quantities of recyclables from customers, reliability is an important factor. Prisma Pirkkala's service agreement with TOMRA makes sure that the reverse vending machines are always working at full capacity. According to Laakso, the availability and functionality of reverse vending machines have a big impact on where customers decide to do their shopping. "This is why it's important to keep the machines in order at all times, so there is no confusion, and the customers can always trust our machines to handle their reverse vending needs," says Laakso. In addition, non-functioning reverse vending systems can quickly cause problems for staff. "Staff running around to empty out full machines takes up working hours, which again reduces the customer service in the store."
Anticipating problems is key

Anticipating problems is key when running a busy store or supermarket. Having a reliable reverse vending system contributes to reducing issues, and ultimately helps the store save money, Laakso mentions. "With a well-functioning machine, we receive significantly fewer complaints from customers. This is where TOMRA's service agreement is a big help in keeping the store running smoothly. In addition, the staff's job becomes easier and less stressful when they don't have to run around doing machine maintenance all the time," says Laakso.


Making life easier

The Prisma Pirkkala store is part of the Pirkanmaan Osuuskaupa chain (POK). Sanna Nummela, project manager at POK, says that the reliability of the reverse vending systems has been ensured by an extensive service agreement with TOMRA, which covers all TOMRA equipment in POK stores. "Our goal is to keep everyday life in our stores running as smoothly and easy as possible – which the service agreement with TOMRA helps us accomplish." According to Nummela, the biggest benefit for stores is regular service on site as well as remote monitoring, both of which are included in the service agreement. "TOMRA's experts monitor the equipment remotely and address any problems even before they can be seen by customers – which significantly increases customer satisfaction," Nummela says.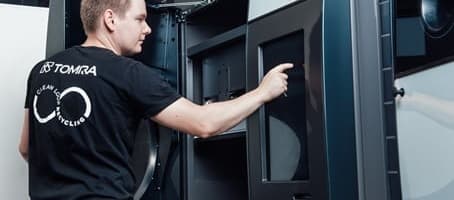 Longer lifetime for reverse vending machine systems
According to Nummela, TOMRA's regular service keeps the reverse vending systems in top shape and increases the life span of the machines. "The annual service agreement helps us get the full capacity out of the machines. In addition, with regular service in our store, TOMRA's staff have made our employees familiar with the system, which allows us to take better care of the machines ourselves. This will again increase the reliability of the machines, which ultimately leads to increased customer satisfaction," says Nummela.
Installed reverse vending system

TOMRA R1 & T9 with MultiPac Air 
Recycling just got more wow
revolution line
Designed for  large supermarkets and hypermarkets

Modular reverse vending system

Accept cans and plastic bottles

Collects over 100 containers at once

TOMRA T9 with MultiPac
Say hello to high volume
flexible line
Designed for medium to large stores

Accept cans, plastic bottles, glass bottles, and crates

Up to 60 containers / 21 crates per minute 

Modular system: choose from 2 to 7 cabinets