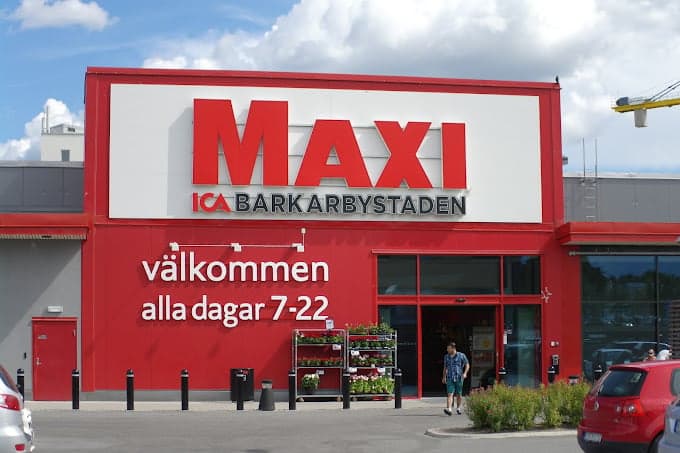 ICA Maxi Barkarbystaden doubles the volume of container returns using multi-feed recycling
Barkarby, SWEDEN: As one of the first retailers in Stockholm to install the latest in reverse vending technology, ICA Maxi Barkarbystaden sets an inspiring example for sustainability by doubling its container returns, while attracting more consumers and increasing turnover at the same time.
After previously using TOMRA as a supplier of reverse vending machines, ICA Maxi Barkarbystaden opted to upgrade their recycling system to the newest innovation in reverse vending technology, TOMRA R1. In fact, ICA Maxi Barkarbystaden was one of the first retailers in Stockholm to install the new multi-feed reverse vending machine.
A quick and clean recycling experience

With TOMRA R1, consumers can pour an entire bag full of cans and bottles into the reverse vending machine. The innovative technology makes recycling up to five times faster than single-feed solutions, meaning over 100 containers can be recycled in just seconds. Recyclers no longer need to get their hands dirty by inserting bottles one by one, resulting in a highly efficient reverse vending experience.
A 2018 survey by TOMRA found that 40% of consumers choose where they go to recycle based on the quality of their recycling experience. With TOMRA R1, recycling has never been smoother, quicker, or cleaner. On top of the ability to empty many containers at once and without any mess, TOMRA Flow Technology means these bottles and cans are scanned and registered with 360-degree instant recognition.
The return volume at ICA Maxi Barkarbystaden has doubled as a result. Since the first TOMRA R1 installation two years ago, the retailer has seen an increase in container returns to the extent that it had to have its third TOMRA R1 machine installed in November of 2022. According to ICA Maxi Barkarbystaden's official LinkedIn channel, "two TOMRA R1 machines were not enough, now our third TOMRA R1 machine is in place."
Re

cycling

as a competitive advantage
A survey of Nordic consumers revealed the value of recyclers for retailers is the extra store traffic they bring. This store traffic occurs because consumers will typically spend their deposit refund in the same store they recycled at. Also, the more the consumers recycle, the more they end up spending. Due to many more consumers choosing ICA Maxi Barkarbystaden location to make use of TOMRA R1, the retailer has been able to enjoy an increase in turnover.

According to Sales Manager at ICA Maxi Barkarbystaden, Ida Åberg, "Many consumers choose to shop [at ICA Maxi Barkarbystaden] because we have a TOMRA R1". Stores with the TOMRA R1 installed have seen an increase of 33% more consumer recycling sessions and an average of 86% more containers collected.

When a store offers not only a quicker recycling experience but also an easier and cleaner one, consumers are more likely to choose it as a regular recycling location over a store that does not. As a result, a massive competitive advantage is awarded to stores that have a TOMRA R1 installed.

The

responsibility

to recycle


At ICA Maxi Barkarbystaden, the choice to upgrade their machines was in part to contribute to being more sustainable and to encourage more recycling among consumers. Since installation two years ago, ICA Maxi Barkarby has seen a 100% increase in containers returned and will likely see even more with the addition of its third TOMRA R1 machine.
Not only does the installation of reverse vending machines lead to the increase of consumer traffic and more turnover, but it also means retailers can prove their commitment to sustainability. Ida Åberg says, "All businesses can take responsibility when it comes to recycling". Installing reverse vending machines is an effective way to do so. Reverse vending allows for beverage containers to be recycled or reused, reducing the need for raw materials. With TOMRA R1, saving the planet just became easier and cleaner.
Installed reverse vending system