Return and Earn rolls out across New South Wales
People can cash in their eligible drink containers from today for a 10-cent refund as part of the State's Return and Earn container deposit scheme, Environment Minister Gabrielle Upton has announced.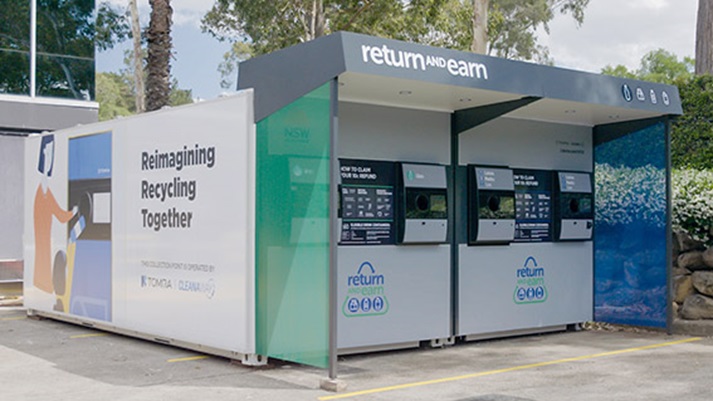 (This press release was published by the NSW Environment Protection Agency in Australia on 1 December 2017.)
New South Wales, Australia: People returning eligible containers at reverse vending machines will have the option for an electronic transfer using PayPal, a cash refund or an in-store credit at a local retail partner and an option to donate it to selected charities.
"This is just the start – the rollout will keep going. This will be great for local groups to raise money for their communities," Ms Upton said. "Almost 50 per cent of litter by volume is made up of beverage containers – Return and Earn will capture 43 per cent of this litter."
Charities, community and sporting groups, schools, and other not-for-profit organisations can register their interest to become a donation under the rotation system.
The Cancer Council, St Vincent de Paul, Surf Life Saving NSW and Planet Ark will be the first charities featured on reverse vending machines from today.
Clean Up Australia Managing Director Terrie-Ann Johnson said an estimated 168 million beverage containers are littered across NSW every . "Clean Up Australia volunteers report that 30 per cent of items they remove are beverage containers," she said.
"A container refund/deposit scheme is a proven way to capture these containers – turning them from pieces of rubbish kicked along the street or clogging our waterways into cold, hard cash.&;
The collection point network includes reverse vending machines, over-the-counter sites such as petrol stations and cafes, and automated depots for high volumes of returns. There are more than 280 collection points across NSW and more to come as the scheme continues to rollout. For collection site locations and more information, visit: www.returnandearn.org.au.
About TOMRA Collection Solutions:
Founded in 1972, TOMRA is the preferred partner for reverse vending solutions for collecting, reusing and recycling cans and bottles. The TOMRA system has the machines, digital solutions and service to make recycling easy for the industry, system owners, retailers and consumers. With over 75,000 installations across more than 60 markets, TOMRA's reverse vending machines capture 35 billion used beverage containers every year – reducing reliance on raw materials and ensuring fewer containers end up in landfills, oceans and streets. Visit our Reverse Vending pages on www.tomra.com, and follow us on Facebook, Twitter and LinkedIn.
TOMRA Collection Solutions is part of the TOMRA Group, which creates sensor-based solutions for optimal resource productivity, and has a vision to lead the Resource Revolution. The Group employs approximately 3,300 people globally and is publicly listed on the Oslo Stock Exchange (OSE: TOM).
About TOMRA Cleanaway:
TOMRA Cleanaway is the joint venture between TOMRA and Cleanaway, Australia's leading waste management, recycling and industrial services company. TOMRA Cleanaway was appointed as the Network Operator of the Return and Earn scheme and is responsible for the collection infrastructure across NSW and for ensuring that collected containers are recycled.