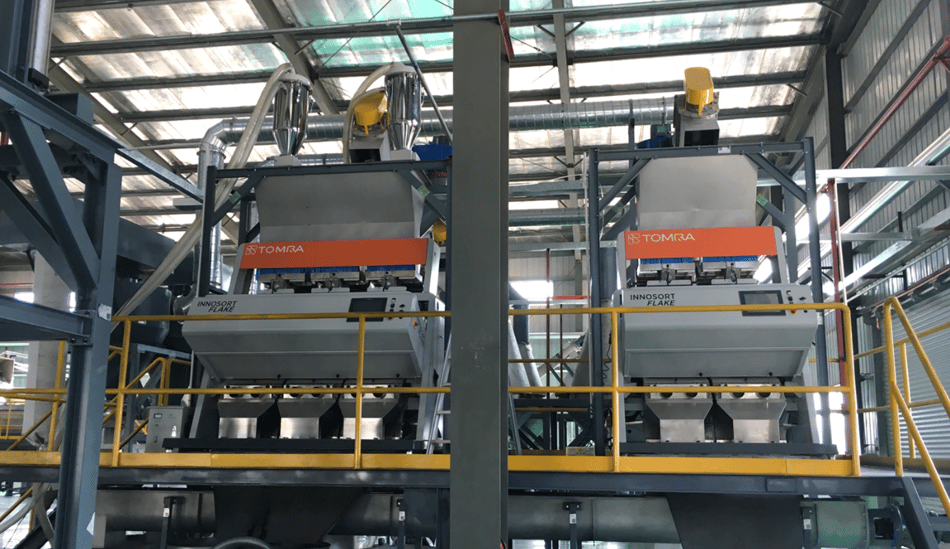 TOMRA Technology helps Tokzin in the production of high-quality PET Flakes
Some leading recycling companies in China are already seizing new opportunities and upgrading their recycling facility to embrace these new opportunities. Tokzin, a sorting plant producing high-quality PET flakes, proves that investment pays off.
Recycling pioneer in southern China

Tokzin is a technology-oriented recycling and reprocessing company situated in Guangdong, China. Within the last 20 years, the company has built two recycling centers and three recycled polyester processing lines producing 60,000 tons of recycled polyester and 120,000 tons of food-grade rPET flakes annually. These outstanding capacities makes Tokzin be ranked among China's largest PET recycling companies.
Attaching great importance to quality, Tokzin has been awarded with the GRS, SGS and SCS certification for its high-quality rPETflakes which help leading FMCG companies buying the company's rPET flakes to meet the recycling content target imposed by the government.

Comprehensive collection and recycling set-ups
In its quest to become the industry leader in China, Tokzin focuses not only on quality but also on quantity, which is seen as one of the key differentiators from other recycling pioneers. To this end, the company put great efforts on ensuring PET bottle supply and upgrading sorting systems.

Previously, Tokzin only had limited involvement in PET bottle supply and bought baled bottles from small and medium sized collections points. Price fluctuations and temporary supply shortages were operational efficiency challenges the company had to face.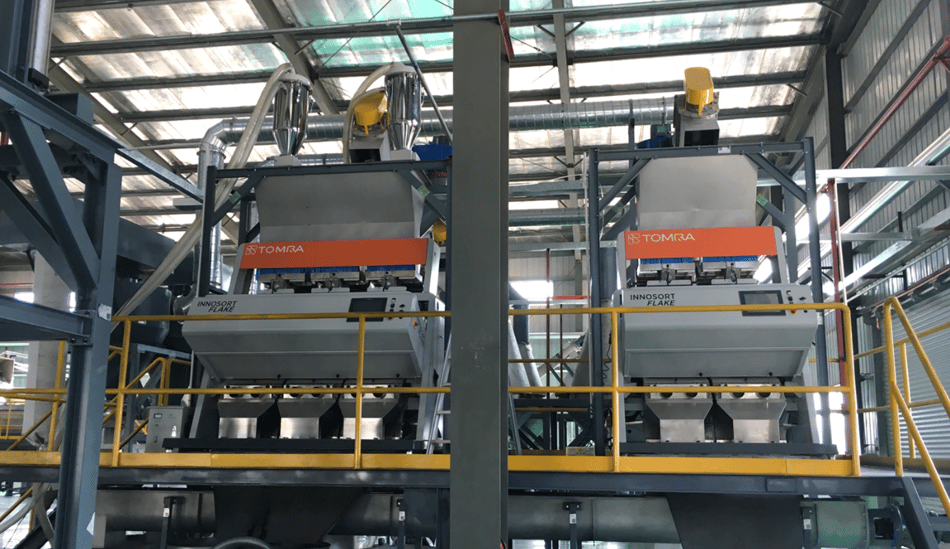 In order to ensure stable operation and to optimize cost, Tokzin decided to establish its own network of bottle collection points and conducts preliminary manual sorting and baling in the collection points. Benefitting from a dense population and higher purchasing power in the Guangdong province, Tokzin's regional collection points are in the fortunate position to collect big volumes of beverage bottles, paving the way to build an extensive collection and logistics network.

"South China is known for its buzzing economic activities. Consumption of bottled water and beverage is historically high. With the first 6 collection stations we built, we are able to collect 10,000 tons of empty beverage bottles per month. As we see a great potential in our strategy, we have decided to set up another 4 collection points to further strengthen the supply of PET bottles." said Liu Yupeng, general manager of Tokzin.
Standardized operation management
Tokzin is specialized in making bottles into high-quality food-grade flakes and long stable fiber. For Tokzin's management team, success in recycling lies in the optimization of processes. To give bottles a second life, they have standardized every stage of the comprehensive recycling process ranging from pre-sorting, cold and hot washing, shredding, rinsing and drying, flake sorting, melting, granulation to spinning and all subsequent processes.
In times where consumer brand owners commit to increase the use of recycled content in their products, Tokzin has realized that this trend is a valuable opportunity for the company to contribute to the development by providing high-quality recyclates to the brand owners.

Measures are already being taken to improve the quality of the end product. Firstly, Tokzin's team undertook several comprehensive improvements to their existing process and, secondly, a new technology was introduced to modernize the processing line based on the process adaptation.

The company's management team considers the investment in new technologies as preparation for a bright future. "Only when our product is good enough, we have the chance to stand out, so we have to get ready right in advance", states Liu Yupeng, general manager of Tokzin while feeling confident about the strategy.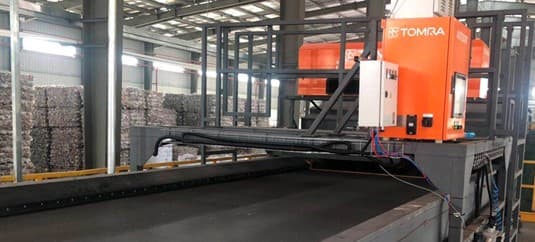 Reliable quality delivered by cutting-edge sorting technology
As a firm believer in state-of-the art technology and attaching considerable importance to excellent consultancy and service, Tokzin chose to work with TOMRA Sorting Recycling as provider for both bottle and flake sorting solutions.
Tokzin's recycling center is the biggest in Guangdong province, China, covering an area of 120,000 m2. The site processes 250,000 tons of mixed plastic packaging every year, produces 120,000 tons of high-end flakes and 130,000 tons of plastic pellets.

Every day, bottles collected from the self-run collection stations are baled and sent to the recycling center, where they go through an extensive process. After removing labels and cold washing, TOMRA's AUTOSORT® machines come into action to remove non-PET bottles and colored PET bottles from the mainstream. Now all that remains is a stream of clear PET bottles, which are then shredded into small flakes. These small flakes, which can be as small as 2 mm are then sorted by both color and material by TOMRA's INNOSORT FLAKE unit. Thanks to the machine's two-side cameras and TOMRA's patented FLYING BEAM® technology, INNOSORT FLAKE reliably removes polymer contaminations such as PVC, PP, PE, PC, PS and small metal pieces. After this extensive and highly effective sorting process, Tokzin has high-purity PET flakes at his disposal that meet the markets and customers' requirements.

"TOMRA's sensor-based sorting technology plays a vital role in the automation of our production line and in safeguarding our product quality. Obtaining internationally-acknowledged certificates, such as GRS and SCS, confirmed the high quality of our recycled flakes. I'm confident about our competitiveness and business outlook," concludes Liu Yupeng.
Tokzin's long-term goal is to build their recycling facility into a pilot R&D site for recycled high molecular materials (recycled polymers).