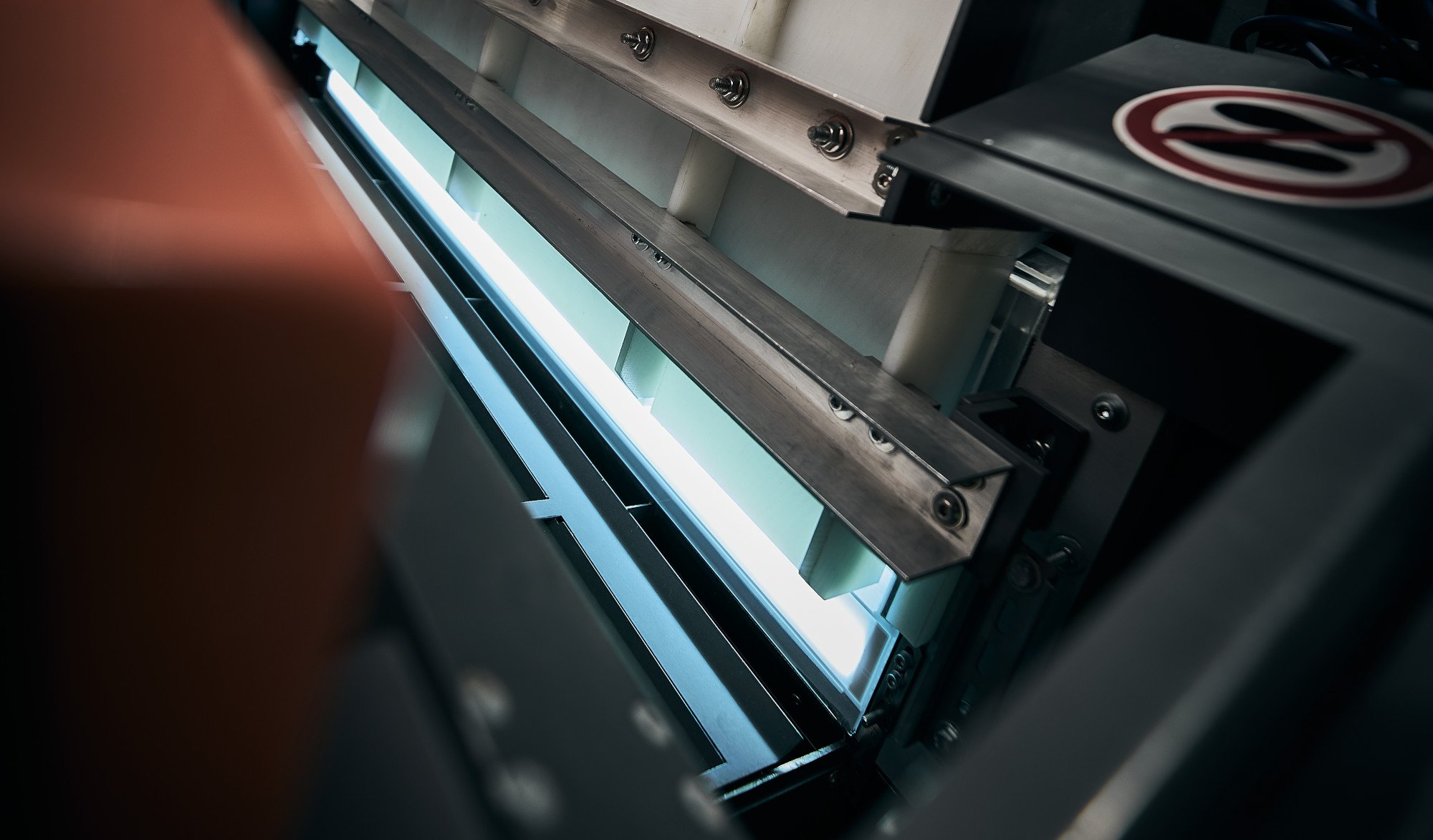 The innovation behind the world's leading sorting systems
The technologies developed by our in-house team of engineers, application experts and machinists are designed and built to meet the most strenuous demands of recycling. Our sorting systems redefine machine capability and set new standards in performance thanks to our high-precision sensors, data-driven software and powerful processing techniques.
With our cutting-edge technology, you benefit from more flexibility and a dedicated team that knows exactly how to make the most of your sorting system. Our long-standing collaboration with waste and metal recyclers throughout the world is our constant source of inspiration – and the evolution of our technologies continue.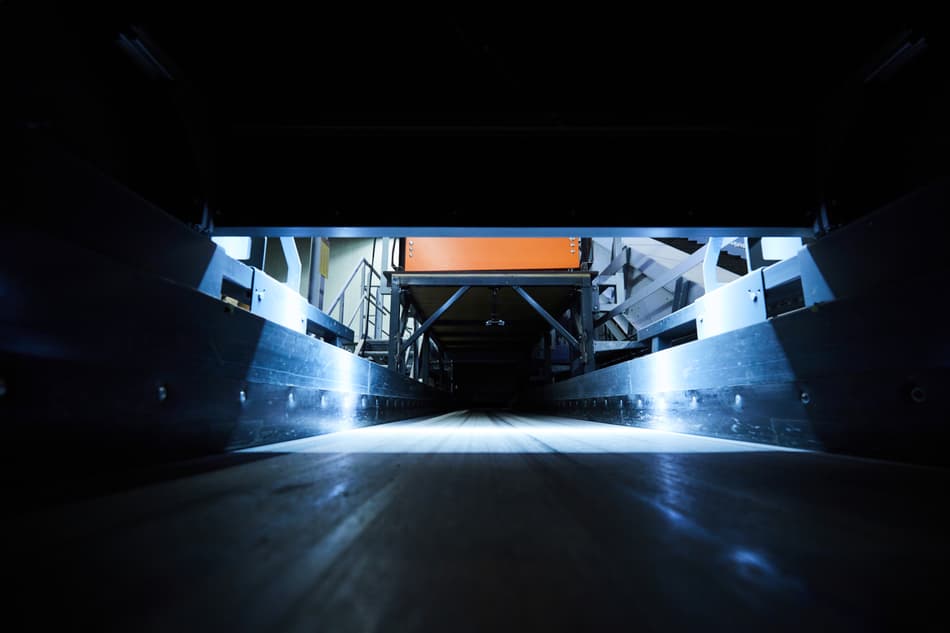 Utilizing the expansive power of TOMRA's neural networks, GAIN™ deep learning technology extracts numerous material characteristics of individual objects to classify them for sorting. Our deep learning-based applications for waste wood, PE-silicone cartridges and other materials set new performance standards for objects once considered difficult to sort.
GAIN™ brings groundbreaking solutions to challenges that cannot be solved with conventional sorting methods. Our artificial neural networks are trained with thousands of images to create a pool of information that drives performance. Delivering high-purity and user-defined fractions, this innovation can upgrade material output and create new revenue streams.
Applications:
- Sorting waste wood by material type
- Sorting silicone cartridges from polyethylene (PE)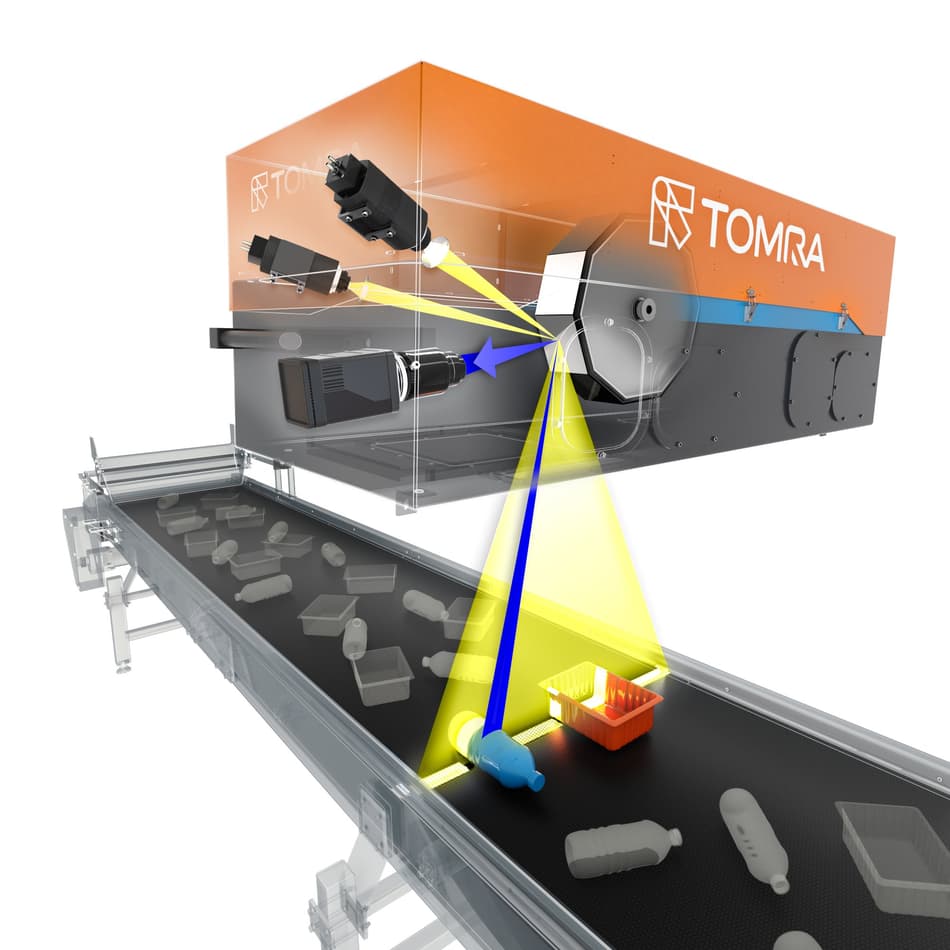 Our world-class lighting technology guarantees a stable and homogenous light distribution that is beamed across the entire working width to ensure that all materials passing the sensors can be instantly classified. With continuous signal correction offering simultaneous light beam calibration, you benefit from long-lasting sorting performance.
Protected from dust and dirt thanks to its encased setup, the technology utilizes an innovative point scanning principle to focus exclusively on the area being scanned. This extends the temperature range, enabling flammable materials to be safely processed, and saves up to 80% energy consumption compared to conventional lighting methods.
Applications:
- Metal sorting and wire recovery
- E-scrap sorting
- Glass sorting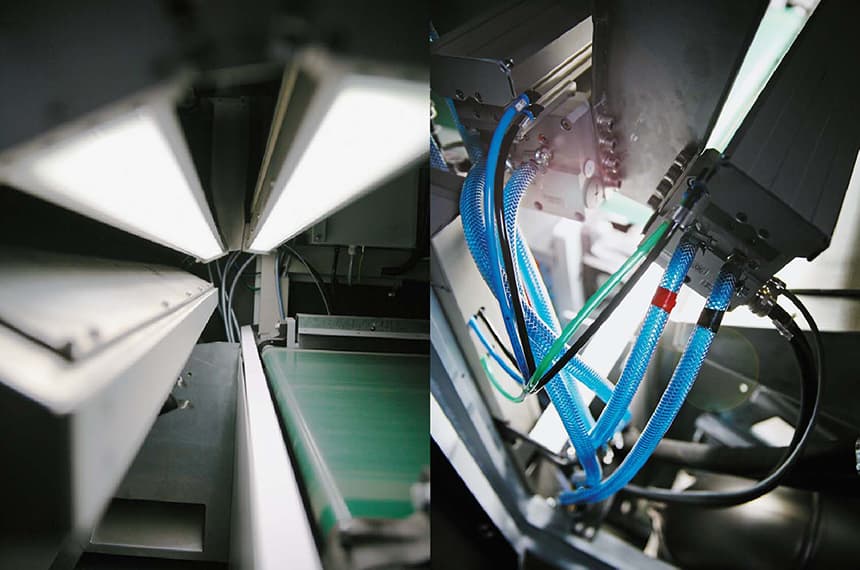 Our illuminating FLUID COOL™ technology is an advanced liquid-based cooling system to extend the lifetime and achieve maximum stability in LED lighting systems. Unlike conventional air cooling, this technology enables higher light intensity, enhanced color quality and outstanding efficiency thanks to a consistently lower LED temperature.
The technology utilizes liquid silicone to remove heat from LEDs through a
highly efficient convection process. Delivering outstanding performance for thousands of hours, it is an ideal solution for sorting in harsh operating environments with extreme temperatures. FLUID COOL™ enables unsurpassed light distribution for
maximum yield stability.
Applications:
- Metal sorting and wire recovery
- E-scrap sorting
- Glass sorting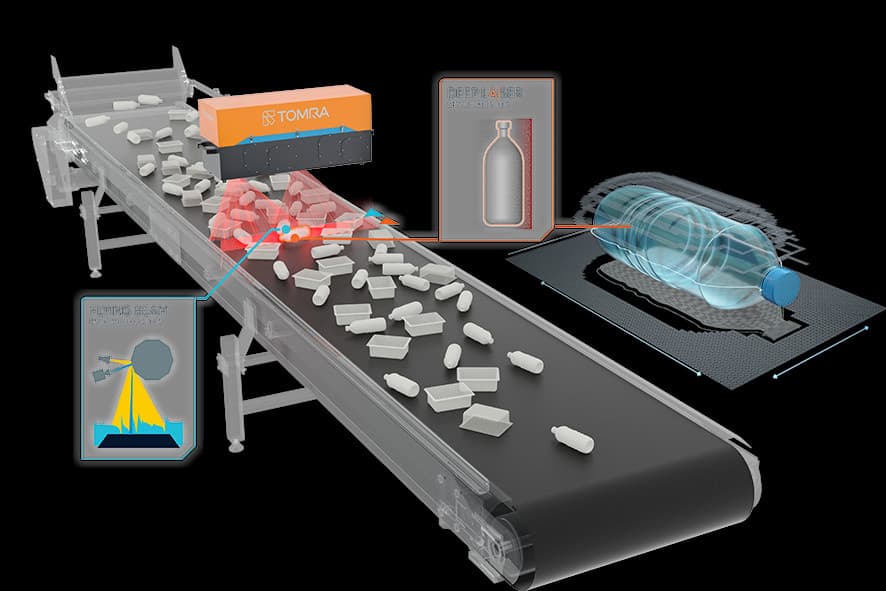 Through artificial intelligence and laser line scanning, DEEP LAISER™ creates a digital copy of objects that can be used for advanced data-driven decision making. It enables 3D object recognition and enhanced classification of materials that can be combined with other sensor data to provide the high accuracy sorting across numerous applications.
The trailblazing technology boosts image sharpness and delivers unrivaled object-based recognition – even with overlapping materials and high-throughput processing. Utilizing sorting algorithms to prioritize targeted materials, DEEP LAISER™ enables operators to flexibly adapt sorting tasks while simultaneously maximizing yields and purity levels.
Applications:
- Plastic sorting, including black plastics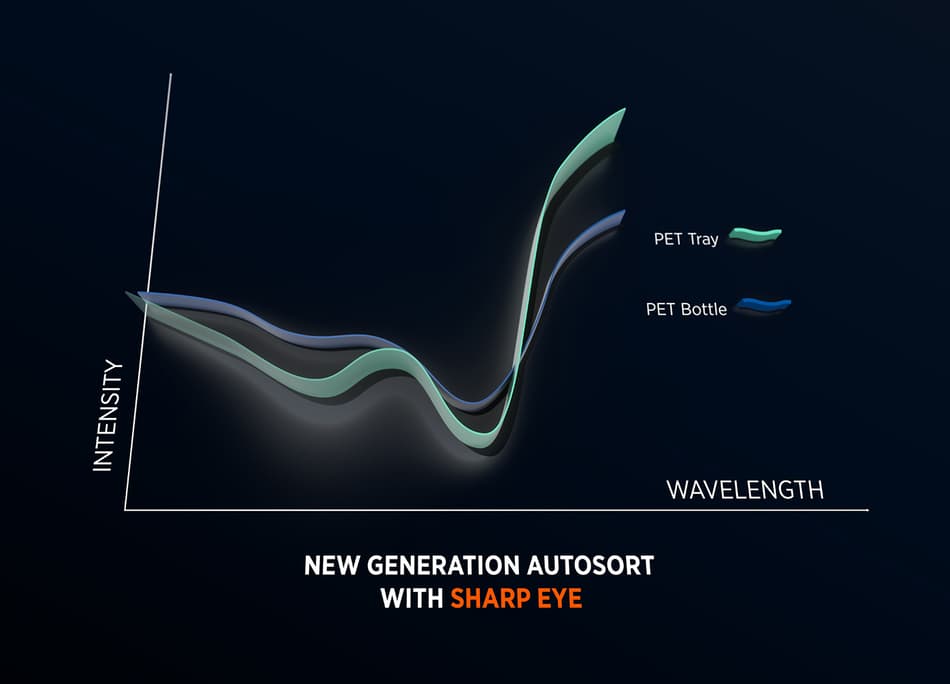 Our SHARP EYE™ technology identifies materials down to the molecular level to ensure superior detection and the highest sorting accuracy. Even with complex material streams, its multi-point scanning system enables the detection of individual objects based on their specific chemical properties and classifies them according to the assigned sorting task.
Utilizing breakthrough techniques with broadband wavelength illumination, SHARP EYE™ provides intelligent, automated image analysis. The innovative optical solution also facilitates ultra-efficient, high density light to increase the sharpness of images. Operators profit from outstanding energy efficiency and subsequent
sorting performance.
Applications:
- Upgrading plastics
- Packaging sorting
- MSW sorting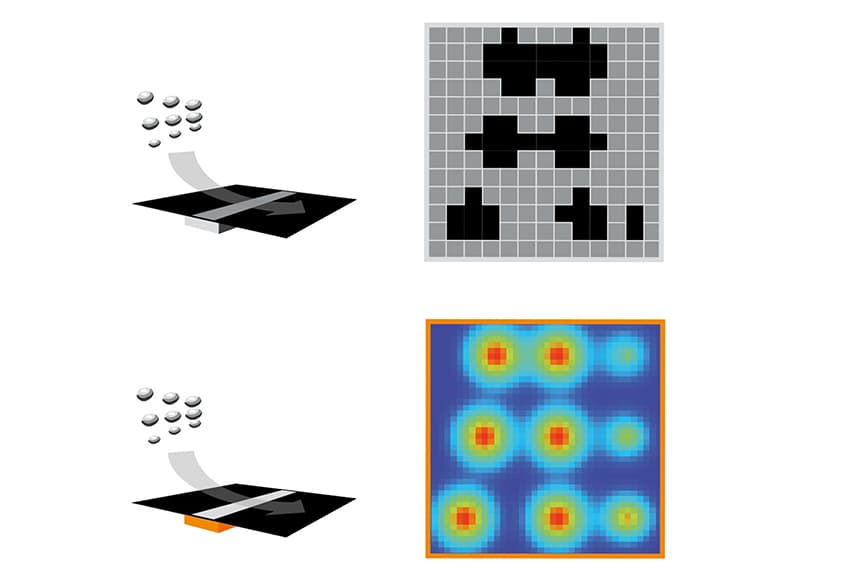 Accelerating the detection of objects for high throughput sorting tasks, our SUPPIXX™ technology enhances resolution levels, scaling up images to eight times their size to reduce product loss. Thanks to the significantly improved detection accuracy, including small and thin objects, operators benefit from maximum yields and higher purity levels.
Our SUPPIXX™ imaging processing technology creates clear and specific material characteristic information to identify objects instantly. The technology's software algorithms also improve the signal-to-noise ratio, eliminating noise caused by mechanical and electrical influences for sharper imaging and improved sorting performance.
Applications:
- Metal sorting and wire recovery
- E-scrap sorting
DUAL PROCESSING TECHNOLOGY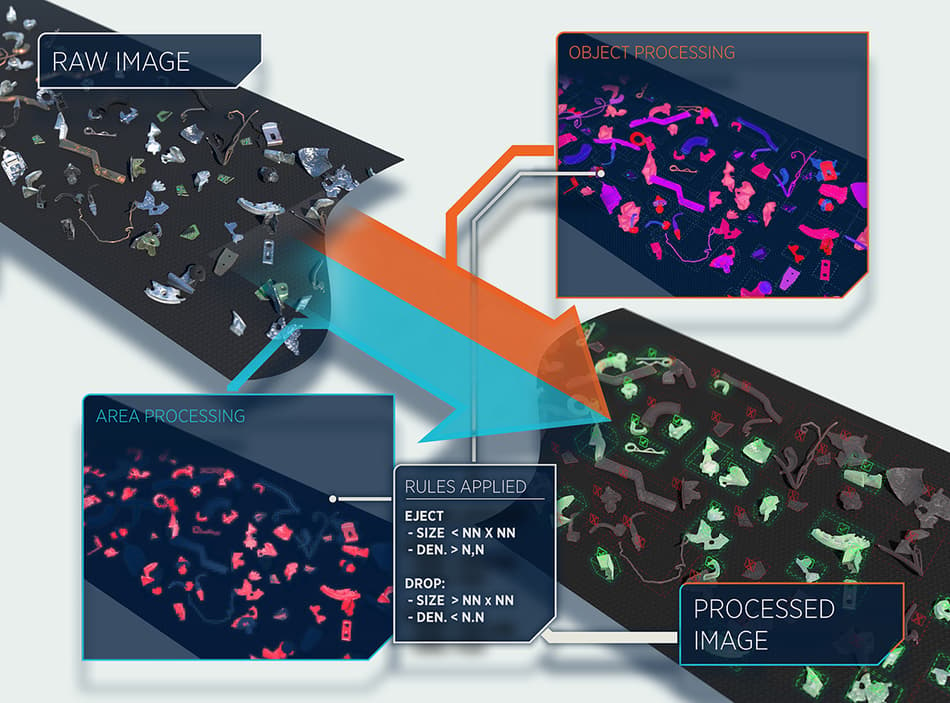 Simultaneous object and area processing is at the core of our Dual Processing Technology, which combines optical information to make data-driven decisions based on the targeted material. Ideal for maximizing yields with complex material streams, the technology gives operators the flexibility to choose high purity and/or high recovery sorting.
Dual Processing Technology enables superior detection of targeted materials on high throughput sorting lines. It instantly identifies overlapping object and composite materials for sorting to increase purity and reduce product loss. The intelligent software also optimizes ejection efficiency for reduced air consumption, lowering operational costs.
Applications:
- Aluminum sorting
- Wire recovery
- E-scrap sorting
- Waste wood sorting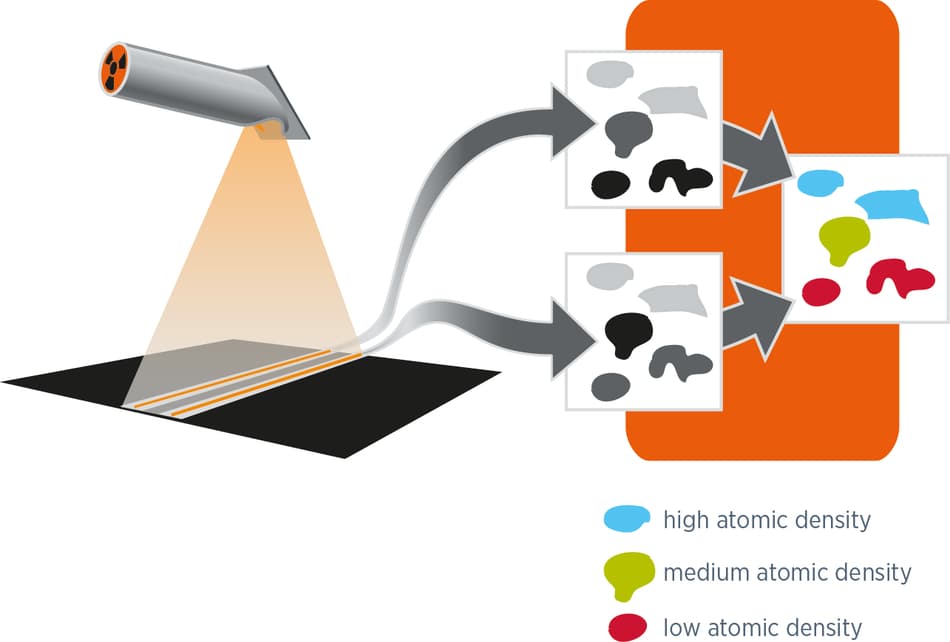 Leveraging the power of two independent scan lines, our DUOLINE™ technology delivers outstanding precision in high throughput x-ray transmission (XRT) sorting. The dual line scan offers significant advancements in separating low from high density objects across multiple applications, regardless of the relative thickness of materials.
DUOLINE™ technology enables the sorting of materials with even the slightest differentiation in density. Operators achieve even greater results thanks to the choice of high resolution or high sensitivity sensor units, depending on the targeted sorting task. Our newest dual line sensor offers even sharper detection and faster processing of complex material streams.

Applications:
- Aluminum sorting
- Wire recovery
- E-scrap sorting
- Waste wood sorting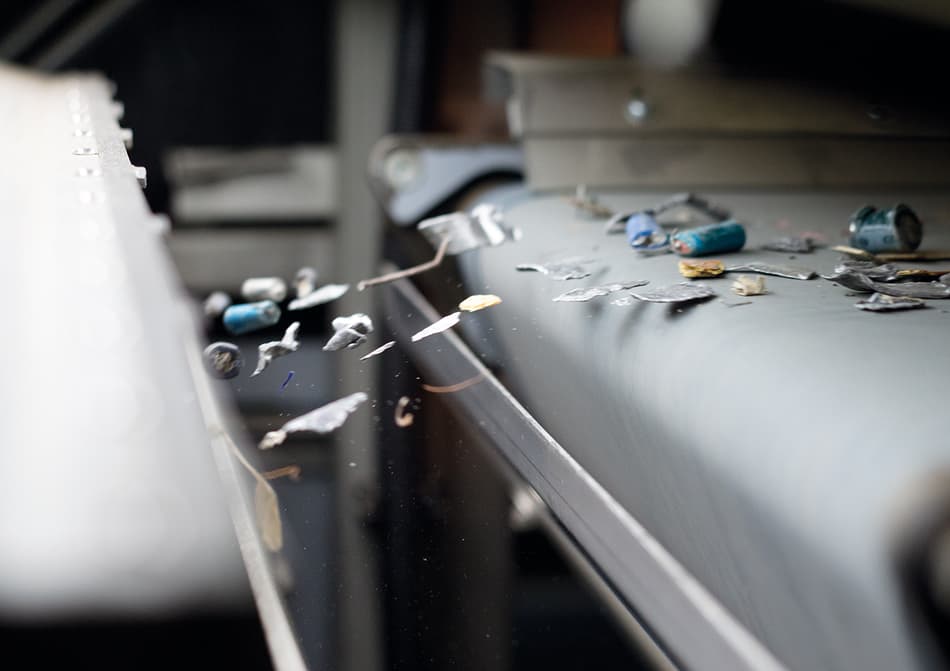 Delivering unprecedented performance in high resolution imaging, our color line scan camera technology enables materials to be sorted by color, brightness, shape and size. With incredible sensitivity and up to 16k resolution, the imaging technology delivers outstanding color fidelity for high throughput sorting of complex material streams.
Our powerful color line scan camera technology opens new possibilities in sorting, especially for applications requiring high resolution image analysis to remove contamination. The high-speed machine vision technology detects entire spectrum of CRGB colors, giving operators more flexibility in creating high purity products that can even be sorted by color.
Applications:
- Metal sorting and wire recovery
- Glass sorting
ELECTROMAGNETIC (EM) SENSOR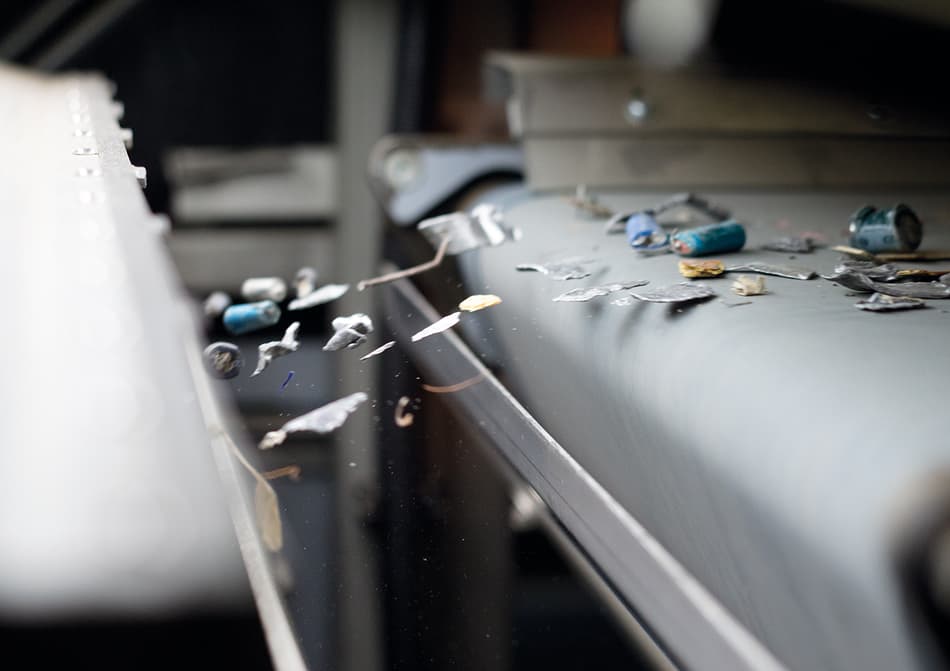 Our world-class electromagnetic sensor technology detects all types of metals present in the material stream, regardless of grain size. By generating electromagnetic fields that induce currents, the high sensitivity EM sensor detects both pure metal objects and metal-based composite materials and classifies these objects for the sorting system.
An outstanding solution across a variety of applications, our EM sensor technology is instrumental in producing recoverable metal concentrates and maximum purity fractions of non-metal materials. Our state-of-the-art electromagnetic sensor detects metals with maximum precision without compromising throughput or efficiency.
Applications:
- Metal sorting and wire recovery
- Upgrading plastics
- Packaging sorting
- Glass sorting
- MSW sorting
- Organic sorting
See our technologies in action
GAIN is a deep learning-based sorting add-on for TOMRA's AUTOSORT™ machines. By classifying objects from sensor data, GAIN is trained from large amounts of collected data to detect objects with a specific form or texture.

FLYING BEAM™ technology: - stable and excellent performance at various temperatures due to the extended temperature range. - Innovative point scanning principle focuses only on the area of the conveyer belt that is being scanned.

With TOMRA's revolutionary SUPPIXX™ image processing technology, resolution levels are enhanced by eight times and "noise" caused by mechanical and electrical influences are completely eliminated.  
Read more about our technologies