"The future of wood recycling" – TOMRA hosts live webcast
Global leader in sorting technology for the recycling industry weighs in on the future of wood recycling with a special guest during a live webcast on October 27, 10 am CET.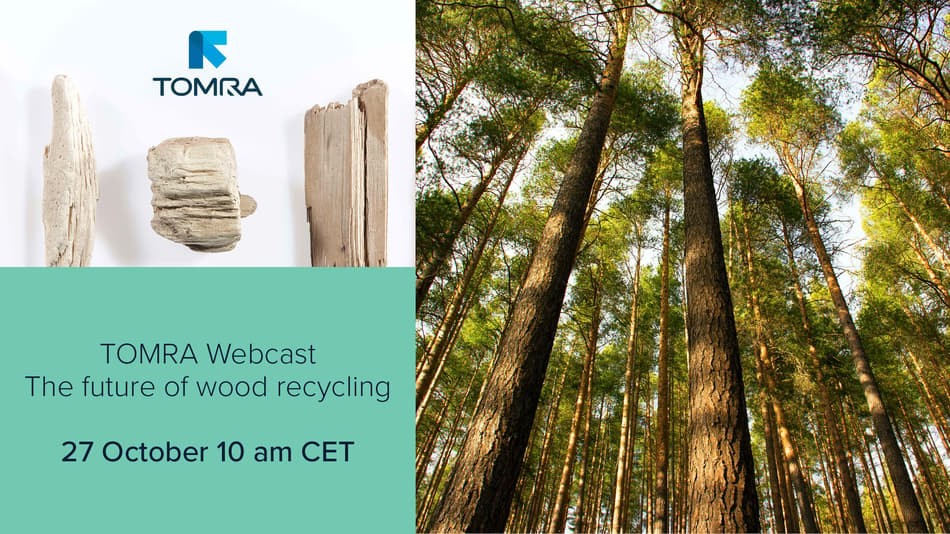 Wood recyclers and particleboard manufacturers are facing challenges never seen before due to the energy and climate crisis. Access to fresh wood is limited, prices are skyrocketing, and conventional sorting methods of waste wood lack throughput and purity levels. New techniques for recycling waste wood prove to be a promising solution to support manufacturers both in overcoming these challenges and in improving their ecological footprint.
Recycling non-processed wood waste has been a major trend in the panelboard industry recently, but some wood-based products like medium-density fiberboards (MDF) remain notoriously difficult to recycle. Although large volumes of MDF are produced globally, especially for the furniture industry, most post-consumer products are landfilled or incinerated.

​Due to the status of the market and the urgency to bring sustainability to all manufacturing processes, the industry is working on establishing the respective infrastructure and the most sophisticated sorting technology to turn MDF into high-quality recycled feedstock.

In TOMRA Recycling Sorting's upcoming live webcast on October 27 at 10 am CET, the company's in-house wood recycling experts and a special guest will give three live presentations to share insights into:
the status quo of the market
a circular economy for wood
holistic concepts for wood collection and recycling
a manufacturer's perspective

In the closing Q&A session attendees have the opportunity to seek further details on the topics presented or beyond.
For more information and registration, please visit www.tomra.com/wood-webcast